Baseball's $325-Million Man Is Underpaid
The habit of blaming players for being well paid tricks fans into thinking they are greedy. It's the owners who should be embarrassed.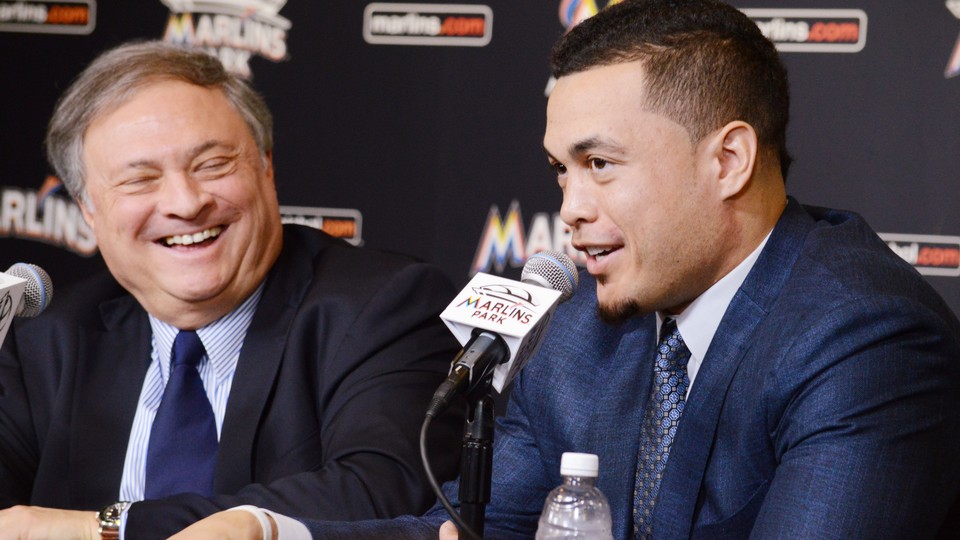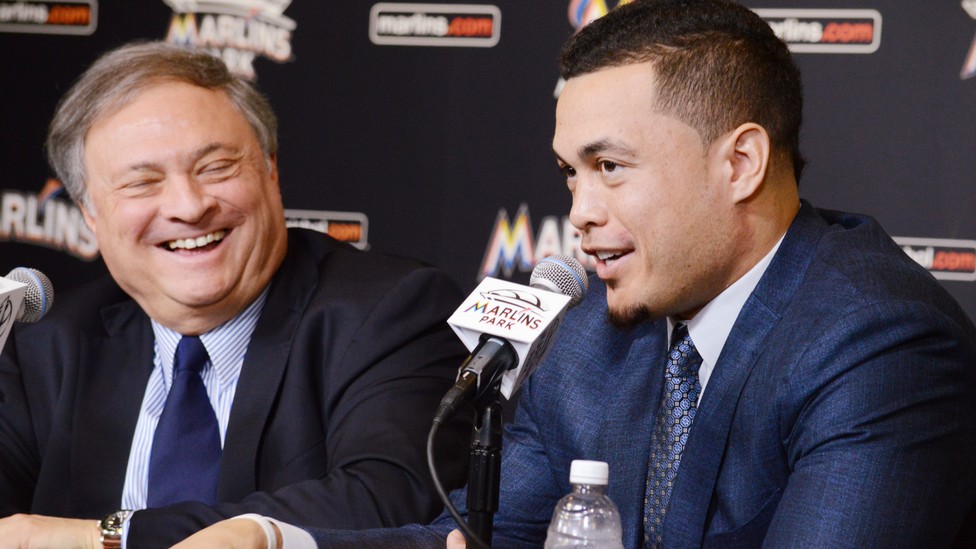 On Wednesday, the Miami Marlins held a press conference to formally announce that Giancarlo Stanton, the team's star right fielder, had signed a 13-year, $325-million contract extension. During the proceedings, a reporter asked the 25-year-old Stanton whether he was embarrassed to be earning so much money.
Stanton was far more polite than he needed to be.
"Embarrassed? No. I know I have a lot of expectations I have to live up to, which I'm willing to do."
It was a silly question, sure. But it's easy to see where the reporter was coming from. Beginning in the 2015 season, Stanton's contract will pay him an average of $25 million annually until he's 38 years old. That comes out to about $70,000 a day—or about what a typical sportswriter might earn in a year.
But leaving aside the notion that anyone should be "embarrassed" by their salary, it's worth pointing out that, in baseball terms, $25 million a year isn't all that much. Baseball franchises have grown exceedingly wealthy in recent years through a combination of lucrative local television contracts, new stadiums, and merchandise sales. Forbes estimated in March that the league's 30 teams brought in a combined $7.35 billion in revenue. Joe Sheehan, who publishes a well-regarded baseball newsletter, found that teams only invest about 43 percent of this amount into player salaries—a lower percentage than owners in the NFL, NBA, or NHL.
"Teams can say anything they want about what they can and cannot afford, but merely looking at revenues, it's clear that MLB teams aren't coming close to spending what they can reasonably spend on payroll," wrote Sheehan.
Unlike ordinary people, baseball players drafted into the major leagues cannot immediately command market value for their salaries—they must incur six years of service time before they're eligible for free agency. This has hurt Giancarlo Stanton considerably. During the first four years of his career, Stanton earned a total of just $7.88 million, despite emerging early on as one of the game's best players. Will Leitch of Sports on Earth estimated that Stanton has provided over $117 million of value to the Marlins in this time—or $110 million more than what he's been paid.
But for the average fan, the only dollar figure that counts is what Stanton earns going forward. And that means that every time he makes an error in the field or strikes out—something he did 170 times last season—fans will call into talk radio shows and bellow that Stanton is an overpaid bum. But if they were fair, they'd turn their ire to another group: Baseball owners.
Consider the man sitting next to Stanton at the press conference, the Marlins 74-year-old owner Jeffrey Loria. For the first 18 years of their existence, the Marlins shared Miami's dumpy, outdated Pro Player Stadium with the NFL's Miami Dolphins. Loria complained that without a nicer stadium, the Marlins could not earn enough revenue to invest in player salaries, and thus could not bring consistently good teams to the city's baseball fans.
Eventually, Loria managed to cajole Miami-Dade County into providing public financing for a brand new $638 million stadium, which opened in 2012. But soon thereafter, leaked documents revealed that the Marlins ownership had actually turned a profit all along: They simply chose to pocket the money they could have spent improving the team on the field. Making matters worse, the Marlins traded away most of their high-salaried players after that season in an attempt to save money on player salary. One player went public with his displeasure.
Alright, I'm pissed off!!! Plain & Simple

— Giancarlo Stanton (@Giancarlo818) November 13, 2012
It's easy to pick on Loria, who has long been one of the least popular owners in American sports. But he's far from the only one to employ this tactic. The majority of stadiums across the country were built with public money, and cities have rarely come out ahead on the deal. One—Cincinnati—even cut back spending on social services in order to finance stadium debt.
Typically, these details tend to elude the grasp of fans, who in general prefer to focus on the men on the field rather than the ones in the luxury boxes. But if there's anyone who should be embarrassed by their financial advantages in the sport of baseball, it isn't the players. It's the owners.