The Kansas City Royals' Huge Appeal
The team's run to the World Series has all the attributes of a great American comeback story.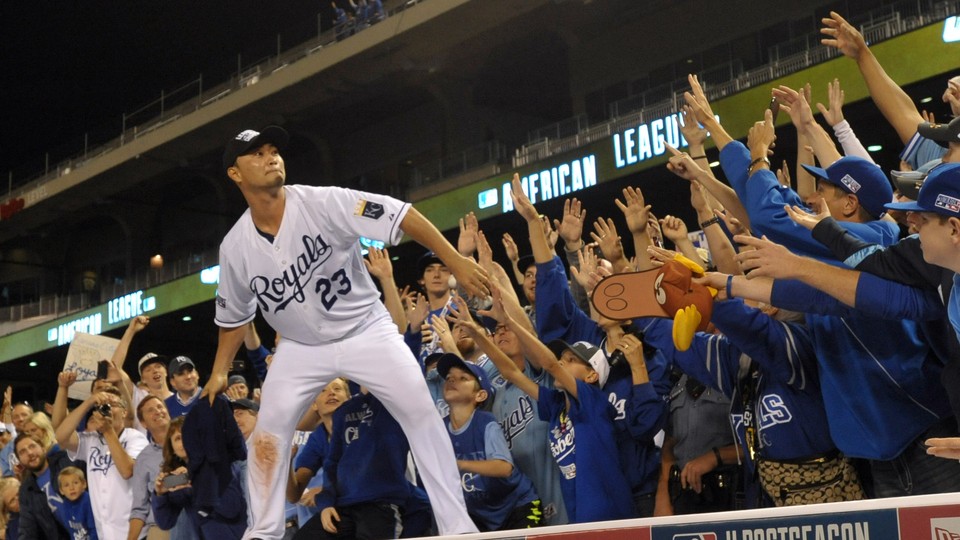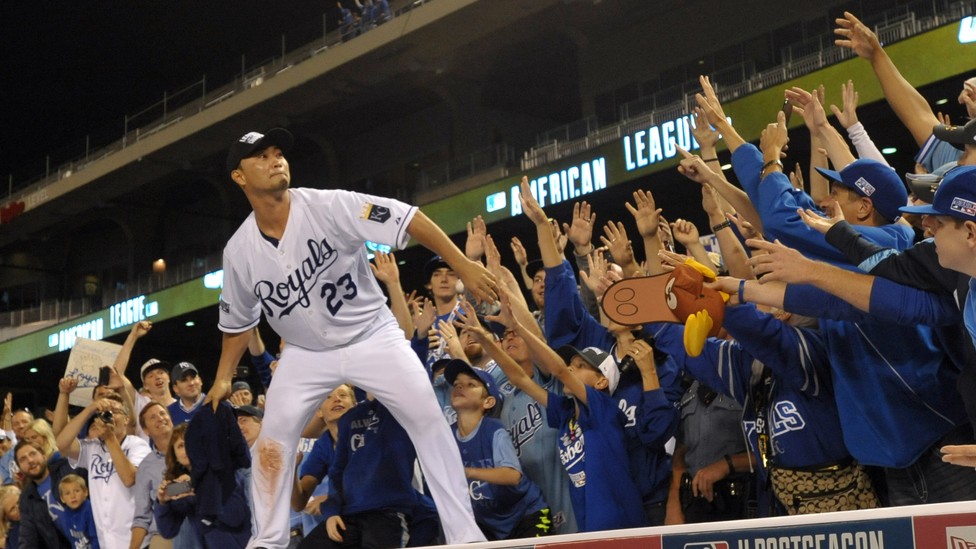 No baseball team had ever started a postseason with eight straight wins. The 2014 Royals just did. Breaking a record set by the 1976 Reds and 2007 Rockies, Kansas City won its eighth consecutive playoff game last night, sweeping past Baltimore to take the AL Pennant.
This run, which also included a sweep of the Angels and historic 12-inning comeback win against Oakland in the Wildcard game, has earned the nation's affections. According to an ESPN poll, the majority of fans in 47 out of 50 states were rooting for Kansas City to beat Baltimore. Vice Sports called the Royals "the most exciting team in the playoffs."  Newspapers from Seattle to Washington, D.C. have dubbed KC "America's Team." Even overseas, The Independent (UK) noted that America is "falling in love with the Royals."
Last weekend while I was on a trip to Las Vegas, I felt it. Wearing Royals gear while walking though the lobby of the MGM Grand, some random dude shouted "The whole country is rooting for you guys!" Another man shouted something similar on The Strip a few minutes later. It happened again at the airport. A TSA agent noticed my Royals cap. He said he was rooting for KC.
"Why?" I asked.
"Because they play the right way."
I would have hugged him, but he might not have let me on the airplane.
Ultimately, sports fandom is all about self-identification. So many of us love teams and athletes because we see ourselves in their stories. This Royals club, with their unlikely and unprecedented playoff run, clearly is telling a story that the nation wants to hear. It's about teamwork and the triumph of the underdog, the raw power of self-confidence, and the seemingly mystical effect of faith.
America, despite not being an actual underdog since the War of 1812, certainly does loves an underdog story. The Royals are that. For 29 years, this once-proud team had endured a savage, embarrassing postseason drought; the longest in all North American professional sports. Now this troop of mostly homegrown kids and castoffs have stormed into the World Series.
The Royals are also a great story because they play an unusual, exciting, nostalgia-tinged brand of baseball. With the fewest home runs of any team in the majors, they are the epitome of "small ball," winning with speed, pitching, timely hitting, and ridiculously good defense. Manufacturing runs from what feels like thin air, their style hearkens to a better kind of baseball, before steroids warped the game, erasing so much of its subtlety.
Consider how the Royals scored in the final game of ALCS. Alcides Escobar beat out an infield single. Nori Aoki was hit by a pitch. Lorenzo Cain bunted both runners over. Eric Hosmer hit an easy grounder, but Baltimore catcher Caleb Joseph dropped the throw home and both runners scored. 2-0 and the ball never even left the infield.
That taut style of play also makes for tense games, surely adding to the Royals' appeal. Of their eight postseason wins, four have been in extra-innings. Only one, the ALDS clincher, was decided by more than two runs.
They are a team without stars. Their very make-up demands it. Everyone on the roster must be a "role player." Better yet, they like it that way. These players take pride in their willingness to sacrifice—often literally—for the good of the team.
Unlike some grim-faced millionaire vets playing for big-market teams, the Royals also seem to be enjoying themselves. They come across as young and fun, both on and off the field, and they obviously love playing with each other. Look at Salvador Perez, Kansas City's giant teddy bear of a catcher. His entire Instagram account seems dedicated to the playful harassment of his teammate Lorenzo Cain.
They also seem to love the fans, and take huge delight in connecting with their city in a way that pro athletes almost never do. After big wins at Kauffman Stadium, Perez or Aoki will throw t-shirts to the crowd. When the team clinched against the Angels, Eric Hosmer went to local bar and spent $15,000 on free drinks for fans. Reliever Brandon Finnegan bought playoff tickets for a broke fan who asked him on Twitter.
Maybe most of all, the Royals are a story about belief. Over this dreamlike postseason, fans have watched the team get better, day by day, inning by inning. Before our eyes, they transformed from a team that thought it might win, to one that knew it would. Seeing that self-confidence pay off has been as thrilling, inspiring, and empowering an experience as any fan could want.
Belief and its effect on players' physical performance is at least explicable in rational terms. Adrenaline and so forth. For fans, though, the Royals rallying cry, "Believe!" elegantly expresses something more profound about sports fandom—the scientifically baseless, yet fervently held belief that its possible to affect a game even if you are miles from the stadium. By, say, prayer. Or wearing lucky socks.
According to a Public Religion Research Institute poll, 26 percent of sports fans says they have prayed for God to help their team. The other 74 percent are probably lying. At the very least, most of those 74 percent probably wear something lucky during games. Or sit in a certain chair, or refuse to shave, all of it a form of believing-while not-quite-admitting that consciousness and matter can interact in ways we don't yet understand. Maybe, just maybe, this wildly improbably Royals run is a demonstration of how faith can move mountains. Or, at least, move a baseball or two.
Then again, it could all be madness. Maybe there's no such thing as luck, and it's impossible for a group of athletes to manifest the personality, hopes, and dreams of all their fans. But these Royals sure seem to be doing so on a grand scale. For the past decade or so, the entire Kansas City metroplex has been experiencing a civic boom. This Royals resurrection feels inexplicably yet inextricably connected to what's happening in the city itself. The Royals, after all, are a small-market Midwestern club suddenly reborn. They win by being tough and smart, by adhering to classic, proven values, but while having fun, playing as a team, and always believing that good things will happen. That is precisely the story Kansas City wants to tell about itself.
That story, given the team's national embrace, is also something the whole country must want to hear. That could be because, sappy as it sounds, these underdog Royals not only evoke a better era in baseball, but a better time in American life. They represent a nation that still exists, but is too rarely portrayed in mass and social media. In that America, quiet self-sacrifice is still celebrated, teamwork will still win you something that money can never buy, and a relentlessly abiding faith in the future still can make even the craziest dream come true.