When Paris Met Rory: TV's Last Great Teenage-Girl Friendship
Gilmore Girls offered something too rare in pop culture: a deep platonic female relationship that didn't come prepackaged, but instead developed in front of viewers' eyes.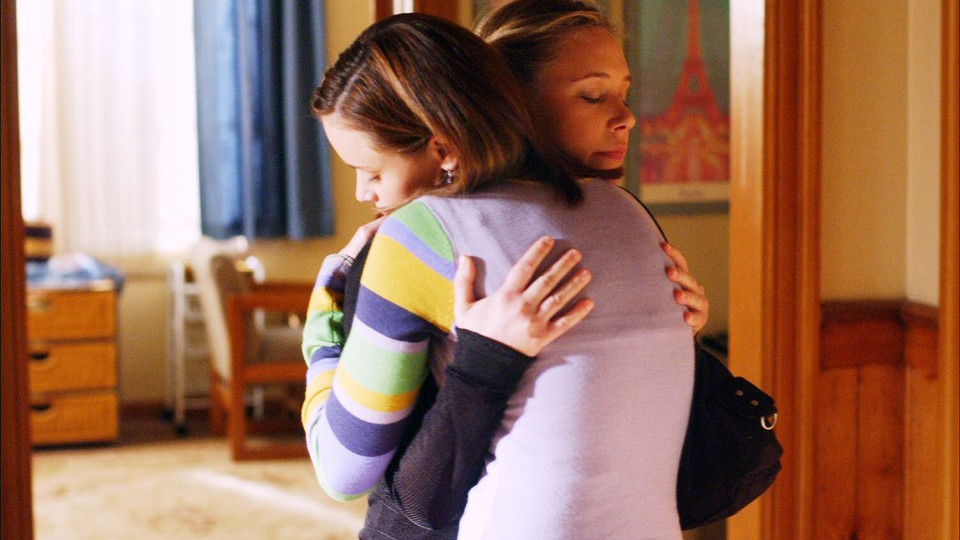 When viewers first met Gilmore Girls' Paris Geller (Liza Weil), she was crouching near a window with her friends, peering at Rory (Alexis Bledel), Chilton Preparatory School's newest plaid-clad arrival. She was worried, and for good reason: Rory could surpass her in grades and, though she didn't suspect it yet, would land Tristan (Chad Michael Murray), Paris's longtime crush.
Paris isn't usually what people talk about when they talk about Gilmore Girls, the ABC dramedy that ran on The WB/CW from 2000 to 2006. She's neither a Gilmore nor a denizen of Stars Hollow, and when the series debuts on Netflix Wednesday, she won't be the first character fans reminisce about. But her friendship with Rory should be remembered as a cultural landmark—TV's last, great, gradually developed friendship between teenage girls.
Paris was quite unlikeable early on, playing the brash, antagonistic foil to Rory's quiet, pensive new girl. After growing up in a mansion with nannies and chauffeurs, she also didn't quite get bucolic Stars Hollow. "I think I got rabies," she complained to Rory after stepping off a bus and setting foot in town for the first time. "I have to burn my clothes when I get home."
But over seven seasons, the two stopped circling each other and developed a believable friendship. They swapped boy advice. They vented frustrations. Paris even, at one point, kissed Rory in an attempt to create an epic Spring Break moment.
With Paris's transformation from teenage rival to teenage confidante, Gilmore Girls offered something that's rare on TV but common in real life. Unlike with the Sex and the City foursome, Buffy (the Vampire Slayer) and Willow, and the heroes of Broad City and Girls, Paris and Rory didn't start out as pals. Unlike with The O.C.'s treatment of Marissa and Summer and New Girl's portrayal of Jess and Cece, Gilmore Girls didn't relegate the development of Paris and Rory's rapport to flashbacks. And unlike Alicia and Kalinda in early seasons of The Good Wife or Max and Caroline on 2 Broke Girls, Paris and Rory weren't navigating grown-up workplace frostiness, but teenagedom—which is when, plenty of people will tell you, friendships are most intense.
Even more crucially, Gilmore Girls allowed Paris and Rory's friendship to matter. It featured prominently in Rory's story, even as she veered from boyfriend to boyfriend, school to school. The writers didn't sideline Paris and wedge her into the frenemy trope either, and instead gave the character her own worries and adolescent troubles. That in turn helped Rory play the best friend every now and then to someone who she hadn't known for as long as she'd known Keiko Agena's Lane. She comforted Paris after breakups, sparred with her over control of the Yale Daily News, and advised her on her post-grad career path. Ambition, not men, more often drove their fights.
Pop culture often fails to portray women as three-dimensional people—which is why there's the Bechdel test, which asks whether a work features female characters talking to one another about anything other than a man. And lately, it seems like TV has been backsliding when it comes to depictions of compelling female friendships. Look, for example, at the CW. Years ago, it pitted Serena van der Woodsen against Blair Waldorf on Gossip Girl before having them make up, offering a relationship whose depth and complexity approached Rory and Paris's. But it since has strayed from airing female-centric shows, in the hopes of gaining young male viewers. The network canceled The Carrie Diaries (which featured a blossoming friendship between frenemies Carrie and Samantha), and has set its sights on developing love triangles instead. Even in the case of female-driven dramas like Reign, more screen time has been devoted to the backstabbing and political intrigue the show offers over the teenage Mary's relationship with her female confidants.
In a column last October, Entertainment Weekly's Melissa Maerz lamented the state of female friendships on TV after news broke that Rashida Jones would leave Parks and Recreation and Sandra Oh would leave Grey's Anatomy. Even when it's not actresses themselves deciding to depart, shows find it hard to keep the Best Friend around to play the Best Friend for long. Anna Camp's Gwen on The Mindy Project disappeared halfway into the first season, and Cece on New Girl saw her storyline overtaken by her relationships with Jess's roommates, leaving Jess in the hands of other supporting characters. USA's Playing House, one of the strongest female-centric comedies last season, proved that female best friends doing best-friend things could be just as watchable as a gaggle of bros bro-ing out on shows like The League—and yet it still hasn't been renewed.
Of course, not all TV female friendships need to follow Rory and Paris' trajectory of enemies turned cautious friends after one mortifying C-SPAN segment. ("I had sex but I'm not going to Harvard!" remains an iconic Paris freakout quote.) But at the very least, it would be nice to see television writers follow Gilmore Girls' lead (pun intended) and revisit the lessons Rory and Paris' friendship taught viewers: Teenage girls, for all their worries and at-times-trite fights, develop fascinating, organic friendships and tight-knit relationships. And to see that play out on screen amid rapid-fire dialogue? Even better.