The Sweet Superstition of Rooting for the Royals
During Kansas City's playoff run, social media has only heightened the gloriously irrational, neurotic nature of baseball fandom.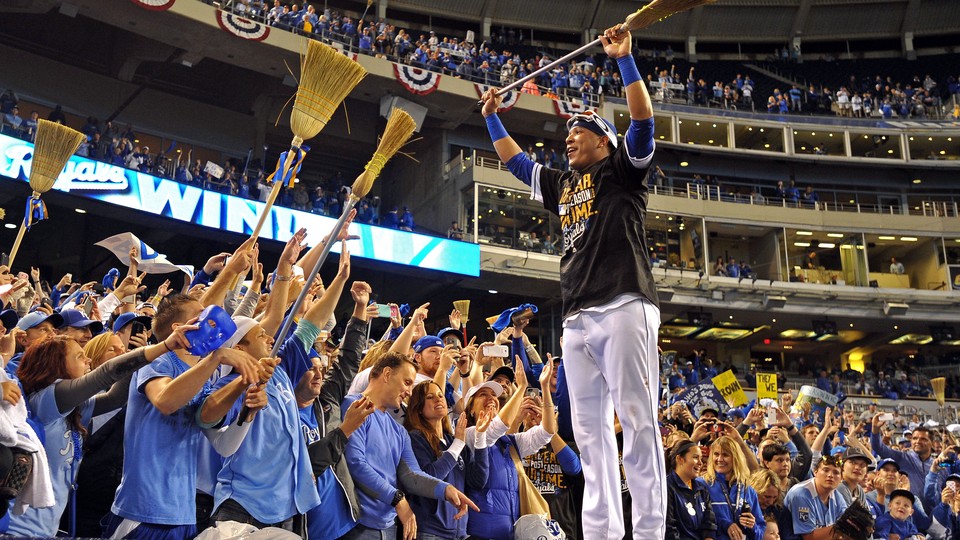 On the first day of September of this year, I packed my car and made a three-hour drive from my home in rural Saline County, Kansas to Kauffman Stadium in Kansas City. My goal for the journey was to save the Royals' historic run at a postseason baseball berth; my strategy was to fly a South Korean flag from the upper decks of the stadium.
Die-hard Royals fans will understand my reasoning. By midnight of August 31st, Kansas City's long-suffering baseball team was spiraling into a slump that threatened to ruin an otherwise outstanding late-summer run. After having won 17 out of 21 games early in the month, the Royals had dropped four games in a row, hemorrhaging 10 extra-inning runs in three extra-inning games, and enduring a home-series sweep at the hands of the suddenly clutch Cleveland Indians. Worst of all, the final loss was not yet an official loss; it was a 10th-inning rainout that had left the Royals down 4-2 with three outs to go. The final half-inning was scheduled to resume in Cleveland 23 days later, but given the Royals' exasperating inability to muster offense, few fans were looking forward to revisiting the inevitable pain of letdown in three weeks' time.
My South Korean flag represented hope for the Royals. Not because the team's players have a particular connection to Korea, but because the team's most loyal fan, a Seoul-native named SungWoo Lee, had recently visited Kansas City after having rooted for the team from afar for two decades. What had started out as a Twitter campaign to regale this Korean superfan with Midwestern hospitality snowballed into a much bigger phenomenon as the Royals won nine games during Lee's 10-day visit. On August 11th, just after the Royals defeated the A's 3-2 and moved into a half-game lead in the AL Central, SungWoo hung the "W" on the outer wall of the Royals Hall of Fame, to the delight of 20,000 fans at Kauffman Stadium. After 29 years of frustration (the Royals hadn't made the playoffs since winning the World Series in 1985) Kansas City's baseball team was suddenly basking in the thrall of what felt like good luck.
The idea of luck has, of course, been central to the mythos of baseball, from the Red Sox's 86-year "Curse of the Bambino" to the Cubs' ongoing "Curse of the Billy Goat." Superstition is so deeply rooted in the workings of the game that most players wouldn't dare step on the chalk foul line between innings any more than they'd chat up a pitcher during a no-hitter. Players and fans alike employ rituals like the rally cap (i.e. headgear worn inside-out in the hopes of turning a game around), but for the most part, fan superstitions have been a separate and largely private ritual.
Last season, for example, when the Royals went on a 19-5 run after the All-Star break, I began listening to game broadcasts on the same Reagan-era Sears boom box I'd used during the team's 1985 World Series season. Earlier this year, in June, I was all set to shave off the scraggly beard I'd been growing since early April when the Royals went on a 10-game winning streak. (It's now four months later; I still have the beard.) It was around this time that I began to quietly follow a group of fellow Royals neurotics on Twitter, and that's how I came to be convinced that the team's fortunes might well be pegged to the unwavering faith of a gentle-spirited 38-year-old from Seoul.
I flew the South Korean flag from my seat in the HyVee box seats Kauffman Stadium the evening of September 1st, and the Royals defeated the Texas Rangers 4-3. Kansas City went on to win four of its next five games, and ultimately clinched a Wild Card later that month. I'm not sure if any players on the team noticed the flag's red-over-blue yin-yang flapping way up in the cheap seats that night, but it didn't matter. Unfurling a Korean flag was, as much as anything, a declaration of faith to every fan who understood what it represented—that things would be okay, that fate would remain on our side, that the Royals did (and would) have things under control.
If SungWoo Lee represents the symbolic heart of a Royals fan-base that has seen a lot of suffering for the past 29 years, our symbolic brains belong to a part-time baseball blogger and full-time Royals stalwart named Rany Jazayerli, who contributes articles to venues like ESPN's Grantland. Just as SungWoo has spent the past two decades embodying the decency and optimism that we aspire to (and frequently fall short of) as Midwestern sports fans, Rany has spent that same period articulating the perennial frustrations of Royals fandom with wry humor and keen analytical intelligence. Taken together, Lee and Jazayerli (whose Royals-fan Twitter followers number in the tens of thousands) are a two-person counterpoint to George Orwell's old assertion that sports fandom is bound up in the hatreds and jealousies of "local patriotism."
Indeed, for all their years of Royals loyalty, neither of these Royals super-fans has ever lived in Kansas City: Rany is a Chicago-based Syrian-American Muslim dermatologist who spent a portion of his youth in Wichita; SungWoo is a Seoul-born corporate merchandise manager who fell in love with the underdog Royals when, as a middle-school student, he began watching American baseball broadcasts in an attempt to improve his English. There is nothing rote or parochial about either man's fandom; they love the Royals because the Royals are the Royals (and Royals fans like me have grown to love them for that).
The fact that I have, in effect, become a fan of fans like Lee and Jazayerli says a lot about following sports in the 21st century. When I first embraced the Royals as a grade-school kid in the late 1970s, I tracked the emergence of the small-market team and its breakout stars—George Brett, Frank White, Dennis Leonard—via radio broadcasts and newspaper box scores. I lived in Wichita, and although my aunt and uncle once treated me to a game during a summertime visit to Kansas City (July 5, 1978, a 10-1 victory over the Angels; I still own the program), I rarely interacted with Royals fans who weren't family members or classmates. The Royals superstition-rituals that I eventually developed (such as leaving the room when opposing runners were in scoring position) thus evolved within an introverted, self-conscious vacuum as the franchise scrapped its way through several postseason runs en route to its first world title in 1985. By the time the team had begun its slow decline and stagnation in the mid-1990s and 2000s I had moved overseas to Asia, where online Royals outcomes felt more emotionally abstract than they did over the radio. When my return to Kansas coincided with the eventual revival of the team's fortunes, however, I found myself just as beholden to oddball notions of luck as I was when I was a kid.
As a notorious "game of inches" that doesn't always yield consistent outcomes, baseball has a way of intensifying the sense of powerlessness and uncertainty that fuels such superstitions. Add an idiosyncratic manager like the Royals' Ned Yost to the mix, and the task of wishing the best outcome for your team can begin to blur into neurosis. An old-school "small-ball" strategist by reputation, Yost's leadership can at times feel downright Old Testament to longtime Royals fans, who can never be certain if they are witnessing some weird preamble to a miracle, or being punished for something they will never understand.
It was in a jag of frustration at Yost's compulsive bunting and bizarre bullpen orthodoxy that I turned to the solace of the Royals' Twittersphere earlier this summer. There, after a lifetime of loving the Royals, I finally found people who were as exuberant and irrational about the team as I was. Reading the feeds of people like @Ethan_Bryan and @KCRoyalFan and @TheFakeNed, I was able to revel not just in fevered narratives about the team's strategies and players, but also in the stories of people—like SungWoo—who loved the team in ways I hadn't yet considered. I was mostly an observer rather than a participant in the chatter, but keeping my Twitter feed open during games developed into its own ritual. When the team clinched its first postseason berth in nearly three decades with a 3-1 win over the White Sox on September 26th, watching my fellow fans celebrate on Twitter was nearly as satisfying as watching online footage of the players spraying champagne in the clubhouse.
On the final day of September I once again made the three-hour drive to Kauffman Stadium, this time with my 75-year-old father in tow, to watch the Royals play the A's in the AL Wild Card game. Flush with an excitement shared by 40,000 other Royals fans, we found our HyVee seats in the upper deck and settled in for what may well be remembered as the most epic five hours in Kansas City baseball history. After falling behind 2-0 in the top half of the first inning, the Royals fought back for a 3-2 lead in the third, which held fast until Yost's peculiar bullpen tactics led to the A's scoring five runs in the sixth inning. This 7-3 deficit lasted until the bottom of the eighth inning, when a combination of stolen bases, clutch hitting, and a wild pitch enabled the Royals to creep back to within one run. An inning later, with the A's up 7-6 going into the bottom of the ninth, I took out my South Korean flag and anxiously held it out toward the field.
I'd done this ten-dozen times during the game's dizzying emotional roller coaster, of course, but this time I caught the attention of whoever runs the stadium's 8,820-square-foot "Crown Vision" Jumbotron. Unspoken stadium protocol dictates that one is supposed to mug and enthuse during Crown Vision appearances, but I've never understood how true fans are able to put on a display of silly energy during close games. Gazing up at myself on the big screen I realized how stricken I looked, flag in hand, a five-month tangle of beard-growth making me appear is if I'd just staggered in from Amish-country witness-protection exile.
I doubt the players noted the anomaly of a skittish bearded man clutching a South Korean flag for those few moments on the Jumbotron. When the Royals tied the game in the bottom of the ninth, it wasn't a matter of luck; it was the result of Josh Willingham's bloop single, Jarrod Dyson's bold base running, and a solidly hit Nori Aoki fly ball. It was rookie reliever Brandon Finnegan—not luck—that kept the game tied through the 10th and 11th innings, and it was the clutch hitting of Eric Hosmer, Christian Colon, and Salvador Perez that enabled the Royals to overcome a one-run deficit and clinch the game in the bottom of the 12th. Still, holding that flag in the middle of the ninth inning made me feel that all those feats might be possible—and that other fans might notice the gesture and embrace the possibility too. Later, after a giddy three-hour drive home, I noticed that a handful of in-the-know Twitter fans had seen the flag and sent hope-filled salutes to SungWoo. When Rany Jazayerli's account of the game appeared on Grantland hours later, he noted the flag's appearance on the Jumbotron and intuited exactly what I'd hoped it would mean to folks like him: "We got this."
Later that week, when the Royals defeated the Angels on consecutive nights in a pair of thrilling 11-inning divisional-series games, friends from around the country messaged me to note how happy I must have been at all the triumphant drama. I was happy—I was overjoyed—but, as a lifelong fan who has never been able to shake my belief in the odd workings of luck, I was also wrung out emotionally, wrecked by an endorphins-and-adrenaline hangover. When the Royals clinched the series with an 8-3 home win two days later, I was as grateful for the margin of victory as I was for the win itself.
This weekend, as the Royals open their league championship series against the Orioles in Baltimore, I will be sitting in my home in north-central Kansas, listening to the game on my Reagan-era Sears boom box. If by chance Oriole runners get into scoring position, I will leave the room. If by chance the game gets close, I will take out my South Korean flag and drape it over my shoulders. If by chance this all begins to feel unhinged, I will open up my Twitter feed and look for kindred spirits.