The Oscar Contenders to Emerge From the New York Film Festival
Gone Girl, Inherent Vice, and Birdman may have their presence felt throughout awards season.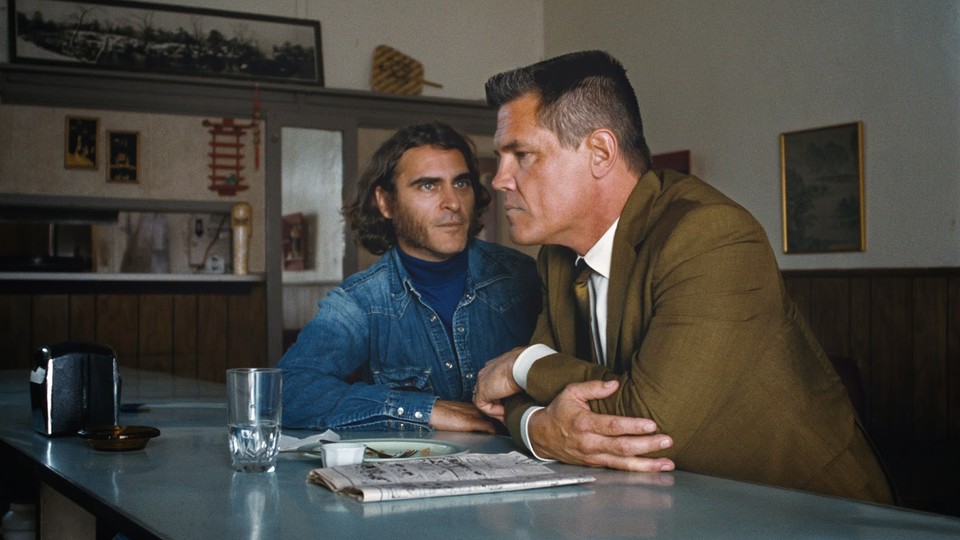 The 52nd annual New York Film Festival comes to a close this Saturday with a screening of the highly anticipated Birdman, from director Alejandro Gonzalez Inarritu and star Michael Keaton. This caps 16 days of film screenings from all over the world. True to the festival's form, only a small handful of those were world premieres, which means when it comes time to lap up credit for the movies that ultimately go on to win Oscars, NYFF will only have a few opportunities to crow. Still, if you're looking for a cross-section of the kinds of films that could end up at the Academy Awards, you could do worse than the New York lineup.
Those two splashiest world premieres were David Fincher's Gone Girl, which bowed at Lincoln Center a week before its No. 1 box-office debut, and Paul Thomas Anderson's Inherent Vice, which debuted last weekend amid a haze of pot smoke and noir-ish features. Both films will battle against Academy tendencies that generally don't favor the kind of ice-cold formalism and dark humor that Fincher uses, nor the impenetrable vulgarity that Anderson trades in with his latest. And yet these are two directors whose films have combined for 37 nominations and nine wins in the last seven years, so it would be fairly absurd to underrate their chances too much.
The $37 million box-office opening for Gone Girl will certainly boost its chances. In a year when few frontrunners for Best Picture have announced themselves (we've got Boyhood as a dark horse, and … uhhhhh?), a popular and critical hit in the hands of David Fincher could be a formidable contender. Certainly, the buzz surrounding Rosamund Pike should but her in the Best Actress conversation. There's the drawback that she doesn't play a very likeable character—likeability being a common theme for performances blessed with Oscar nominations—but neither was Jesse Eisenberg's take on Mark Zuckerberg, and that got a nod. With anywhere from five to 10 Best Picture nominees up for grabs, it would be surprising if Gone Girl missed the cut.
The prospects for Inherent Vice are murkier. After There Will Be Blood and The Master took dead-eyed aim at America and What It All Means, there's a chance that the weird comedy, narrative non-sequiturs, and general air of stoned noodling in this Thomas Pynchon adaptation will allow Oscar voters to chalk it up as a minor work. Which isn't to say that Inherent Vice isn't also about America; it most certainly is. But its relative subtlety on that point, particularly when contrasted with Anderson's previous two films, might not work in its favor. As it stands, The Master was only a half-hit with Oscar voters, scoring three acting nominations and nothing else.
Beyond those top two headliners, NYFF offered a lineup that could make an impact in any number of Oscar races. Birdman, which closes the festival on Saturday night, looks to be a stylistic change-up for Inarritu, but more importantly, it presents itself as a giant comeback opportunity for Michael Keaton. He's building an irresistible Best Actor narrative, and word is he's excellent in this tale of a former action star looking to re-ignite his career with a stage play.
Whiplash, starring Miles Teller as a young arts student whose drumming puts him in the path of the frighteningly intense J.K. Simmons, has been a huge crowd favorite at every festival it has played. Writer/director Damien Chazelle looks primed for that "wunderkind screenplay nomination" slot, and veteran character actor J.K. Simmons is a slam-dunk for a Best Supporting Actor nomination, and maybe even a win.
Two Days, One Night from the Dardenne brothers has fans of the auteurial pair, plus star Marion Cotillard, primed for awards campaigns. The film, about a factory worker (Cotillard) at risk of losing her job, is Belgium's official submission in the Foreign Language Film category.
In The Clouds of Sils Maria—a story of a famous actress (Juliette Binoche) and her personal assistant (Kristen Stewart) as the former prepares for a play that will force her to confront the implications of getting older in her field—director Olivier Assayas gives her two stars plenty of room to show their stuff in a series of showcase scenes. Odds are, it won't make much of a splash when the Oscar nominations come out, but it could end up helping out Stewart's hopes for a Supporting Actress campaign for the upcoming Still Alice, where she plays the daughter of Julianne Moore's Alzheimer's-sufferer. Between those two movies, Stewart is building a nice case for a kind of "banner year" nomination. She's great in both films.
'71, set in Northern Ireland amid the Troubles, is another movie that probably doesn't stand much of a chance for Oscar—though not for lack of great reviews from critics—but that could help bolster the chances of its star, Jack O'Connell. The 24-year-old English actor is having a breakthrough year, after this and fellow festival-circuit hit Starred Up. Awards-wise, however, it's all preamble to December's Unbroken, where O'Connell stars for director Angelina Jolie as Olympic athlete/World War II P.O.W. Louis Zamperini.
The Oscar category that might see the biggest influx of NYFF talent is Best Supporting Actor, which could very well be able to field an entire slate of five nominees just from movies that have screened here over the last two weeks:
As mentioned, J.K. Simmons is a powerhouse in Whiplash, and as Octavia Spencer proved a few years ago, character actors who have been working for many years can amass a lot of goodwill among their fellow entertainment professionals. It's likely that a vote for J.K. Simmons is going to be one a lot of people in Hollywood will feel good about.
While many of the questions about the Foxcatcher awards campaign revolve around whether Steve Carell and Channing Tatum will indeed both make bids as leads, there sits Mark Ruffalo in supporting, all alone and (if you ask me at least) giving the best performance in the film. Ruffalo's been nominated once before (in 2010 for The Kids Are All Right), and director Bennett Miller (Capote, Moneyball) has a knack for getting his actors recognized.
Edward Norton has been getting great reviews for his Birdman performance, which presents an interesting opportunity for a comeback for Norton, a two-time nominee who's since amassed something of a reputation for being difficult in Hollywood. That's not necessarily a deal-breaker when it comes to Oscar nominations, but it's not as if likeability isn't a factor.
Inherent Vice offers a plethora of Supporting Actor possibilities, which isn't necessarily a good thing for it. Too many options from one movie tends to dissipate any kind of momentum. It's better (and movie studios have certainly figured this out) to funnel all attention to one, maybe two performances. Look no further than Lincoln, a film that boasted at least half a dozen worthy supporting performances but that very early coalesced its campaign onto Tommy Lee Jones and rode that all the way to a nomination (and nearly a win). If you're looking for the best candidates from Inherent Vice for this treatment, I've got two contenders: Josh Brolin (nominated in 2008 for Milk), who gives a committed, deeply funny performance as Joaquin Phoenix's primary antagonist; and Martin Short, never nominated, who swans onto the screen midway through the movie and goes big as a drug-fiend dentist. If you're at all plugged into the comedic wavelength of the movie, Short's sequence is a major standout. The Oscars aren't afraid of going for small roles that yield oversized performances, and it's easy to imagine a campaign portraying Short as a comedy legend who's never gotten his due, awards-wise.
It's worth pointing out that only six of last year's 20 acting nominations came out of NYFF.