The NBA's Radical Shorter-Game Experiment
Fewer minutes make for a more interesting game. Right?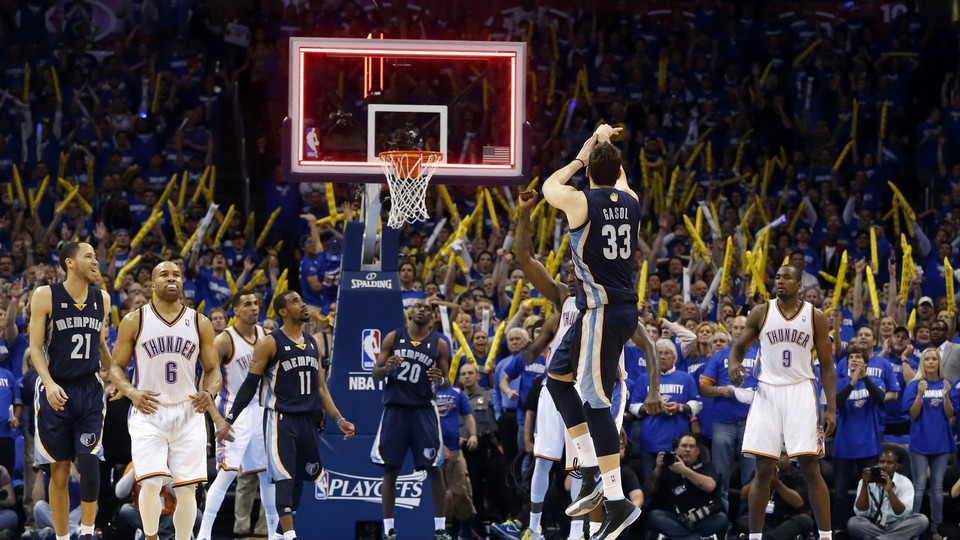 Barring the occasional player injury, preseason NBA games typically attract very little attention. But the matchup between the Brooklyn Nets and Boston Celtics on October 19 ought to be an exception: The NBA announced Tuesday that, in an experiment to speed up the pace of play, the game will be 44 minutes long rather than the usual 48. Each quarter will last 11 minutes rather than 12, and coaches will have two, rather than three, mandatory time-outs in the 2nd and 4th quarters.
NBA games have lasted 48 minutes since 1946, but in recent years the games have grown longer due, in large part, to an expansion in television advertising. And the lengthier games have not been for the better: No player in the NBA averaged more than Carmelo Anthony's 38.7 minutes last season. A 44-minute game would, in theory, keep the NBA's best players on the floor for a higher proportion of each game.
The NBA has historically shown a willingness to make changes that, by comparison, seem far more radical than shortening the games. The shot clock—a hugely consequential factor in the speed of the modern game—didn't exist until 1954. Zone defenses were allowed, then forbidden, then allowed again. Legendary players like Wilt Chamberlain (who, it should be noted, once averaged 48.53 minutes per game through a full season) and Bill Russell retired years before the NBA introduced the three-point shot in 1978.
A 44-minute game may, however, introduce fresh problems: As Grantland's Zach Lowe notes, fewer minutes per game would make roster depth less important, allowing teams to carry fewer players throughout the season. For the NBA's Player Association union, which fiercely protects the interests of the league's marginal players, this idea may be a non-starter.
Should the NBA manage to enact this change, they'll at least be one step ahead of Major League Baseball which, for years, has formed committees to figure out how to shorten games without any success whatsoever.