The Millennials Are Coming for the Rock and Roll Hall of Fame
Green Day's nomination means that the eligibility period has reached a new era, and it's another generation's turn to feel old.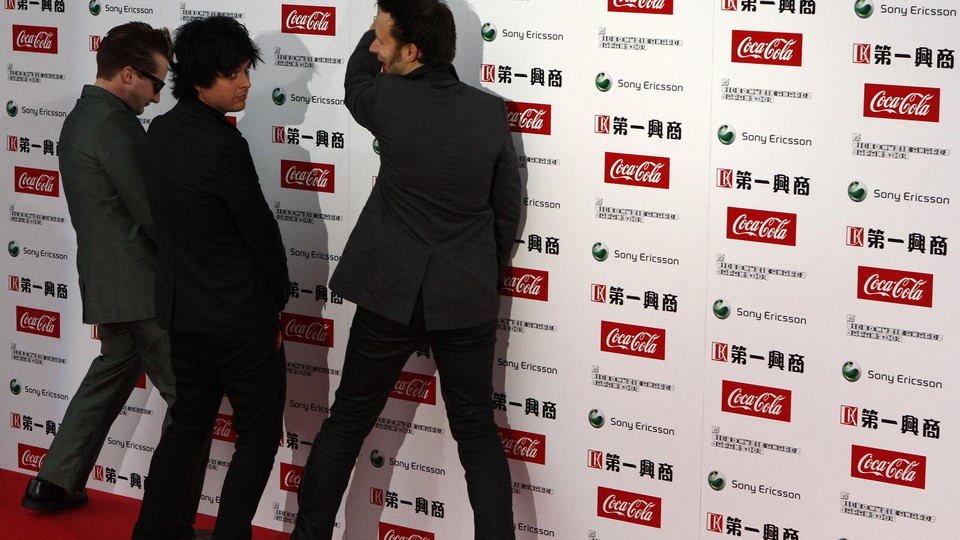 As with any artistic awards-giving organization, it can often seem like The Rock and Roll Hall of Fame exists less to honor achievements and more to start arguments. Certainly a few squabbles will spark off the just-announced class of nominees for induction in 2015:
The Paul Butterfield Blues Band
Chic
Green Day
Joan Jett & the Blackhearts
Kraftwerk
The Marvelettes
N.W.A
Nine Inch Nails
Lou Reed
The Smiths
The Spinners
Sting
Stevie Ray Vaughan
War
Bill Withers
It goes the same every year. Pick your snub of choice (Deep Purple? Janet Jackson?), your always-a-nominee-never-an-inductee of choice (poor Chic), and you're how-are-they-not-already-inducted artist of choice (Lou Reed, N.W.A.). Then fight.
Judging from the headlines so far, the newest and splashiest commentary-creator will be Green Day. The pop-punk act's first album was in 1989, the latest year of eligibility for consideration, and their presence on the list has been received with some head scratching. "Green Day?" asks Jesse David Fox at Vulture. "Yep, Green Day—that band from your childhood bedroom."
Your childhood bedroom: The "your" is very specific there. It's Millennials. Green Day's presence, in a way like no nominees before it except perhaps the Red Hot Chili Peppers, ushers in a distinct era of music that almost butts up against the present.
That's not to say that previous nominees weren't in Millennial bedrooms. Nirvana joined the hall last year, the first year of its eligibility. Millennial me kept new nominee Trent Reznor on my dorm wall. And of course, people all over the planet of all ages are plenty acquainted with the classic rock and pop icons that the hall is built upon. But all of those acts' heydays of influence, acclaim, and commercial success were last millennium. That probably contributes to the feeling that they're plausible candidates for canonization in a way that Green Day may not be yet.
Billie Joe Armstrong & co.'s cultural reign really lasted from the mid '90s to, arguably, very recently. Their 2012 album trilogy sold relatively poorly and spawned no lasting hits, but it was only five years ago that their record 21st Century Breakdown went platinum partly on the strength of single "Know Your Enemy." Part of their achievement was remaining successful even as the wider popularity of guitar rock began to flag. The band's presence on the nominee list reminds that as the years roll on, the hall of fame will be faced with fewer and fewer traditionally "rock" acts to honor, and may need to embrace the pop, rap, and dance artists that Gen Y loves (which means it probably should get around to inducting more foundational non-rockers like N.W.A. and Kraftwerk).
Does Green Day belong in the hall on their merits? It's hard to deny that they helped change the sound of modern music by popularizing pop-punk, that they united disparate audiences with projects like the American Idiot Broadway production, and that we're all fated to hear "Good Riddance" played over graduation photo montages for eternity. But should that translate to glory in Cleveland? Argue away.