The Sadness of Super Smashing Solo
Nintendo's mascot melee series Super Smash Bros. just released its first handheld version. Playing it makes you feel lonely.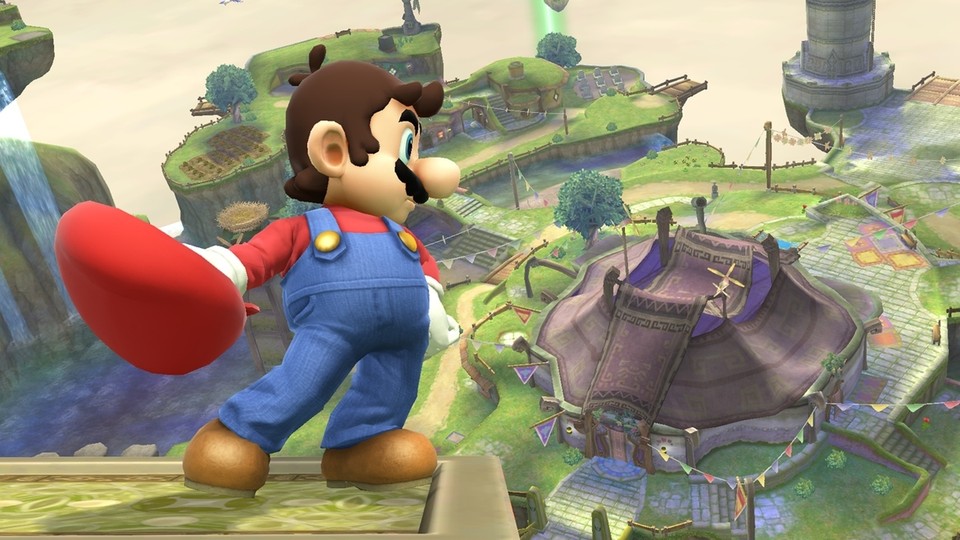 For a decade and a half, I could only beat up Pikachu in the privacy of my own home.
I could only spar with Samus Aran while planted on my couch. I could only dodge Mario's fireballs while connected to a console. Every iteration of Nintendo's mascot fighting game Super Smash Bros. was released for a console: the Nintendo 64, the Gamecube, the Wii. That all changed on October 3, 2014, when Smash went portable.
Since the game's release on the Nintendo 3DS, I've fought gaming's best, cutest, and fiercest stars while commuting into work on the train, in spare moments at a coffee shop—basically at any chance I get. It's been action-packed! It's been energetic!
It's been lonely.
Playing video games alone is hardly a foreign experience. Outside of the haggard days of link cables with Game Boys and limited Internet connectivity on modern systems, handhelds are designed for the solo gaming experience. Beyond that, there have been plenty of console games made for the individual instead of a group. Smash just isn't one of them.
Much like other games in the Mario Bros. canon—whether the Italian plumbing hero is go-karting, playing tennis, or having a party—Smash is designed as a social game. Only part of the experience actually happens on the screen. The rest is about the interaction with friends as you play. It's the playful trash-talking and the debates over which characters are best, the cheers of victory and indulging in a loss despite your disappointment. Without having the people you're fighting in the same room as you, that dynamic goes away. It becomes only half a game.
Reviews for Smash 3DS have been good, but as the Metacritic numbers show, critics have taken their praise a notch down from the past two Smash installments. Melee is truly one of the great Nintendo games of all time—no hyperbole—so it makes sense that it'd have the highest score. And while Brawl was considerably worse-received for its slower gameplay, to an extent, the sequel to Melee was always going to receive glowing notices (expectations gave it the edge over reality). So the dip for the new game is understandable—even if the most negative chatter so far has been more focused on technical issues like the controls.
It's true, the controls on the 3DS aren't made for a game like this, but Smash itself is well-made enough to forgive such issues. All the hallmarks of actual Smash gameplay are there, and the speed has hit a nice middle ground between Melee's competition-fierce frenzy and Brawl's casual player-friendly pace. The playable roster is the deepest its been, with some of the characters offering fresh, unique ways to experience the game. (Although the continued presence of clones that play very similarly to other fighters, including three of the secret characters who are almost pure copies, is frustrating.)
All in all, it's a great game! But that doesn't change the fact that it's just not Smash Bros. It looks, sounds, and plays like Smash Bros., but without that social component, it just doesn't work. True, the game does have an online multiplayer function, but this isn't Halo or Call of Duty. You can't strap on a headset and talk with the people you're playing with in real time. Plus, the online connection lags badly, which is hugely detrimental to such a fast game.
My disappointment with the social experience of Smash 3DS won't keep me from playing, of course. As mentioned, it's a well-crafted game, enjoyable largely because it can be played in quick bursts. In fact, it suggests that a mobile version of Smash (if such a thing was technically possible) would be a, well, smash; on a smartphone, the isolation factor wouldn't be a detriment, but a feature. The idea behind a phone game is that you can play in short bursts. The game comes with you as you live your life; you don't have to carve out time to play. As it stands on the 3DS, this version of Smash just feels like an unnecessary intermediate.
The good news for those waiting for the next true installment of Smash: That wait won't take too long.