The Museum of London recently debuted Sherlock Holmes: The Man Who Never Lived and Will Never Die, a major exhibition devoted the fictional detective and the real city he inhabited. The items on display include a rare manuscript of Edgar Allan Poe's The Murders in Rue Morgue—a key influence on Holmes's creator, Arthur Conan Doyle—and a portrait of Conan Doyle never before seen in public. But alongside these one-of-a-kind historical treasures, visitors will find two curiously modern artifacts: the coat and dressing gown worn by Benedict Cumberbatch in Sherlock, the BBC's 21st-century reboot of the Holmes stories.
While these costumes are obvious bait for fanboys (and fangirls) who might not be clued into the Victorian literary sensation behind the modern-day television sensation, they also serve as a reminder that Holmes's fashion choices, from page to screen, have always launched real-world trends. In Conan Doyle's lifetime, Holmes's name and likeness were used to advertise pipes and shirts as well as tea, toffee, and mouthwash. More recently, Esquire, FHM, and GQ have advised readers on how to get the Sherlock look. The exhibition provides a retrospective of Sherlockian style, investigating how it has evolved while retaining its instantly recognizable Victorian fashion DNA. The museum even commissioned a Scottish textile mill to create a signature tweed in Holmes's honor, and a concurrent show features fashion photographer Kasia Wozniak's prints made using a 1890 field camera.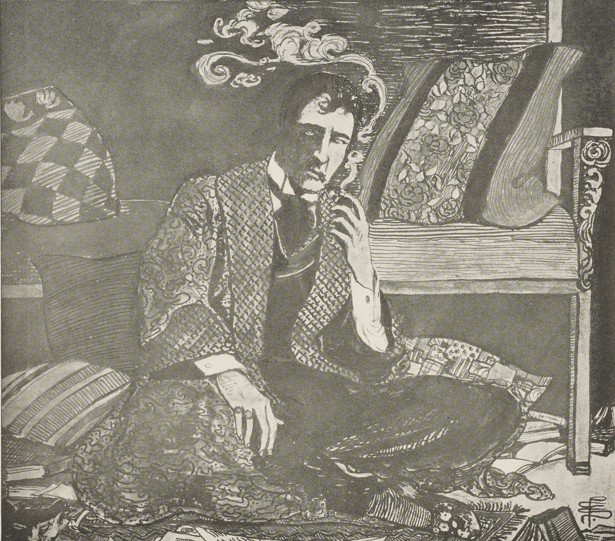 This lasting fashion legacy is all the more extraordinary considering how stingy Conan Doyle was with descriptions of dress. Our image of Holmes comes almost entirely from his illustrator, Sidney Paget, whose elegant, angular prototype influenced every incarnation thereafter. Though he didn't always share them with readers, however, Conan Doyle clearly had firm ideas about Holmes's appearance; he once protested that a poster for the 1899 play Sherlock Holmes made the detective look "about five feet high" and "badly dressed." And Timothy Long, the Museum of London's fashion curator, points out that Conan Doyle used a "lost language" of fashion. "The modern audience reading these stories often overlooks clues that were very obvious to contemporary readers," he says. "Putting Watson in a morning coat or a frock coat indicated the time of day, for example."
Long describes Holmes's wardrobe as that of "a modern English gentleman. The greatcoat and the deerstalker were key components of any gentleman's wardrobe in England at that time period." Thanks to the popularity of the Holmes stories, plays, and films, they remain so in the popular imagination today. Holmes's clothes in their various iterations are both timeless and very much of their times. The three most indelible Sherlocks—Paget's original illustrations, Basil Rathbone in the 1930s, and Cumberbatch—all wear contemporary dress, yet they are all unmistakably the same character.