The Author of White Noise Reviews Taylor Swift's White Noise
This morning, the singer released "Track 3"—eight seconds of silence. Was it a mistake, or a super-profound commentary on the contemporary condition?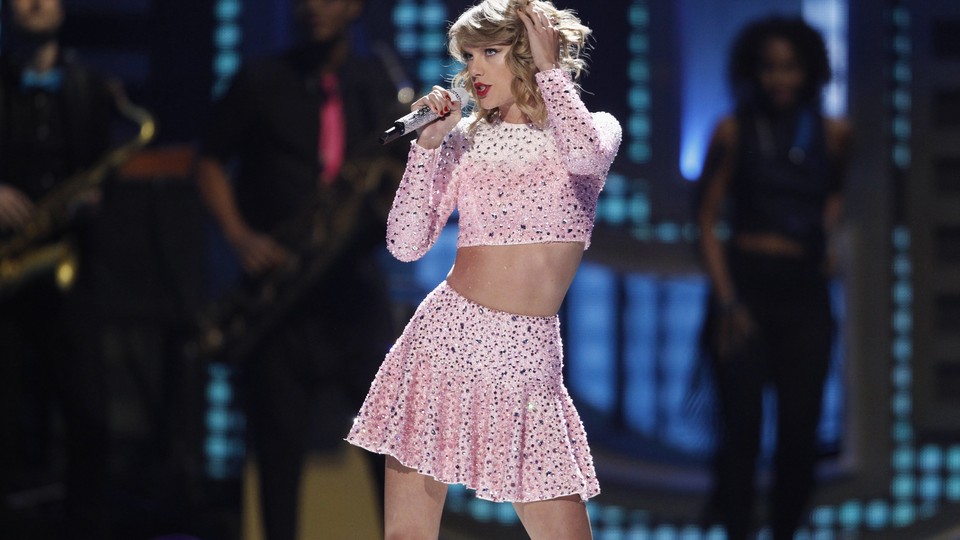 This morning,

"Track 3" from Taylor Swift's new album, "1989," rose to No. 1 on Canada's iTunes. This would not be notable—yet another Swift song, catapulting to the top of the charts—except for the song itself: "Track 3," it turned out, was simply eight seconds of ... white noise.
You could see the whole thing as a simple glitch (and, of course, as a commentary on the deep loyalty of Swift's fan base, in Canada and in the U.S.). But you could also see it as something more meaningful, something in the tradition of Marcel Duchamp and Jeff Koons and, of course John Cage: Taylor, an expert in the agonies of love and loss, extending her reach to explore technology and nihilism and the entire human condition. "White Noise" may be the great song of our time. So we asked for a review of it from Don DeLillo, the author of one of the great novels of our time.
Taylor Swift
1989
"Track 3," 2014
Reviewed by Don DeLillo
It is possible to be homesick for a place even when you are there
. "Track 3," the latest release from Taylor Swift's
1989
, explores the dropped pin, uniting the past and present—the now, the then—with the sharp pangs of its own absence. White noise. Black hole. The gravitational pull of nothingness. The silence's soft ecosystem, nourished by Apples and Cokes and plotted upon plastic products whose names begin with
i
. On the Internet, it is always spring. It is every season. It is any season.
It is the time of year, the time of day, for a small insistent sadness to pass into the texture of things. Dusk, silence, iron chill. Something lonely in the bone
.