English Soccer's Bid to Conquer the World
The Premier League may add a week of global touring to its teams' schedules, but doing so could alienate fans at home and exhaust star players.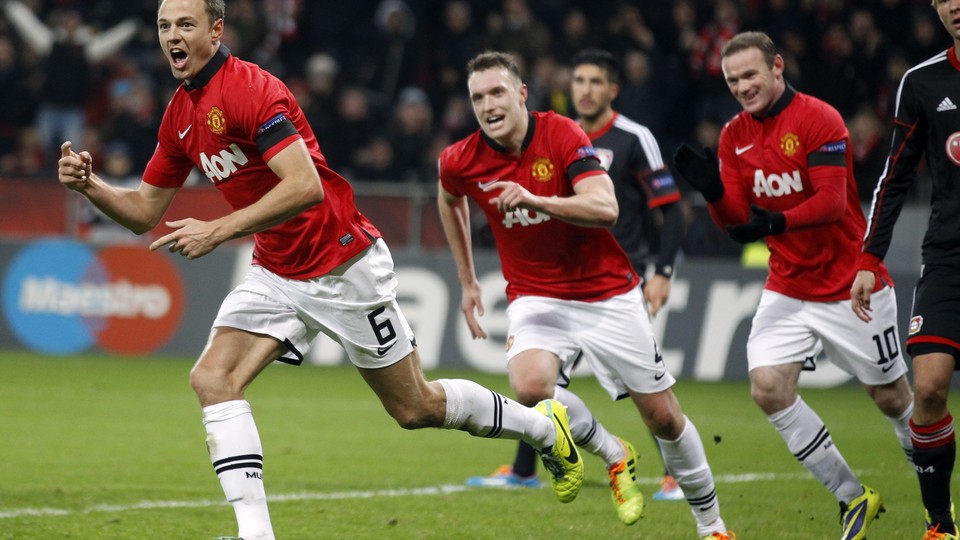 Soccer clubs in the English Premier League, the richest in the world, are considering playing a week of games abroad. The Associated Press was told that the league is conducting a feasibility study into the matter, with alternatives to regular-season globe-trotting that include extending the slate pre-season exhibition matches and expanding the existing Premier League Asia Trophy tournament.
This is inevitable. Professional soccer has expanded globally at an incredible rate, fuelled by ever-increasing overseas TV rights. According to Sporting Intelligence, overseas TV rights earned English soccer £40 million ($64 million) for the five-year period to 1997. Broadcast deals now run for three years, and the latest overseas-rights agreement, covering 2013-16, was auctioned for a whopping £2.2 billion:
---
English Premier League TV Rights Deals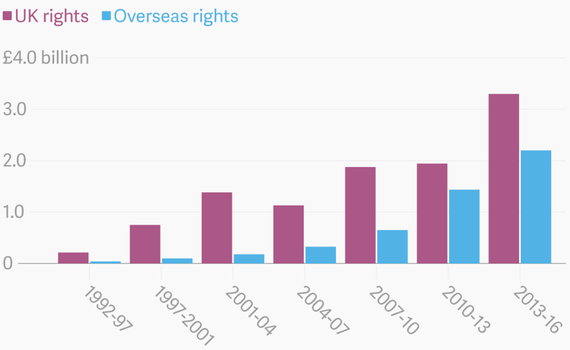 ---
The biggest chunk of cash comes from Asia, whose TV-rights revenues grew by 77 percent in the latest deal. Tiny Singapore paid £190 million alone. It's natural, then, for the Premier League to try to capitalize on this interest abroad. The league is also inspired by American sports muscling in on its turf. The NFL is playing three regular-season games at London's Wembley Stadium this year, and the NBA also holds games in England. The Premier League is more than capable of returning the favor—more than 360,000 fans, including a record 109,318-crowd in Michigan, saw Manchester United's pre-season U.S. tour this summer. It's no wonder that the club is now exploring playing midweek friendlies abroad.
Why hasn't this been considered before? Actually, it has. Premier League clubs play 38 regular-season games a year. In 2008, the head of the league proposed adding a 39th game abroad, which was viciously rebuked by the passionate (and parochial) fans of English soccer, where two clubs can exist in tiny towns, families are divided by the color of the shirt of the teams they support, and supporters debate endlessly what real fandom means.
These sorts are no fans of "home" games held halfway around the world, however lucrative for the clubs involved. "The 39th game is a grotesque idea," said one fan on an online Liverpool forum, "and anyone who advocates for it really doesn't understand what the basic DNA of English football is about."
The head of European soccer's governing body, Michel Platini, isn't keen either. When the 39th game was first proposed, he said: "In England, you already have no English coach, no English players and maybe now you will have no clubs playing in England. It's a joke." The 39th round was shelved (as was the non-English national team coach), but the idea has never completely disappeared. And now, it is back.
What's lost in the debate is what more games abroad will mean for the players. The matches would come on top of an already hectic schedule of international matches and regional tournaments. The Economist cited German researchers who found the deterioration in motor function of athletes after long trips lasted for as many days as the number of time zones they crossed. And that could be the irony of all this—so much time, effort, and money spent to play matches abroad that may not being any good to watch.