Paula Deen and Gone Girl: The Week in Pop-Culture Writing
Highlights from seven days of reading about entertainment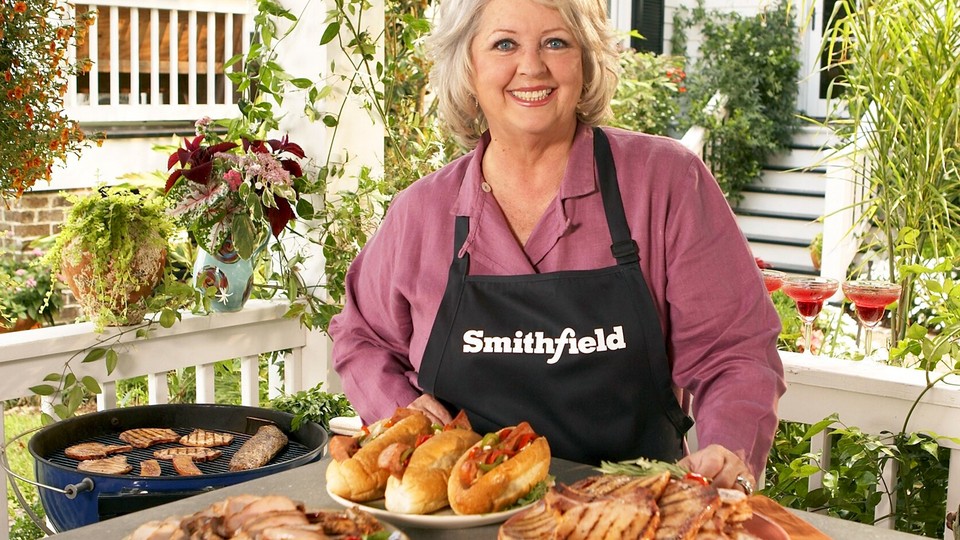 Let us know what we missed.
Paula Deen and the Marytrydom Complex
Taffy Brodesser-Akner | Medium
"The white-haired crowd parted as she cut through them, a Red Sea to her Israelite, and when she arrived in front of me, she took my hand, which contained an ice cream cone (ice cream cones are available around the clock on this cruise, availability I tested at many hours), and licked my cone."
Baseball's Big Chance: Two Great Games and a Crack in the NFL's Shield
Charlie P. Pierce | Grantland
"You would not be wrong if you perceived a barely concealed, if largely sub rosa, glee among baseball's most fervent adherents at the predicament in which the NFL finds itself. They have been waiting for this moment for a very long time."
Why Publishing Put(s) Up With Ed Champion
Elon Green | The Toast
"A central fact about Ed Champion, the book blogger-turned-pariah, is that he lacked power within the publishing industry."
The Forgotten Story Of Classic Hollywood's First Asian-American Star
Anne Helen Petersen | Buzzfeed
"Wong was a silent-film demi-star, a European phenomenon, a cultural ambassador, and a curiosity, the de facto embodiment of China, Asia, and the 'Orient' at large for millions. She didn't choose that role, but it became hers."
Jason Molina's Long, Dark Blues
Max Blau | The Chicago Reader
"Molina often told Darcie he would die without music. But despite his crushing lyrics about 'endless depression' (see Songs: Ohia's 'Blue Chicago Moon'), he also accessed a sillier side of himself. "
In Search of Challenging Cinema
Richard Brody | The New Yorker
"Values aren't the same thing as art, and the filmmakers' confidence in their just causes leads to an aesthetic complacency."
Why Do I Love Historical Fiction Sex So Much?
Allison P. Davis | The Cut
"Besides the obvious (lots of clothing to remove in a slow, delicious fashion; strong possibility of accents)."
Don't Love or Hate Lena Dunham. Create More of Her.
Rebecca Traister | The New Republic
"We've got to make these women mean less, so that we can like their stuff and dislike it, point out its weaknesses and celebrate its strengths without branding ourselves or branding them."
Yes, Gone Girl Has a Women Problem
Amanda Dobbins | Vulture
"The film opens and closes with a shot of Rosamund Pike's head, and the Affleck narration that accompanies it essentially asks, 'What the hell is happening in there?' Gone Girl is deeply interested in the rift between personal experiences, but in the book, we are privy to both Nick and Amy's concerns."
How Close Are We to a Two-Hour Marathon?
Kyle Wagner | Deadspin
"Now take all of the physiological coincidences that go into a world record, all the stars aligning on the course and in training and in the pace of the field, and squeeze them. That little gust of headwind on the London home stretch matters that much more at 2:00:01 than it did two minutes slower."
The Revelations of Marilynne Robinson
Wyatt Mason | The New York Times Magazine
"'A lot of people who actually believe in the sacredness of life, they write things that are horrible, desolating things,' Robinson said. 'Because, for some reason, this deeper belief doesn't turn the world. . . . It comes down to fear; the fear of making self-revelation of the seriousness of 'I sense a sacredness in things.''"