Neil Patrick Harris, Oscar Host: Meh
He'll be fine. But it's hard to be excited about a guy who has already led six major awards ceremonies.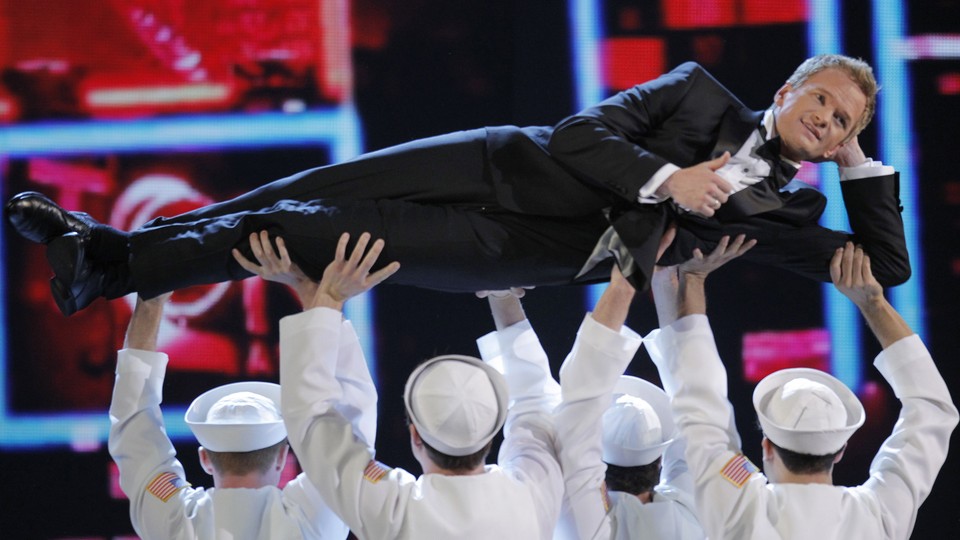 Complaining about the Oscar host is an annual tradition. If the Academy makes a weird, edgy-seeming choice like Anne Hathaway and James Franco, it often backfires. If it wheels out a traditional pick like Billy Crystal, critics make snoring noises. Neil Patrick Harris, who will host the 87th Academy Awards, bridges both categories.
On the one hand, he's a groundbreaking pick—the first openly gay man to host, an actor who worked his way from largely mocked teen TV stardom to a legitimate multi-quadrant career. He has succeeded as a sitcom star, as a Broadway actor, on the big screen this year in Gone Girl, and, probably most relevantly for the Oscars, as an awards emcee.
Which is why the news of his selection is a little underwhelming. Do people need to see Harris helm an awards show for a sixth time? His work with the Tony Awards (which he hosted in 2009, 2011, 2012, and 2013) was a case of severe diminishing returns. Diminishing returns, in fact, is an unavoidable issue with awards hosts. Sure, it's nice to celebrate Billy Crystal's enduring legacy at the Oscars, but his shtick got very old over the years. Steve Martin, who offered a jolt of energy at the 2000 Oscars, felt like a re-run in 2010 (where they paired him with Alec Baldwin). Harris has never yukked and sung a musical medley about movies before, but how different could it possibly be from his previous hosting roles? Won't he be bored?
Maybe there is something special about the Oscar brand that'll reinvigorate his act. As well-produced as the Tonys and Emmys generally are, it's hard to deny that the Oscars are a different, more lavish affair, even when the show is an outright catastrophe (ahem, Seth McFarlane). But even at best, I'd be surprised if Harris managed to, well, surprise.
To be fair to Oscar, producers reportedly did try to land Ellen or Julia Louis-Dreyfus for the hosting gig. Ellen would have been a fairly safe pick a la Harris, while Louis-Dreyfus would have been a fun change. She's a total pro who's been a star for more than a generation, but unlike Harris, we've never seen her host an awards show before. And unfortunately, previous, more-daring moves (like asking Eddie Murphy to host, or Franco/Hathaway) haven't worked out. Chris Rock remains the best host of the last 10 years—but his turn was 10 years ago. The current pool of late-night hosts is a little homogenous, and at least ABC didn't call in its guy, Jimmy Kimmel. To shake things up, the Academy will eventually have to cast a wider net.
Harris will probably do fine. Expect a less barbed monologue—actors are always less eager than stand-up comics to make fun of other actors. Also expect some well-produced song and dance, which has become almost routine since 2009, when Hugh Jackman changed the Oscar hosting game from just wearing a tux and reading Bruce Vilanch jokes. Jackman's mold is the one that Harris fits in, and a good version of that show can certainly be fun to watch.
But it almost feels like a step back for Harris, too. He's done well to consistently re-invent his image post-Doogie Howser. He poked fun at grown-up child actors with his cameos in the Harold and Kumar movies. He was a genuinely exciting live wire of a performer on How I Met Your Mother (though his character got done in, as most sitcom characters do, by the sheer volume of episodes). He won a Tony for electrifying work in Hedwig and the Angry Inch on Broadway. He was well-cast in Gone Girl—the performance almost came off as gentle mockery of his finely-tuned Hollywood persona, but in a good way. After all that variety, doing another hosting gig comes off like a retreat.
It also doesn't help that Harris seems to have lost sight of how to broadcast his good news. I love much of the man's work and I'm happy for him, but this smug-feeling announcement video he posted doesn't even come across as self-aware. As Barney Stinson on How I Met Your Mother, Harris poked fun at the smarmy bro and found that archetype's warm gooey center. But his public persona is dangerously edging towards resembling the very thing he'd mocked.