Madison Bumgarner: A Giant Among Giants
The San Francisco left-hander guided his team to World Series victory with a brilliant, historic postseason performance.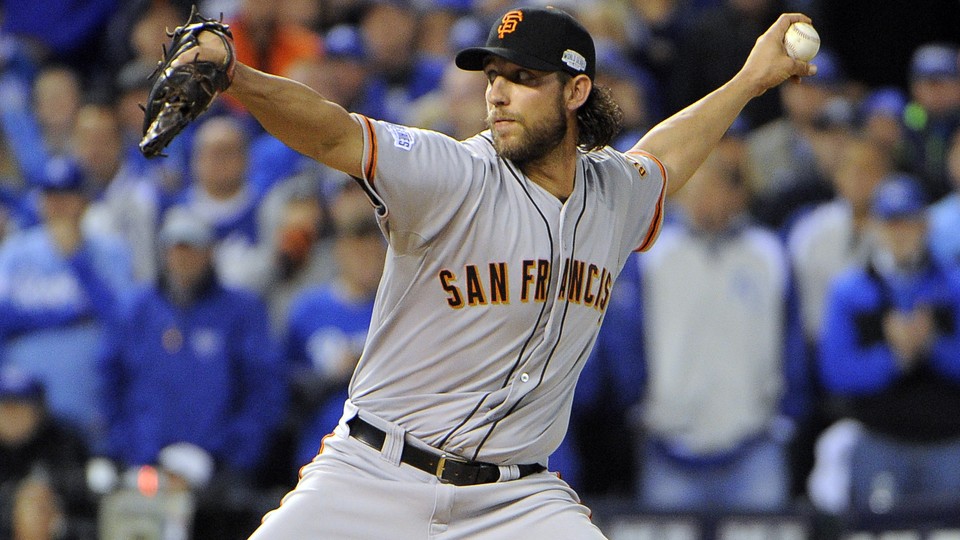 In every baseball game, the winning team relies on contributions from a number of different players. Wednesday's Game Seven of the World Series was no exception. In the top of the fourth, Pablo Sandoval's smart baserunning—he tagged and advanced to third on a fly ball to left—put him in position to score on Michael Morse's broken-bat single to right. In the bottom half of that inning, Joe Panik, Brandon Crawford, and Brandon Belt completed a gorgeous double play to stem a possible Royals rally. Jeremy Affeldt replaced Tim Hudson in the 2nd and threw two and a third innings of scoreless relief, earning the win. Each of these factors played a role in the victory that gave the Giants their third championship in the last five years.
But let's not kid ourselves. The main reason the Giants won the game—and the World Series—was because they had Madison Bumgarner and the Kansas City Royals did not.
The 25-year-old left-hander, pitching on two days' rest, threw five scoreless innings of relief as the Giants defeated the Royals 3-2. For Bumgarner, presented the MVP award in one of history's least controversial decisions, the outing completed what was arguably the greatest playoff pitching performance of all time. In 52 innings—a record for a single postseason—Bumgarner compiled an ERA of 1.03, allowing 28 hits and walking six while striking out 45. In 36 innings spread across the 2010, 2012, and 2014 World Series, Bumgarner allowed exactly one run—a Salvador Perez solo home run in Game One of this year's Fall Classic.
What makes Bumgarner's accomplishments even more impressive is that the rest of the Giants, who slipped into the playoffs this season as the National League's fifth seeded team, contributed relatively little. Bumgarner threw 32.7 percent of the innings through the Giants' 17 postseason games, and 34 percent in the World Series. In an era when teams carry eight relief pitchers and strictly regulate the amount pitchers throw, this burden is remarkable.
There's a reason that, in contemporary baseball, managers employ a five-man starting rotation. Pitching is grueling. You're not supposed to throw a 117-pitch complete game shutout and then, two days later, throw 68 more. No one should be effective under such circumstances, but Bumgarner was more than just effective. He completely shut down an offense that had scored ten runs the night before. Just two Royals managed hits off of the Giants' lefty, and only poor defense by Gregor Blanco in the 9th allowed a Kansas City runner to advance as far as third base.
As he carried the Giants on his back all month, Bumgarner has maintained a preternatural sense of calm that rubbed off on his teammates. "I don't think he has a heartbeat," said pitcher Matt Cain. Blanco was even more effusive.
"He's not human. We gotta do something about this guy. We gotta take him to the doctor, I guess. I don't know. It seems like he is a robot."
But after the game, as the Giants sprayed champagne throughout the clubhouse in celebration of their title, the team's modest ace finally acknowledged what, for anyone else, would have been screamingly obvious.
"You know what," Bumgarner said. "I can't lie to you anymore. I'm a little tired now."