The Sad and Bizarre Post-Retirement Life of Jose Canseco
In the latest mishap, the former baseball star accidentally shot off one of his middle fingers.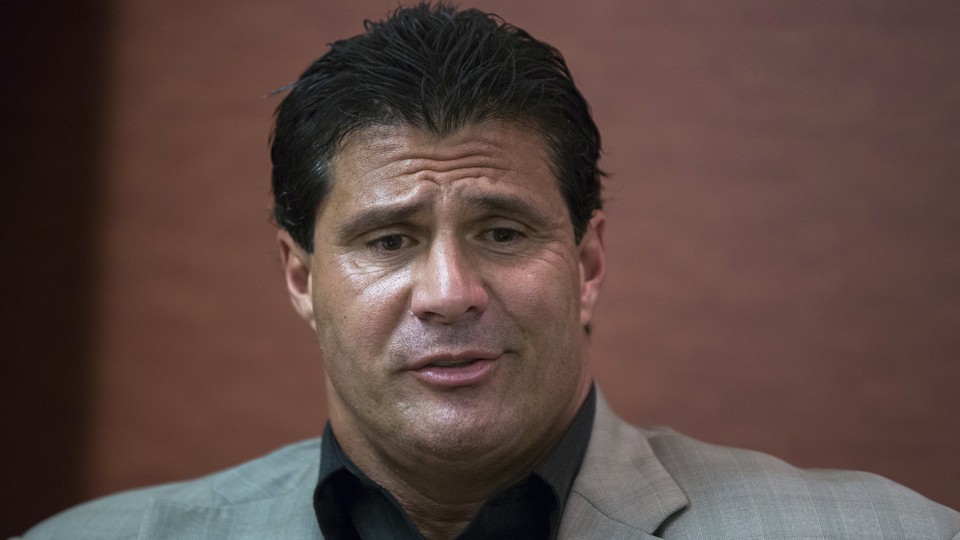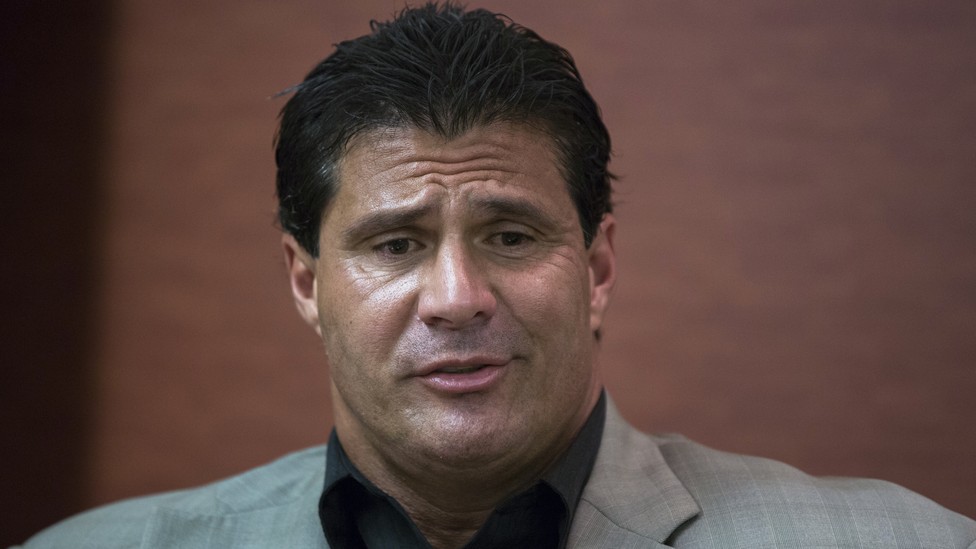 It's been more than 13 years since Jose Canseco has played a major league baseball game. But retirement has not sapped the former Oakland Athletics star's ability to generate headlines. NBC reported Tuesday that Canseco, who now lives in Las Vegas, accidentally shot one of his middle fingers while attempting to clean a revolver. Leila Knight, Canseco's fiancee, told TMZ that while surgery on the finger was successful, he will not make a full recovery.
A tremendously gifted athlete who combined power, speed, and a rocket for a throwing arm, the Cuban-born Canseco dazzled the baseball world in the late 1980s. In 1988, he became the first player to ever hit 40 home runs and steal 40 bases in the same season, winning the American League MVP award in a unanimous vote. The next season, Canseco led the Athletics to a World Series victory against the San Francisco Giants.
Things have gone downhill since then. Traded to the Texas Rangers in 1992, he distinguished himself by once allowing a fly ball to clank off his head and over the fence for a home run. The remainder of his itinerant career, which included stops in Boston, New York, Toronto, Tampa Bay, and Chicago as well as a second stint in Oakland, saw occasional flashes of brilliance but not the sustained level of excellence he displayed in the 1980s.
Despite earning substantial amounts of money for decades, Canseco has had major financial problems in retirement. His search for cash and publicity led him to participate in celebrity boxing, semi-pro baseball leagues, mixed martial arts, and even Celebrity Apprentice, each venture meeting with little success.
Canseco is hardly the first famous athlete to squander his fortune. In a 2009 article for Sports Illustrated, Pablo S. Torre found that 60 percent of former NBA players went broke within five years of retirement, while for the NFL the fall was even steeper: 80 percent lost their cash just two years after hanging up their spikes. Megastars like Allen Iverson, Terrell Owens, and Curt Schilling have not been spared. But Canseco's fall from grace is especially poignant due to the very public way he spiraled down. Notorious for blowing off interviews and charity appearances, Canseco regularly bares his soul on Twitter, often begging Major League teams to give him another chance and describing his grief at being kept from the game of baseball.
I dream about playing almost every night.when I wake up and realize I am not anymore that's when the nightmare begins

— Jose Canseco (@JoseCanseco) December 12, 2010
It's hard to feel very sorry for Canseco. He's been arrested twice for domestic violence and once, along with twin brother Ozzie, for beating up a couple of tourists in Florida. He's been flagged for reckless driving and, separately, for carrying a loaded semi-automatic weapon in his car.
The accidental shooting is just the latest incident in Canseco's strange and unfortunate post-retirement life which, as his greatness on the baseball diamond recedes into memory, now forms the basis of his reputation.