TV's Renaissance for Strong Women Is Happening in a Surprising Place
Old-fashioned networks, not buzzy cable channels, are producing more boundary-breaking heroines like Viola Davis's character on ABC's How to Get Away With Murder. Why?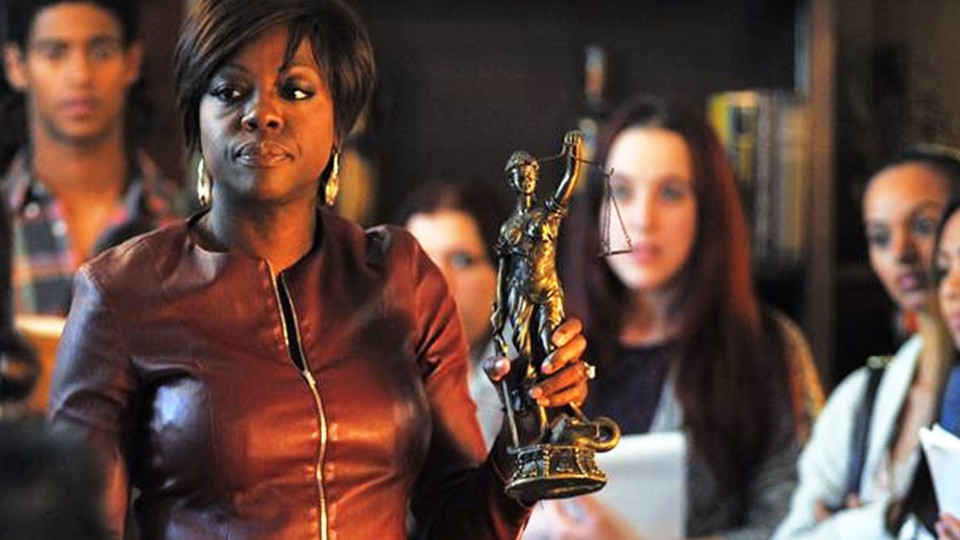 Viola Davis's performance in ABC's How to Get Away With Murder thrills in so many ways. The arch of her brow. The quiver in her voice. The command as she writes on the chalkboard. The exquisite manner in which her character, Prof. Annalise Keating, masticates the phrase "howwwww to get awayyyyy with murder."
Even more delightful is the fact that Davis has been cast in such a meaty, morally gray role. It's more than just being a Strong Female Character—the unintentionally humorous title Netflix bestows on any television woman who stands tall at the center of her own show. Keating doesn't wear a white hat like her time-slot neighbor Olivia Pope of Scandal. She's not a relatable mom like The Good Wife's Alicia Florrick. Instead, she has adulterous sex with a detective on her desk—then puts said detective on the witness stand to help her client in court. Keating is transgressive in a way TV audiences haven't seen in many female characters—a Walter White among women.
Davis, as well as those other Strong Females, represents a sea change on network TV. The days of female movie stars retreating to cable—HBO, Showtime, FX—to find good work are coming to a close. Now, by the grace of, well, something, actresses can find plenty of exciting leading roles to play on the big four networks. What was once well-worn territory feels fresh again, a place to push boundaries. How did that happen?
Women in central roles are not a new concept for television—even stodgy, patriarchal network television. Amy Brenneman and Candice Bergen both made themselves into major stars of the form on Judging Amy and Murphy Brown. Sarah Michelle Gellar routinely kicked vampire butt as the titular Buffy the Vampire Slayer on The WB. Long before that, Mary Tyler Moore dominated the sitcom scene with a show about a version of her—unwed, uninterested in motherhood, focused on her career. Even among larger ensembles of family and friends, characters like Clair Huxtable and Lorelai Gilmore made indelible impressions.
But these women were, by and large, likable. Their flaws were mostly funny, only problematic until the end of the episode.
"Uniformly, women were professionals; women were not married," said Amanda Lotz, an associate professor of Communication Studies at the University of Michigan who has written several books on gender in TV—most recently this year's Cable Guys. "They were very much in the 'role model' lane. They were clearly good women." The idea that a woman could be truly unlikable, like so many male characters, was anathema.
These days, women are able to dig into a range of strong roles, from the lightweight (Debra Messing on The Mysteries of Laura) to the campy (Emily VanCamp and Madeleine Stowe on Revenge) to the heavy (Kerry Washington on Scandal).
---
Percentages of "Strong Roles" Classified by Gender and Network in 2014
---
The chart above represents a breakdown of all of what I'd classify as "Strong Male" and "Strong Female" roles on network and cable shows in 2014. Roles included in the count had to either be the obvious main one (like Davis's) or a dominant force even among other leads (like Zooey Deschanel's role on New Girl). Also included: shows with multiple strong characters of the same gender—like Girls and Looking. This is an unscientific analysis, but I do think it helps identify some trends.
As can be seen in the chart, Strong Female Characters on network TV make up a sizable chunk of the pie. Notably, almost all of these characters' series started within the last three years, with Margulies's Alicia Florrick, born into the TV world five years ago, as the only outlier. Otherwise, the entire group—and the trend itself—is organic to the last three years.
However, strong roles for men on cable actually make up the largest percentage—a trend that has only grown since the early days of Don Draper and Walter White. Though some of the characters in that selection aren't returning to TV—including Rust Cohle on True Detective and Nucky Thompson on Boardwalk Empire—others are just beginning their tenures. Clive Owen, star of Steven Soderbergh's acclaimed The Knick, fits nicely into the mold of male cable antihero, while other, more sympathetic men like the male leads of Looking are crafting a new niche.
---
Percentages of "Strong Roles" Classified by Gender and Network in 2011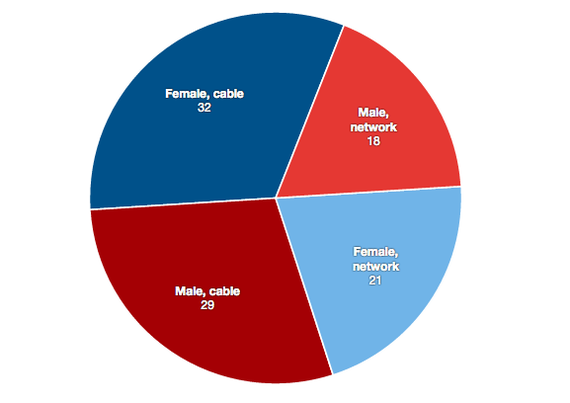 ---
But perhaps most telling about the current TV landscape is what's happened to Strong Female Characters on cable since 2011: Exactly one Strong Female role has been added that's still around. One. Luckily, it's a lot of characters wrapped up into a single role: Tatiana Maslany's clone characters on BBC America's Orphan Black. And sure, my definition of Strong Character is disputable—many would call Lizzy Caplan's role on Masters of Sex such a character, but I think she's not recognizably the lead in the way most of these characters are.
Compare that one addition (and several losses) to network, where women are landing big, rich projects left and right. In stark contrast to the mid- to late-aughts, cable has become a boys' club, and network TV is the true land of women.
Like any trend on TV, the influx of Strong Female Characters on network shows can't be attributed to one factor. But a quick look at numbers offers an obvious explanation: Women viewers dominate broadcast ratings. There are exceptions, of course, and it's hardly a bit of wisdom exclusive to the modern era, but in the past few years it's become clear that for a majority of American households, women control the remote. They also enthrall advertisers; adults 25-54 remain the most attractive demographic, with special focus on the women that can be hard for advertisers to hit. That's why shows like Revenge and Nashville can continue to thrive even when the ratings aren't stellar.
Channing Dungey, executive vice president of drama development, movies and miniseries at ABC, explained that while women are one of the key demographics, a big hit can't just rely on them—it's about going further.
"When we can build a show that appeals to women and then it's broad enough that we can bring older and younger men into the tent, that's when we usually have our biggest successes," she said, noting that trying to broaden the audience of a male-focused show has proven "more challenging."
The Alphabet Network isn't the only one working off this logic. CBS clearly used The Good Wife as a source of inspiration to produce this season's Madam Secretary, with star Teá Leoni doing strong-yet-understated work as a dragooned Secretary of State. And as Two and a Half Men dies a slow, painful death, Anna Faris and Allison Janney are happily taking over their broad comedy banner on Mom.
It is odd how completely the trend has migrated to network, though. It was just nine years ago when two of the original modern Strong Female Characters made their impact on basic and premium cable: Kyra Sedgwick's Brenda Leigh Johnson on The Closer, and Mary-Louise Parker's Nancy Botwin on Weeds.
As LAPD Deputy Chief Johnson, Sedgwick got closer to unlikable than any leading woman had before. Her inability to work within a team made her difficult to warm to. Worse even, she was an alien in her own workplace, with a Georgia twang and a position that put her above cops far more experienced than she. You could understand her position as an other, but you could also understand her officers' desire to other her. It was, in a word, difficult. She was difficult. Same with Parker: Relating to and understanding a mother who sells pot might be tough for some—until you realize she's only doing it to make ends meet for her family.
Shortly after 2005, imitators arrived: Holly Hunter on Saving Grace, Edie Falco on Nurse Jackie, Laura Linney on The Big C, Glenn Close on Damages. These were all women flawed in a way that viewers weren't used to seeing; Close in particular created a character who wasn't just complicated, but downright dark. She was a liar, a cheater, and a murderer. She's the closest thing television has had to a distaff Walter White—until Davis's Annalise Keating, that is.
According to Lotz, the University of Michigan professor, the question of whether or not truly transgressive women like Hewes and Keating have a place on television has always been a "careful dance."
"As a culture, we may still be a little bit squeamish about depicting women in anything less than a positive way," she said.
It's early days yet for Keating—and, of course, for two-time Oscar nominee Davis, who has said repeatedly that this is the kind of role unavailable to her in movies. In just two episodes of Murder, audiences have seen her blur the lines between light and dark without truly stepping into said darkness. Whether she gets the chance to go full Walter White—eschewing being relatable in favor of embracing inner villain—remains to be seen. It would be most significant for women on television if Keating were allowed to do so.
"As human beings, we all have those highs and lows, the light and dark sides to our personalities," Dungey of ABC said. "What we're trying to do [with shows like Murder] is show women in all of their strength and beauty; to not be afraid or shy away from the parts of these women that are a little more complicated and challenging."
As Keating said on last week's episode of Murder, "We're all capable of terrible things." Increasingly, that's the case for TV protagonists, regardless of gender or network.