How the Giants Hacked Baseball's Postseason
With an experienced manager and a deep bullpen, San Francisco has reached its third World Series in five years despite less-than-exceptional regular season success.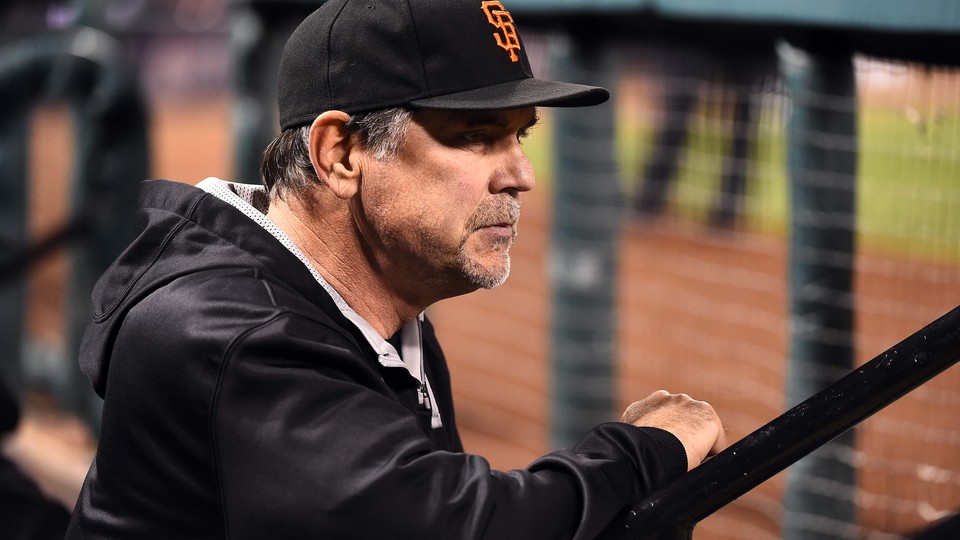 As baseball's World Series begins Tuesday night in Kansas City, the San Francisco Giants will compete to win their third championship in five years, a feat no National League club has accomplished since the St. Louis Cardinals in 1946. But for a team whom sportswriters have begun referring to as a "dynasty," the Giants' five-year run is less a march of greatness than a case of a good team becoming great at just the right time.
Since 2010, the year of the Giants' first World Series victory since moving to San Francisco in 1958, the team has compiled a .538 winning percentage in the regular season. But in the postseason, playing against the best teams in the game, the Giants have won 30 of 41 games—good for a robust .732 percentage.
This discrepancy isn't supposed to happen. Baseball conventional wisdom says that while the regular season's 162 games are sufficient in determining the sport's best teams, the playoffs are a crapshoot: a comparatively short tournament where anything can—and does—happen. The Giants, for instance, have benefited from wild pitches, throwing errors, and managerial blunders committed by their opponents. The team's postseason success is so unlikely that Brian Sabean, the Giants' general manager, affectionately referred to his players as "cockroaches" after Thursday night's pennant-clinching win over the Cardinals.
So have the Giants just been lucky? Or have they, contra conventional wisdom, somehow figured out the postseason?
According to Joe Sheehan, who authors an influential baseball newsletter, the postseason is still "95 percent a crapshoot. Teams can't build for the postseason since they don't even know if they're going to make it."
But Sheehan acknowledged that the formula for regular season success—a deep, versatile roster able to overcome the slumps and injuries that occur during the grind of 162 games—is less relevant in the playoffs.
"Teams like the Washington Nationals, who won 96 games, were helped by having a deep starting rotation," he said. "But in a five or seven-game playoff series, having a good fifth starter doesn't give you an advantage since he might not be used at all."
The Giants, whose own starting rotation struggled with injury and ineffectiveness, won just 88 games this season and barely squeaked into the playoffs. But once they qualified, San Francisco cashed in a major advantage: a deep, skillful bullpen and a manager, Bruce Bochy, with the imagination and ability to get the most out of it.
According to Wendy Thurm, a baseball writer and analyst, relief pitchers prefer to have set roles: game situations in which they can reasonably expect to appear. Bochy, however, is willing to use his relievers in a variety of situations throughout a series.
"Bochy isn't a slave to orthodoxy," Thurm said. "He understands when high-leverage situations—the moments when games are won or lost—occur, and he makes sure he has the right guy out there at that time."
Consider the fifth game of the National League Championship Series. In the top of the ninth inning, Bochy brought in Santiago Casilla, his closer, to preserve a 3-3 tie against the St. Louis Cardinals. Casilla immediately got into trouble, and before long the Cardinals loaded the bases. But rather than leave Casilla in, as convention would dictate, Bochy replaced him with Jeremy Affeldt, who retired the side without giving up a run.
The move paid off. In the bottom of the ninth, Cardinals manager Mike Matheny decided not to use his closer, Trevor Rosenthal, despite the presence of a high-leverage situation. Instead, he brought in Michael Wacha, a starting pitcher who hadn't appeared in a game since September 26. The rusty Wacha was wild and ineffective, and ultimately gave up the home run that cost the Cardinals the game and the series.
Afterwards, Matheny defended his decision to leave Rosenthal in the bullpen by citing baseball orthodoxy. "We can't bring him in, in a tie-game situation. We're on the road," he said.
Bochy's willingness to subvert convention stems in part from his bullpen's remarkable continuity. Four of the team's key relievers—Jeremy Affeldt, Javier Lopez, Sergio Romo, and Casilla—were members of both the 2010 and 2012 World Series winning teams, and have remained with San Francisco despite occasional regular season struggles. In 2012, Bochy named Casilla as his closer following Brian Wilson's injury, but when Casilla struggled Bochy replaced him with Romo. Romo then held the closer's job until his own struggles this summer; fittingly, Bochy replaced him with Casilla. Both relievers have generally pitched well this postseason.
According to Sheehan, this arrangement works in part because the players trust Bochy.
"When you have two [World Series] rings, you can do things that other managers can't," said Sheehan.
Not even the most ardent Giants fan would argue that the team, who lost more often than they won during the last 100 games of the season, were the National League's best team in 2014. But as San Francisco makes its third World Series appearance of the decade, it's become increasingly clear that, in the postseason, Bruce Bochy and his men have an advantage.