Go Ahead, Mute Katy Perry at the Super Bowl
The halftime performance is about images, not music, which means Perry should do just fine.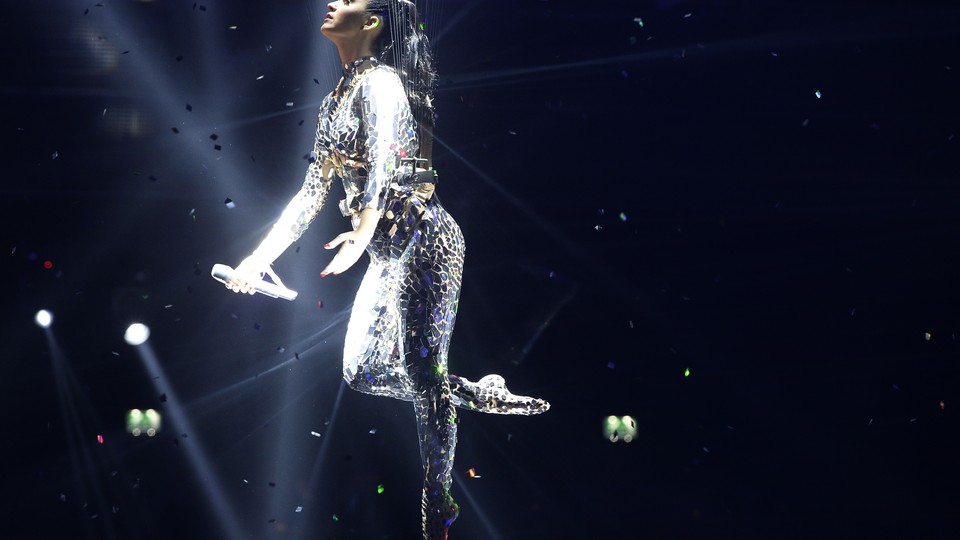 Think back to Super Bowl halftime shows of recent years and here's what might spring to mind: a middle finger, a phallic silhouette, a "crotch slide," and a nipple. Moments of musical genius? No. Semi-transgressive visual surprises? Yes, they're that. At this year's game, Bruno Mars put on a sharp, competent, good-sounding concert, which has since more or less been forgotten by pop culture. Mars himself had forgotten that because of GIFs, and because of noisy chatter over guacamole and wings, halftime shows are more often seen than heard.
So the news that Katy Perry will likely perform midway through the NFL championship match on February 1 in Glendale, Arizona almost, in retrospect, feels inevitable. Few musicians working today are as ready to take the dubious platform offered by the halftime show and use it to engage, revolt, and spark conversation while avoiding FCC fines and/or hits to the wide appeal of both the artist and the NFL.
Perry's entire shtick is in not really having a shtick beyond putting out reliably unstoppable singles served each with at least one ace piece of imagery—whether whipped-cream-firing bra or lowriding Egyptian chariot—to be Facebooked, think-pieced, and spoofed. Often she's playing a cheeky game of identity drag, dressing up as nerd or geisha or a rabbi, which is a consistently effective—if frequently offensive—way to grab attention in pop. Unlike 2013 Super Bowl champion Beyonce, Perry doesn't really dance, but also unlike Beyonce she doesn't usually bother to impart a message or point of view. That means she's free to go for pure entertainment.
Ever since Janet Jackson's wardrobe malfunction 10 years ago, football has worked to emphasize itself as family-friendly, and that mission's all the more urgent given the series of ugly controversies (domestic abuse, child abuse, head injuries ...) surrounding the league lately. Perry's probably helpful in that effort. Her career has largely been built on entendre and sex appeal, and yet she can and does style herself as a purer, Christian-ish, safe-for-kids contrast to the likes of Lady Gaga and Miley Cyrus. Count on some expertly calibrated bit of racy pantomime during the show, meant to create memes but not scandal, delivered with a wink and a lot of glitter. You'll be unable to miss it, even with the sound off.