The Scariest Man in Boxing Can't Find Any Worthy Opponents
Gennady Golovkin, potentially the best fighter in the world, handily defeated Marco Antonio Rubio on Saturday. It'll be a while yet before he faces a real challenge.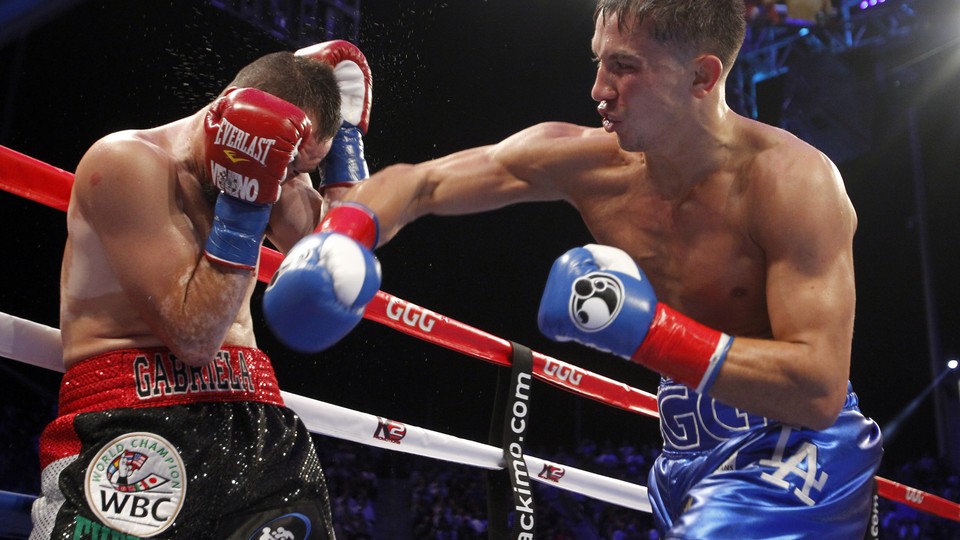 It happened again on Saturday night. Gennady Golovkin knocked out his challenger. It was his 18th straight knock out. And that is as amazing as it is a problem.
In recent months, Golovkin has become like Mike Tyson at his height—the scariest man in the sport. The middleweight champion Golovkin has the biggest knock-out percentage (90.32 percent) of any middleweight titlist in history. On Saturday he faced a decent boxer named Marco Antonio Rubio who has had 67 professional fights, including 51 knockouts. The fight was a sell-out, with 9,323 spectators, including additional seating that was installed for the fight. There hasn't been this much excitement around a fighter's pure aggression since the heyday of Manny Pacquiao four years ago. And yet Golovkin (31-0; 28 KOs) is still pretty much an underground sensation because of the way boxing is organized.
Golovkin moves around the ring economically and beautifully, every step a way to maneuver his opponent into one of his devastating blows. Most professional boxers have a signature punch that creates power or points. Every punch Golovkin throws has power, and his opponents look intimidated from the very first.
On Saturday in Carson, California, Round Two was well underway when Golovkin threw a perfect right uppercut ("That uppercut will make you feel like you don't have a chance," said the boxer and commentator Roy Jones) and then a left hook, which put Rubio down. The Mexican fighter beat the count at nine or, maybe, nine and half, but the referee stopped the fight. Rubio didn't really look like he wanted to keep going, and who could blame him. "He hit me hard, but it's not the hardest I've been hit," said a dazed Rubio. "I didn't fight him long enough to know how good he is."
The fans didn't care that it was a short night. They had come to see Golovkin knock someone down, and he had satisfied their lust. They chanted "Triple G! Triple G!" with gusto. In the post fight interview, the charismatic Golovkin, who is from Kazakhstan and can speak in broken English and Spanish, gazed at the crowd, smiled, and said, "Buenos noches, amigos!" The crowd laughed, and lapped it up. "Triple G! Triple G!"
"Everyone is scared of him," Golovkin's trainer Abel Sanchez had told me last week. And this is an issue for Golovkin: He's arguably the best boxer in the world, but no marquee fighter will take him on.
Avoiding "dangerous" fighters without a large fan base has always been a part of boxing management tactics. Golovkin has made a name for himself by selling out Madison Square Garden and now the StubHub Center, and HBO Boxing executives are working to have him fight a big name. And yet no one has emerged. He will continue fighting four times a year and increasing his popularity—and aura of invincibility. Famous fighters will eventually have to step forward to face him. Eventually.
As inexcusable as the sport might be to many because of its brutality, the drama of boxing comes from the ridiculous amount of risk involved. When the risk is taken away, what is it?
In reality, boxing is less about facing the best than it is a business of theater. After Saturday's bout, Tom Loeffler, Golvokin's promoter, walked through press row and told the media, somewhat vaguely, that Golovkin would fight "overseas" (the money is on Monte Carlo) in February and then, hopefully, in the spring of 2015 against a big name opponent. Loeffler is angling his star client toward a pay-per-view fight with Puerto Rican Miguel Cotto or Mexican Canelo Alvarez. Puerto Rico and Mexico are boxing-mad nations whose fans will shell out $60 apiece to watch a fight on television. (On Saturday, the crowd, many of its members of Mexican heritage, were cheering for Golovkin because he is so fun to watch.) But Cotto and Alvarez will most likely fight each other in May 2015. Cotto is 33 years old and seems to be winding down his career; he has had several pay-per-view fights. HBO sources told me it is most likely that Golovkin, who is now 32, won't be able to face Alvarez until at least 2016. Imagine that strange scenario in any other sport.
Although boxing fans around the world are calling for Golovkin to fight Cotto, Alvarez, or Julio Cesar Chavez Jr. (who is more name than a talent), they are also under different promotional umbrellas, and their promoters have a business reason not to risk their fighters against the Kazakhstan KO artist.
To tweak the more prominent fighters, Golovkin told the crowd that he would like to fight Cotto, and he said about Alvarez: "I respect him, he's a good boy." The crowd cheered loudly with the "he's a good boy" line. Golovkin uses that phrase after he knocks someone out, an empathetic gesture. Meanwhile he will fight four fights a year until a big-name boxer steps forward to face him. It's all boxing fans want to see, but the sport's business vagaries don't allow it.
Just a few minutes before Golovkin took the ring, there was another fight that could serve as a lesson to Cotto, Alvarez, or anyone else who wants to continue their career in the boxing business, and keep the money flowing into their bank accounts. Nonito Donaire, the 2012 Boxing Writers Association of America Fighter of the Year, took on Nicholas Walters of Jamaica. Walters is an exceptional superfeatherweight who calls himself the "Axe Man." He doesn't have much of a fanbase. Many of the people had come to watch Donaire, and chanted "No-nito!" during the fight. Donaire went down in Round Three, then took a right to the side of his head in Round Six and crumpled, face first, to the canvas. He tried to rise before the count—and did—but the referee waved off the fight.
When Donaire told the crowd that Walters "beat the shit out of me," spectators roared in approval, in part out of respect for the fact that he took a challenging fight. But now what? Donaire, 31, never reached a pay-per-view bout, which is the Holy Grail in boxing, and now he is virtually finished. As he walked out of the arena surely contemplating retirement, he saw Bob Arum, his promoter, and apologized. "You're a great champion," said Arum.