FIFA Is Pleased With Russia
Soccer's governing body just gave a glowing progress report on the 2018 World Cup host.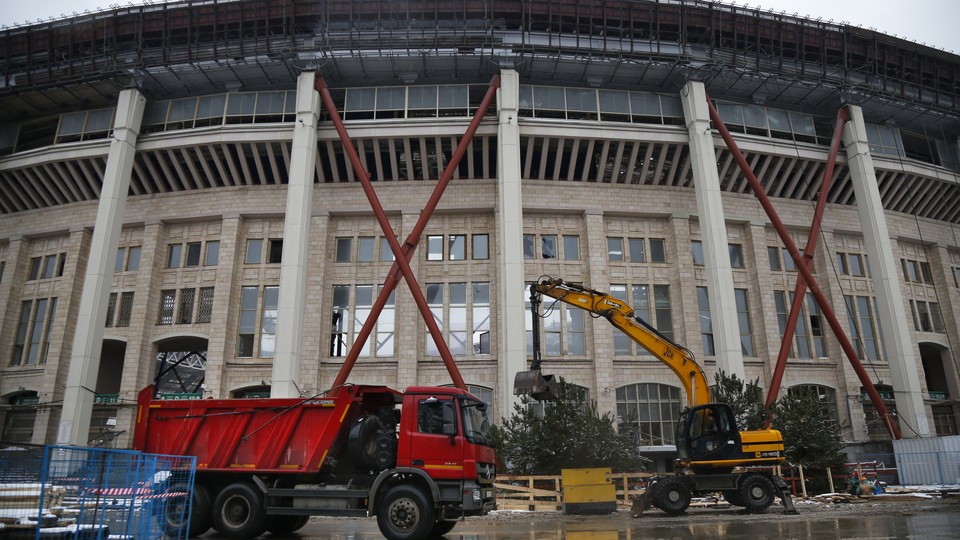 While the world's opinion of Russia has soured this year, FIFA officials offered the troubled nation a pat on the back Monday. Inspectors arrived this weekend to check in on Russia's progress for the 2018 World Cup and were pleasantly surprised. "It's our first visit to Russia, and we're happy with the results for the moment," FIFA inspection committee head Christian Unger told AFP. "But we would like to see positive changes in our every new visit here."
No major issues were found as two key stadiums, the Sochi Olympic Stadium and Moscow Luzhniki Stadium, undergo major renovations. The Spartak Otkrytie Stadium in Moscow is already complete and receiving glowing reviews from the committee, which called it "excellent." Russia has a $20 billion budget for the World Cup, much of which is dedicated to enhancements to these stadiums.
Unger noted the Sochi Fisht Stadium will need "some adaptation," however the committee was incredibly confident in Russia's ability to meet construction deadlines. Brazil's construction woes for this year's World Cup left the committee increasingly sensitive to such concerns.
After the Malaysia Airlines Flight 17 tragedy this summer, some world leaders asked FIFA to reconsider Russia as a host of the World Cup. Peter Beuth, interior minister of the German state of Hesse, said, "If Putin doesn't actively cooperate on clearing up the plane crash, the soccer World Cup in Russia in 2018 is unimaginable." Michael Fuchs, a senior leader in Angela Merkel's Christian Democrats party agreed, saying, "FIFA football association should think about whether Moscow is an appropriate host if it can't even guarantee safe airways." The Netherlands Football Association also called for a discussion of a venue change. Nonetheless, FIFA would not budge on the matter, arguing that Russia's hosting of the event "can achieve positive change."