Marry Me's Casey Wilson, the Unlikely Critical Darling
The former SNL actress was on the wrong side of the press and public just a few years ago. Now, she's being hailed as the best thing about NBC's new sitcom.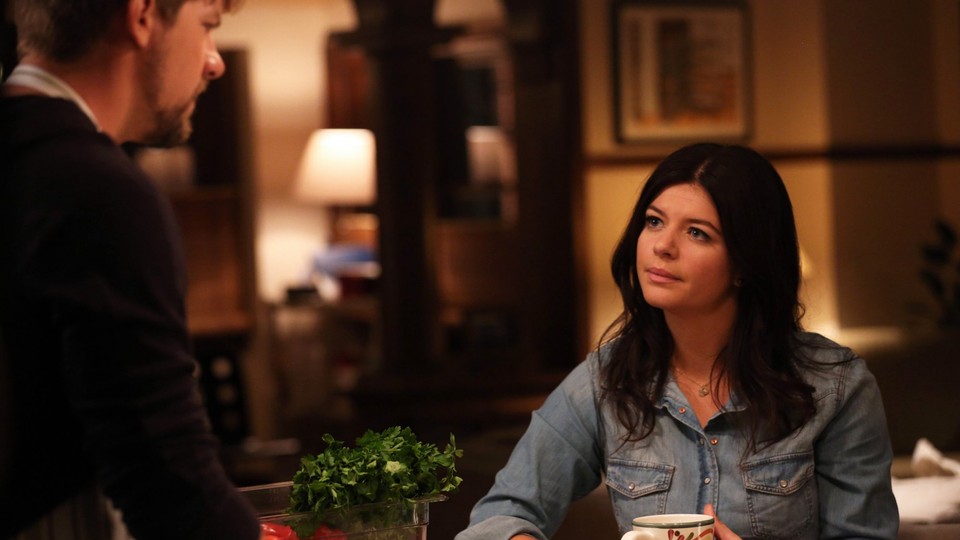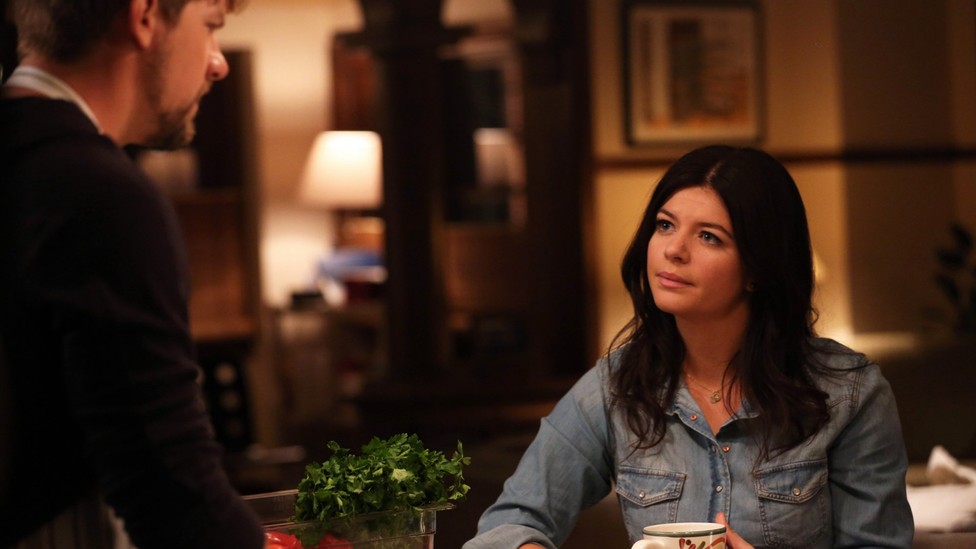 NBC's Marry Me premieres Tuesday night, having been the subject of mixed-to-poor reviews. The sitcom comes from writer/producer David Caspe and stars Casey Wilson and Ken Marino as a couple who, in the pilot, get engaged after a half-hour's worth of loudly pitched misunderstandings and contrivances. It's an episode that can be quite trying at times, and critics have been largely united in pointing out its flaws. But in significant numbers, critics are also holding out hope for improvement.
Grantland's Andy Greenwald advises that viewers give Marry Me room to breathe, assuring that "Wilson and Marino are more than game enough to carry a series on their own." NPR's Linda Holmes hopes the "specific sensibility" of Wilson and Caspe finds an audience. The AV Club's Erik Adams says "it'll take more than one try for Marry Me's proposal to stick," but again cites Wilson's Happy Endings as his primary reason for optimism.
Critics, in other words, are taking it on faith that the talent involved can pull things together and deliver a show worth standing by. That the talent involved, in this case, prominently features Casey Wilson makes that faith awfully interesting to anyone who followed comedy back in 2009.
Picture it: 2009. A newly elected Barack Obama had just shown the country how to hope again. Movie audiences were dancing out of theaters to the Bollywood end credits of Slumdog Millionaire. Fox premiered a delightful show called Glee, which no one would ever tire of. That fall, Saturday Night Live very quietly ended the year-and-a-half tenure of featured performer Casey Wilson. SNL fans were thrilled.
Cast at the beginning of the strike-shortened 2008 season, Casey Wilson was never able to make much of an impact on the late-night institution. Her inability to deliver memorable characters stood out in particular alongside all-stars like Amy Poehler and Kristen Wiig, and her status as the lone new cast member that season put a bigger spotlight on her than might have otherwise been the case. Fans were pretty brutal, as this clip shows:
Talented comedians don't always find their niche at SNL. Just look at Sarah Silverman, the show's host two weeks ago, for proof of that. Fired alongside Wilson was Michaela Watkins, who took that rejection and turned it into a handful of well-received performances in comedies like Wanderlust and In a World, ultimately landing on TV's Trophy Wife (a low-rated ABC critical darling, which should sound familiar to Wilson's fans). The notion of a Casey Wilson or Michaela Watkins "comeback" is an odd one since that first shock of fame at SNL came with such mixed results, and the heights they've reached are still pretty mid-level. But in Wilson's case in particular, it's not just the jobs she's getting but the respect she's found from critics and fans that feels like the true rebound.
Wilson's SNL flame-out wasn't necessarily the death-knell to her career. But in early 2009, the feature film Bride Wars, co-written by Casey Wilson, was released in the dregs of January, where the studios tend to dump their least-promising features. Bride Wars earned that infamous distinction, with lazy plotting and lots of warmed-over bridezilla cliches, despite the presence of co-writers Wilson and June Diane Raphael. The film was a disaster—10 percent on the Tomatometer. With star Anne Hathaway insulated by her Rachel Getting Married Oscar nomination en route, and Kate Hudson at this point expected to deliver terrible rom-coms, it was the script that shouldered most of the blame.
So. Wilson was snuffed out of Saturday Night Live and D.O.A. at the multiplex. When her big sitcom break happened with Happy Endings in 2011, critics savaged the pilot. And with good reason! The six-friends-being-silly ensemble made for TV that was shrieky, manic, and obnoxious, and far away from the kind of comedy Modern Family was succeeding with on that same network.
But Happy Endings got better. In an era where so few shows even get time to improve anymore, Happy Endings leaned into its silliness, embraced its talented cast (Damon Wayans Jr., Eliza Coupe, Adam Pally), and began amassing a small but increasingly vocal fan base. The little mid-season pilot that nobody liked spawned a three-season cult hit that was mourned upon its cancellation. And Wilson was a huge part of why it was so good. Her character, Penny Hartz, turned out to be the wistful-but-optimistic romantic heart of the show's cast, able to swing from loony comedy to semi-poignant relationship truths with ease. In 2014, Wilson and series creator David Caspe were married.
So here we are in 2014. The days of Internet hatred (or ... at least mass Internet hatred; nobody's ever entirely free of Internet hatred) and SNL rejection and panned mainstream rom-coms are half a decade in the past. Marry Me faces a lot of the same problems Happy Endings did at first. The high concept of the pilot (Happy Endings also began with failed matrimonial shenanigans) requires Wilson and Marino's characters to sell some pretty unlikely situations. A proposal is thwarted by an oblivious rant; an apology becomes a crisis at work. These situations call on the two leads to play the comedy big, and it will likely give some audiences headaches.
But with almost any new show, it's important to allow time for the program to grow and figure out what it's good at. Not every show gets that kind of patience from its audience. The fact that Casey Wilson is involved means at least some critics are willing to give it room. Fancy that.