Birdman: A Giddy Fantasia of Broadway (and Superheroes)
Director Alejandro Gonzalez Iñárritu and cinematographer Emanuel Lubezki deliver one of the year's best—and oddest—films.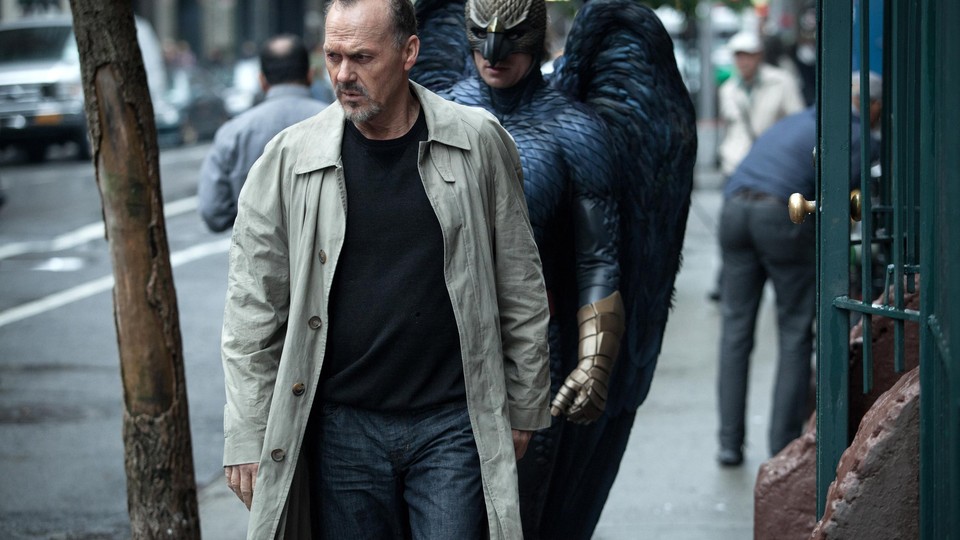 A movie star who left millions on the table when he declined to reprise his lead role in a 1990s superhero sequel? You might reasonably guess that I'm referring to Michael Keaton, who turned down $15 million when he bailed on the Batman franchise during its (first) heyday. But no, I'm referring to Riggan Thomson, who quit the role of the flying, feather-clad crusader, Birdman, around the same time. The principal difference between the two is that unlike Keaton, Riggan is a fictional character, the protagonist in Alejandro González Iñárritu's new film, Birdman. And he is played, not at all coincidentally, by Michael Keaton.
Nor is that the end of the superheroic in-jokes embedded in Iñárritu's gonzo, tour-de-force black comedy. At times Riggan is literally haunted by his old Birdman role, which speaks to him in a deep rasp (also performed by Keaton) conspicuously reminiscent of that of his Dark Knight successor Christian Bale. At one point in the film, Riggan finds himself obsessing about George Clooney—yet another old Batman—and in particular about the square jaw that his bat-cowl showed off to notable effect.
After years of wallowing in post-stardom obscurity, Riggan has decided that the best way to reintroduce himself to the world is to write, direct, and star in a loose, arty Broadway adaptation of the Raymond Carver short story What We Talk About When We Talk About Love. But this is no easy task. Riggan's most immediate problem is that just a few days before the show's premiere, one of his costars is hospitalized after being hit during rehearsal by a  light falling from the rafters. With the help of his lawyer/producer/best friend, Jake (Zach Galifianakis), Riggan runs down a list of possible replacements: Michael Fassbender? On the hook for another X-Men. Jeremy Renner? Busy being an Avenger. Riggan, who had the skies to himself back in his Birdman days, quickly discovers that in contemporary Hollywood there's hardly an actor working who isn't working in lycra. So he opts to go in another direction, hiring a renowned stage thespian named Mike Shiner. This crown prince of Broadway is, naturally, played by Edward Norton ... who just a few years back was the star of The Incredible Hulk.
Given all these nods, what is surprising about Birdman is that it is only peripherally a satire of the current superhero spate. Iñárritu's odd and ingenious film is far more interested in poking fun at the pretensions of New York theater: the brittle actresses (the other costars of Riggan's show are played by Naomi Watts and Andrea Riseborough); the overweening male egos (Riggan's own and, especially, Mike's); the backstage romances; the clap-at-whatever-you-give-them audiences; and the poison-penned New York Times critic (Lindsay Duncan) eager to demonstrate how easily she can "kill" Riggan's play with one vicious review. On top of these theatrical intrigues, Riggan is also trying to be a better father to his recently rehabbed daughter, Sam (Emma Stone), and something other than a self-involved jerk to his ex-wife, Sylvia (Amy Ryan).
If that weren't enough on his plate, Riggan must contend with the possibility that he might actually be a superhero. When he hears that Birdman voice in his head, he turns into a middle-aged-man version of Carrie White, telekinetically spinning objects through space or hurling them into walls. Indeed, when we first meet Riggan in his dingy dressing room, he is levitating lotus-style in his tighty whiteys. Later, we'll see him swoop across entire city blocks and blow up cars with a snap of his fingers. And that actor who needed replacing after being hit by a falling light? He was someone Riggan wanted to get rid of anyway. "That wasn't an accident," he confides to Jake. "I did that."
Is Riggan's body the vessel for some powerful extraterrestrial force? (More than once we see a fiery meteor blazing across the sky.) Did he somehow absorb the energy of a thousand jellyfish stings? (This possibility is a little hard to explain briefly.) Or is Riggan merely losing his mind? That voice in his head, the angry Bale-rasp of his former self, does seem to carry more than a whiff of grandiose delusion. "You tower over these other theater douchebags," it growls. "You're a movie star.... You are a god."
Whether or not Riggan is in fact possessed of divine abilities—Iñárritu offers contradictory clues along the way—Birdman puts on clear display the indisputable superpowers of its cinematographer, Emmanuel Lubezki. Forget the legendary Steadicam tracking shot into the nightclub in Goodfellas. Prepare to yawn at the glorious crane work in the opening of Touch of Evil. Even Lubezki's own spectacular sequences in Children of Men and Gravity can't prepare you for what he and Iñárritu have cooked up here: an entire feature film that appears to consist of one long continuous take. (It doesn't—careful viewers will spot seams here and there—but it is an astonishment nonetheless.) Unlike its clearest antecedent, Hitchcock's faux single-take in 1948's Rope, Birdman doesn't confine its action to a single studio set. Instead, Lubezki's camera veers and swoops as it follows characters through the backstage warrens of Broadway's St. James Theater (which resembles a shabbier, subterranean version of Barton Fink's Hotel Earle), onto the stage, into the audience, up on the roof, out onto the streets of Times Square, and upwards into the sky itself. Lubezki won his first Oscar last year for Gravity; with Birdman he's placing a very strong bid for a second.
Befitting the errant, bravura visuals, Birdman is a film in which almost nothing is adequately tethered. Riggan is coming gradually unglued as we watch, torn between ambition and exhaustion, the potential glory of artistic success and the easier consolations found inside a whiskey bottle. (There are echoes of the fraying realities of the fictional directors played by Steve Buscemi in Living in Oblivion and Philip Seymour Hoffman in Synecdoche, New York.) Members of Riggan's cast and family pinball off of him—more often than not, to restless drum riffs by Antonio Sanchez—but they rarely dent his narcissism. Even the film itself has a vaguely schizoid feel to it: part sex farce, part Broadway satire, part magical-realist fable, part rumination on celebrity in the age of social media.
In the midst of this madness, Keaton delivers a relatively subtle, subdued performance. And while he carries the film admirably, the role is nonetheless somewhat unsatisfying. Though Riggan is onscreen for the vast majority of the film, large holes remain in the character. (We're given very little sense, for instance, of what he's been doing in the 20 years since his Birdman incarnation.) It's a vagueness that seems deliberately engineered: In the climax of his play—of which we witness multiple iterations—Riggan laments that he is vanishing altogether. But however deliberate, this hazy quality renders him remote, more concept than character.
The same might be said of Norton's supporting role as Mike, I suppose, but the actor embodies him with such relish and dynamism that it's hard to look away. A ball of furiously compressed Method artistry, Mike insists on drinking real gin onstage and attempts to have actual sex with Watts in the midst of one performance. (Without an audience, we discover, he is rendered impotent.) His devout self-admiration and practiced contempt for Hollywood—"Popularity is the slutty little cousin of prestige," he lectures Riggan—are among the chief delights of the film. In addition to being the movie's most magnetic performance, Norton's role also serves as a self-deprecating joke about the actor's own widespread reputation for uncompromising perfectionism. (It was this trait that reportedly led Marvel Studios not to invite him back to reprise his Hulkhood in The Avengers.)
Galifianakis and Stone (especially) are both strong, as Riggan's business partner and daughter, respectively. Watts, Ryan, and Riseborough take advantage of the limited opportunities afforded to them by the script (credited to Iñárritu, Nicolás Giacobone, Alexander Dinelaris, and Armando Bo). And Duncan is terrific in the small (and moderately absurd) role of the Times critic Tabitha Dickinson. A giant of the contemporary stage, she is an actress it would be nice to see onscreen more often.
The true stars of the movie, however, are Iñárritu and Lubezki, who pack their film with dizzying (at times literally) style and verve. Whether there's much substance percolating below the surface is an open question—I tend to think not—but after the almost bullying profundities of Iñárritu's 21 Grams (which I liked nonetheless) and Babel (which I did not), this moral reticence comes almost as a relief. Birdman—I should probably note here that the full title is the punctuationally ridiculous Birdman or (The Unexpected Virtue of Ignorance)—is a giddy fantasia of themes and genres, and if not all of them fully cohere, then so be it. As the Birdman voice inside Riggan's head reminds us, sometimes viewers crave pure entertainment, not just "talky, pretentious, philosophical bullshit."