Bruce Bochy and Ned Yost, Baseball's Great and Powerful Scapegoats
In a spectacle as unpredictable and inexplicable as the World Series, the easiest person to watch, analyze, and blame is the team manager.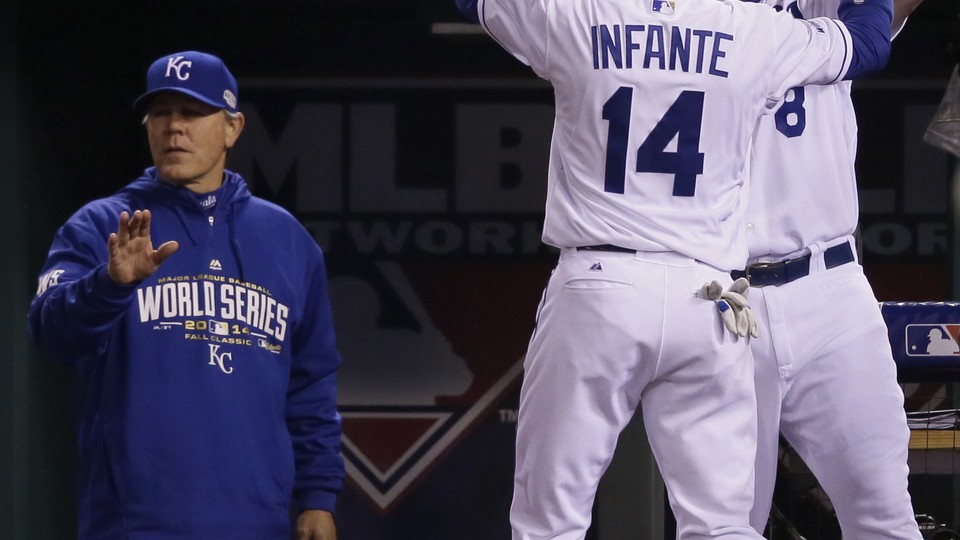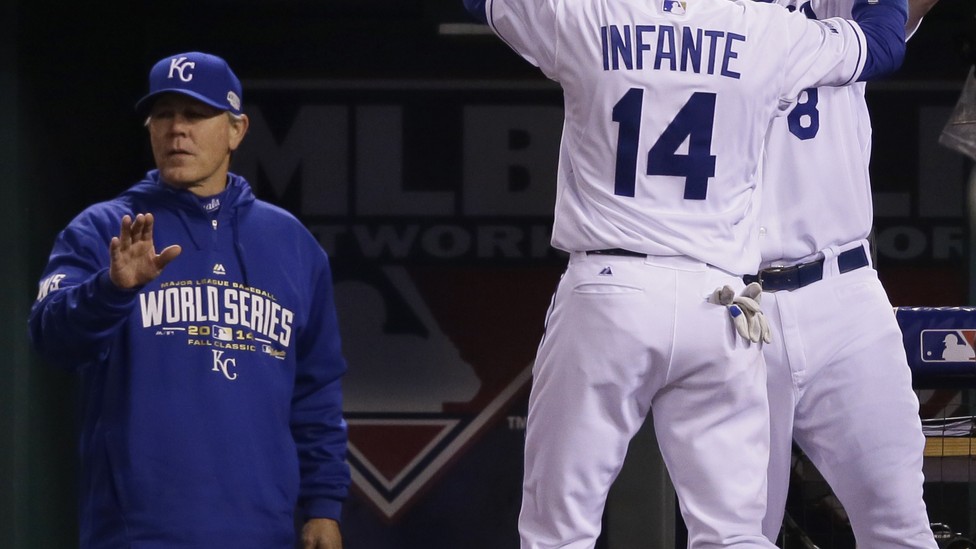 One of the core joys of the World Series is that it's everywhere. Anyone watching professional baseball in America, this past week, has been watching a game between the San Francisco Giants and Kansas City Royals. Everyone watching gets the same impression, at the same moment, of a jagged Hunter Pence swing or a sniping Yordano Ventura fastball. When occasion arises, everyone bellows the same half-in-the-bag truths at the same scrub umpires.
And as the game gets late, everyone watches the same two managers, scouring them for a sign of incompetence or overmatchedness, for a whiff of fatal stubbornness or overdone cleverness, for a misstep that can be announced in the moment, recounted after the game, and pointed to in the next day's headlines.
Even before the World Series, this October has been a good month for such second-guessers. The Los Angeles Dodgers' Don Mattingly sent Clayton Kershaw, the best pitcher in baseball, out for the seventh inning in the deciding game of the National League Division Series despite Kershaw's having started on short rest; within minutes, a two-run lead was a one-run deficit. The St. Louis Cardinals' Mike Matheny, who escaped the divisional round mostly unscathed, caught his criticism in the National League Championship Series, when he used rusty reliever Michael Wacha to pitch in the ninth inning of a tie game. Wacha surrendered a walk-off homer to the Giants' Travis Ishikawa, and the St. Louis season was over.
The remaining managers are the Giants' Bruce Bochy and the Royals' Ned Yost. Bochy, having managed the Giants to World Series victories is 2010 and 2012, combines postseason pedigree with considerable tactical acumen. His specialty is managing a bullpen, dispensing the correct relievers at the opportune moments. The second game of the Division Series, against the Washington Nationals, reached 18 innings, but Bochy was prepared, having reserved crack long reliever Yusmeiro Petit. Petit pitched six of the extra innings, all scoreless, stringing the Nationals along until San Francisco's Brandon Belt hit a home run minutes before midnight to break the tie.
Yost, meanwhile, was known before the Royals' unlikely postseason run as a dullard, and he routinely came under fire for his devotion to the sacrifice bunt, a tactic considered statistically unsound in most cases. Periodically throughout the season, #yosted would circulate on Twitter, signaling the occurrence of some obsolete (and often ineffective) maneuver in keeping with his character. In October, #yostseason has replaced it, intended to recognize both the endurance of his bad habits and their inexplicable working out. In the third game of the World Series, with the Royals leading by one run and with speedster Jerrod Dyson on first in the seventh inning, Yost allowed a pitcher who had never made a professional plate appearance, Kelvin Herrera, to bat. He struck out on three pitches, and Yost ended up removing him just one out into the next half-inning anyway, but no matter: The Royals won, 3-2.
In the days leading up to the Series, analysts speculated about how each manager might impact his team's chances. Most conclusions gave the Giants an advantage, but many of the smarter ones included the caveat that even the most able manager helps his team only a little, and even the sorriest one hurts his team only so much. Baseball is a game predominantly decided by the players. Live arms and quick bats make most decisions look good; the absence of them leaves the tactician few options.
Still, go anywhere where people are watching this evening's seventh and deciding game, stay awhile, and there's a good chance "Yost" or "Bochy"—whoever's at the helm of the loser—will be the most cursed name by the end of the night. This has something to do with the human need to assign blame and with the easy logic of hierarchy. More fundamentally, though, I think it has to do with baseball's opacity and basic strangeness. The manager is a martyr to the altar of assurance.  We watch him when it is easier than watching baseball itself.
The present era of baseball belongs to the general manager, that front-office whiz who spots undervalued commodities, parses out which stars will be worth their money, and scrapes league flotsam into an effective bullpen. The Oakland Athletics' Billy Beane, of course, gained fame in Moneyball. Theo Epstein was the visionary behind the breaking of the Boston Red Sox curse in the mid-2000s. Andrew Friedman built the Tampa Bay Rays from league laughingstock to perennial contender despite a miniscule payroll, work that attracted the attention of the Dodgers, who just over a week ago hired him away from Tampa.
The rise of the celebrity GM has coincided with the spreading influence of sabermetrics, an umbrella term for the statistical study of baseball that necessarily, as statistics do, privileges the long-term to the short. Now, if a team exceeds expectations, journalists look for the illustrative anecdote not in a rousing midseason speech but in a keen offseason signing. See the third paragraph from last November's Sports Illustrated piece on Boston's World Series win: "After shedding $272 million … in a megadeal with the Dodgers in late August 2012, the Sox added a passel of mid-level free agents: Shane Victorino, Mike Napoli, Jonny Gomes and Stephen Drew. Each became a vital contributor while bringing an esprit de corps to a once-tense clubhouse." If the Giants win tonight, something similar will surely be written about Brian Sabean's acquisitions of starting pitchers Tim Hudson and Jake Peavy; if it is the Royals, Dayton Moore will get his due for trading for James Shields and Wade Davis.
Today's prized managers are those capable of working with head honcho GMs, translating a front-office ethos to the field. Joe Maddon, the patron manager-saint of the baseball intelligentsia, was tied so closely to Friedman in Tampa Bay that Maddon's contract allowed him to opt out in the case of Friedman's exit; he did just that, and speculation now concerns whether he'll follow Friedman to Los Angeles or if he'd be as successful working with another GM in another town.
The manager is no longer a one-stop trainer, strategist, dispenser of wisdom, encyclopedic expert, and possessor of some holy knack. Corporate-structurally speaking, he needs the word "middle" added to his title. He is often most valuable as a fall guy; he can take the daily media barrages during a losing streak and, in the event of a shake-up, is more easily jettisoned than any star player. Some of baseball's strategic avant-garde surely imagine the day when the position does not even exist, when a cadre of specialists replace one middle-aged man in his team's uniform.
For now, though, the manager persists, and if his strategic value is less obvious than it was in decades past, his aesthetic worth is as clear as ever. A baseball manager looks unlike anyone else in sports. He stands on the top step of the dugout, just to the side of the entryway to the field, that corner of covered rail his own sacred and earned perch. His uniform bends around his paunch; gray or graying hair shows under the edges of his cap. His players wear their caps pulled tight to their skulls, but he wears his higher on his head, and you can see the little valleys signaling air between noggin and fabric. He works his gum or sunflower seeds hard.
Each manager presents a variation on this template. This postseason alone has hosted some of the best baseball personages in the game today: Pittsburgh's Clint Hurdle, with his chapped face and bad hip; the Los Angeles Angels' Mike Scioscia, who presses the pads of his fingers together like a high school thespian miming deep thought; and Baltimore's Buck Showalter, who stuffs his hands deep into his jacket pockets and waits for an Orioles long ball like it's a city bus.
Bochy and Yost fit the part as well as any of them. Bochy has a burlap face with a white, exact goatee, and he looks at the field with the expeditioner's encompassing gaze. His voice, as heard in postgame interviews, is that of someone who has only just now been rescued after years marooned on an island. Except in the rare instance of a call he finds particularly abhorrent or a spectacularly unlucky turn of events, he does not move much. One of his charges triples, and while everyone else in the San Francisco clubhouse waves his arms and leaps in place, Bochy stays still, chomping and looking straight ahead.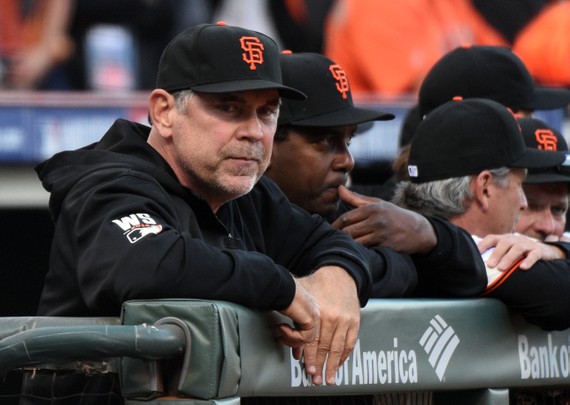 Yost aspires to the same stoicism, and fails. You can see worry in him, in his deep-set, dark eyes and cherubic countenance. He glances too much. When something goes wrong, his expression slides into quick disappointment. From time to time, he feels the need to do something with his hands, so he puts a thumb or knuckle to his lips.
These are faces made for parsing. A relief pitcher walks his first batter, and a dutiful camera finds the manger, and we get to our examination. Does he regret the move? Is his considering another this soon? He only chews and, maybe, shifts, but the shift looks seismic on our televisions; we diagnose his discomfort and log the moment. This could be the one where the game is lost.
A five- or seven-game series does not go a long way, really, in deciding which of its two teams is better. Baseball is rife with bounces just this side or that of boundary or glove, wrinkles of luck that the 162-game regular season schedule irons out but that amount to a great deal when the schedule is shrunk to a week or two. Statisticians call the postseason series a small sample size; television producers call it drama.
Almost a month ago, in the 12th inning of the American League Wild Card game, Royals catcher Salvador Perez hit a hard grounder down the third base line. It went an inch under Oakland third baseman Josh Donaldson's glove. If Donaldson had corralled it and thrown Perez out, the game would have gone on. As it happened, the hit drove in the winning run for Kansas City. The Royals' season continued; the Athletics were done.
That type of miniscule margin abounds. During their runs to the World Series, the Giants and Royals won by only one run a combined seven times, won in extra innings a combined six times, and each won once via a walk-off. If such streaks of good fortune suggest some opportunistic savvy, they also imply a swath of alternative outcomes. Donaldson could have gloved Perez's shot and the A's could have stopped the Royals before their run started; Washington could have taken one or both of the first two games of the Division Series from the just-enough Giants. But some pockets of air were spread just so, and here we are.
When baseball tips nihilistic, people look to the manager to impose a structure. In a game of odds-against-other-odds, he alone can make something happen with certainty. If he calls for a pinch-hitter, that pinch-hitter will appear. If he walks to the mound and lifts his left arm, the lefty will run in from the bullpen.
The player can only try; the manager can do. This inflates our sense of his import and, in turn, exposes him to disproportionate criticism. Both World Series managers, thus far, have had their turn. In the second game, Bochy called on young fireballer Hunter Strickland to douse a Royals rally. Strickland, who had allowed for homers to that point in the postseason, promptly gave up a double and a home run, pushing the Kansas City lead from one to five and effectively ending the game.
Three games later, against Giants ace Madison Bumgarner, the Royals had gained no traction all night when, in the fifth, second baseman Omar Infante knocked a surprise double with one out. Due up were the light-hitting Dyson and starting pitcher James Shields, and the Royals' usual designated hitter, Billy Butler, was available to pinch-hit. Yost did not make the switch, and Dyson and Shields each struck out. Bumgarner ended up throwing a complete-game shutout; he was never in trouble for the rest of the night.
As one would expect, each manager caught substantial flack for a supposed mishandling of his duties. Perversely, though, it is precisely when the manager is perceived to err that he is most useful. The grand problem of baseball—its insistence on wrenching itself loose from its players' intentions—is given a handy, if retrospective, solution. We point at the still man on his perch, his face showing resolve in his misstep, and identify the culprit. Late tonight, when the World Series is over, one group of fans will apply frustration with a wrong or unmade decision as a kind of bitter salve.
A note on the fifth inning of Game Five, here: If Butler had pinch-hit for Dyson, Kansas City right fielder Lorenzo Cain would have moved to center, and Nori Aoki would have entered the game to play right field. As it was, the catch-everything Cain remained in right, where Hunter Pence drove what looked like a triple in the inning's home half. Cain sprinted back on a pristine diagonal to the wall and gloved the shot at full stride. Two Giants were on base; if it had dropped, as it surely would have had Aoki inhabited the post, both would have scored without any trouble.
It seems that, cosmically, Bumgarner was to be too much for Kansas City that night no matter the arrangement. So maybe the best Yost could do was perform the first and most sacrificial of a manager's duties: Give his team's fans anything to think about but that.