Buttons, Pants, and Beds: An Illustrator's Favorite Things
Maira Kalman's latest colorful, strange works riff on curiosities uncovered in a design museum.
Maira Kalman turns curiosity into an expressive art. The illustrator's books and visual essays examine eclectic phenomena through what she calls "innocent eyes." This past summer, for example, she followed Lewis and Clark on their famous explorations and documented the experience in an illustrated travel story for The New York Times. And this month, in the books Ah-ha to Zig Zag and My Favorite Things, she illustrates some of the quirky holdings of the newly renovated Cooper Hewitt, Smithsonian Design Museum.
For the books (which are timed to accompany the museum's forthcoming exhibit Maira Kalman Selects, opening December 12), Kalman was free to choose any random pieces from the museum's rich and varied collection, and then paint, draw, and riff on each one from a personal perspective. "I wasn't sure what I was going to do," she told me. "But I knew that every story starts in the first gauzy memories of childhood. And that's why we care about objects—often because of their relationship to people and places that were part of a loved past."
Kalman was already familiar with many of the museum's objects, having seen eclectic shows at the Cooper Hewitt about everything from beds to eating utensils. But what's in the collection is in many cases just a jumping off point for what's in the book.  "If I see a rubber band that I like, the story comes out of that," she says. "And I remind myself that I wish I had a stationery store. Then I remember that I loved stationery supplies because I loved to write with a Parker ballpoint pen, and I loved writing the alphabet, and I loved the paper that I wrote it on. And I also loved Mrs. Walters, my 6th grade teacher, who told me I could write. And I would love to share that love in a shop where I could earn a living. And so on it goes."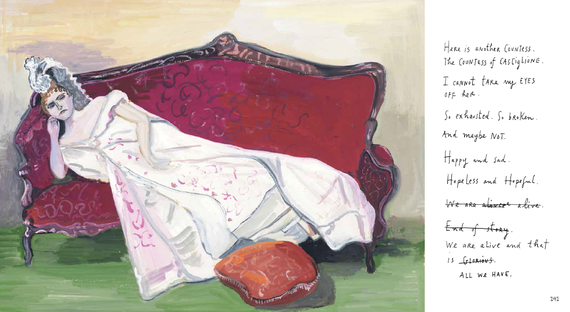 A spread where she painted otherwise seemingly inconsequential tickets stubs and tags, including one for the fictional company "United Pickle," are so lovingly rendered they seem like they must contain personal resonance for Kalman. Not always, she says: "Sometimes [the pictures] evoke a memory of a time or place. But often they call to me calligraphically as design, as letterforms." Kalman, a deep lover of typography, even gave her daughter the middle name Bodoni.
The intriguing cover of My Favorite Things (Smithsonian Press) features a colorful painting showing two male fashion plates standing together on a beach in their casual finest, which came from a purely aesthetic impulse: "I love people in mid-pose–in mid-moment. That is really the essence of being for me. Those micro moments that are transplendent. So the cover speaks of ease and joy."
For the most part, however, the book synthesizes Kalman's personality with the items she found on exhibit at the Cooper Hewitt. Included in the books: hats (to Kalman they are "Fanciful. Architectural. Sun shade. Dashing. Jaunty. Spiffy. Dramatic. Romantic. Funny. Hopeful"), a suitcase, rocking horse, pocket watch, tea cup, and many, many beds.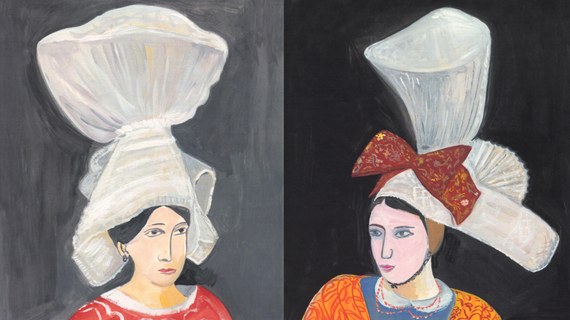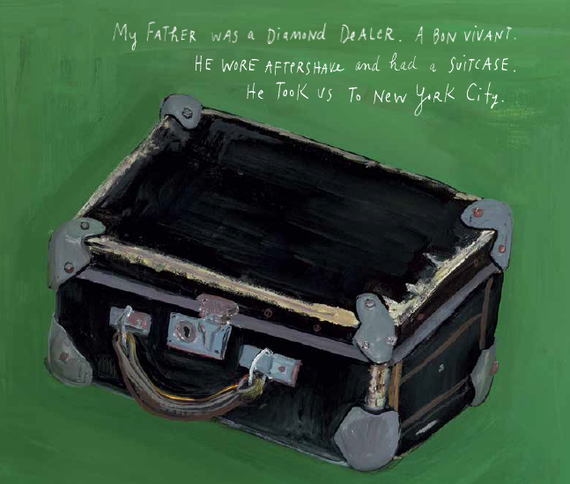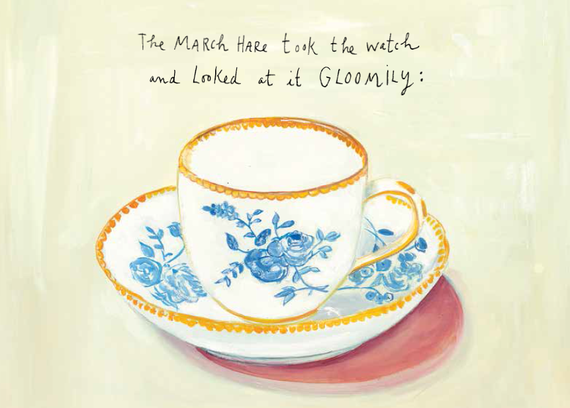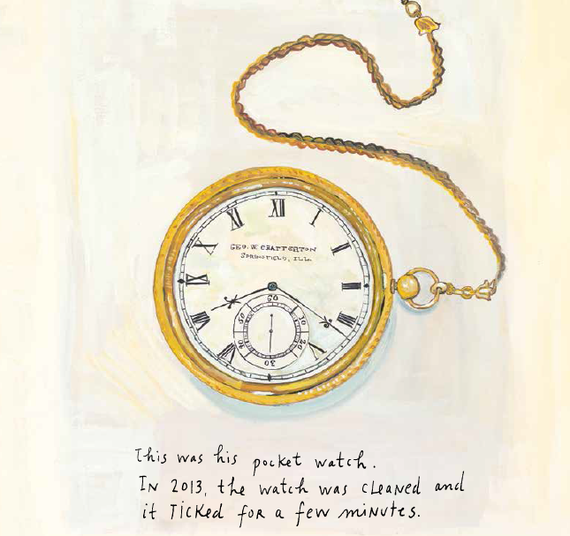 Kalman is particularly enamored of beds: "Whoever invented the BED was a GENIUS," she writes in the text accompanying a vintage frame draped with a pair of knickers and socks in My Favorite Things. "When you GET up from Bed, get DRESSed. In pants and socks." Where does this bedlust come from, I wondered? "The most delicious time of my day is getting into bed. The other most delicious time is getting out early in the morning and drinking a cup of coffee," she says. As for its object attraction, "The bed, with crisp sheets and pillowcases (ironed of course) is a haven, and a solace, and a comfort and a joy."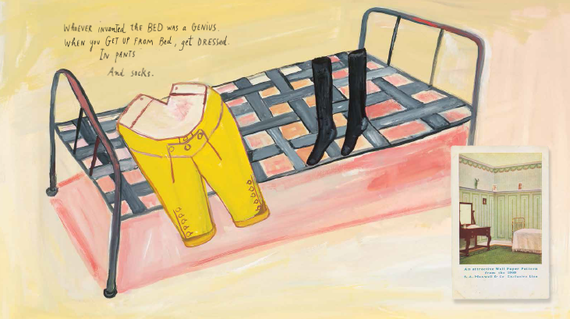 Some images in Favorite Things are drawn, while others are photos of the museum's actual artifacts, a choice that stemmed from Kalman's desire to commingle her paintings with the physical reality of the things on display. Kalman, who is a great collector of such peculiar assemblages of miscellany as an onion ring and bucket collection, is drawn to the things themselves as much as she enjoys the way they spark her illustrator's impulses.
Items from those collections of personal treasures are presently on display in Maira Kalman Selects at the Cooper Hewitt, which features, amongst other things, a pair of Toscanini's pants. "They were up for auction. How could anyone pass on owning Toscanini's pants?" she said. "I mean, really."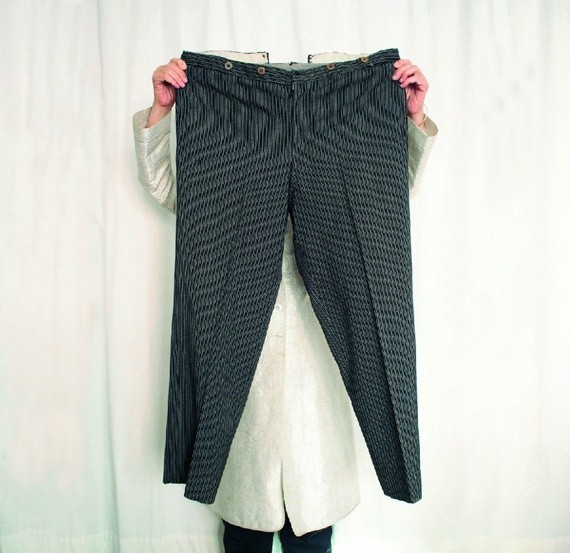 After sifting like a prospector through the Cooper Hewitt's collection and adding a few items of her own, it felt like a natural extension for Kalman to write a children's book as well. So for Ah-ha to Zig Zag (Rizzoli), a book of ABCs, Kalman selected 31 beloved objects to form an alphabet of curiosities annotated with show-and-tell wisdom. For example: "L. If you lose a button, well, you have to get another" (that one was side-by-side with a button bearing the portrait of a young man).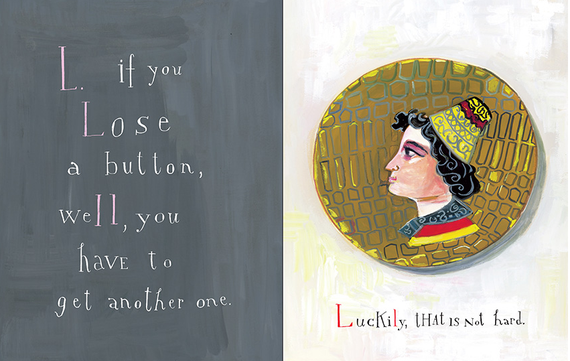 "So, what did you learn from all these eclectic artifacts?," I asked her, knowing I'd get an eclectic answer. She didn't disappoint: "That everyone has too much stuff. Museums have too many things. To go through everything, which I tried to do, was daunting. But what you learn is that the editing process must be swift and follow a strong instinct. Instinct is the only guide." And what a spot-on instinct she has, too.