Taylor Swift Is So Much More Fun Now That She's Jaded
On 1989, she shows off a new, synth-driven sound and new, entertaining self-awareness.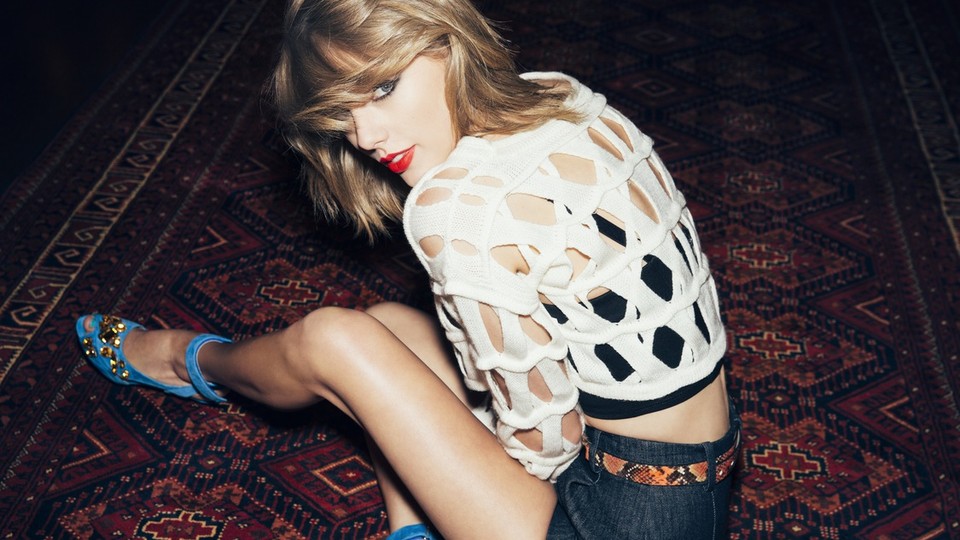 "She wears high heels / I wear sneakers / She's cheer captain / and I'm on the bleachers." The image of the outcast, the good-hearted girl who's continually being ignored and wronged, has clung to Taylor Swift ever since she sang those lines in "You Belong With Me," one of her earlier hits, released in 2008. Even though she's not a sneaker-wearing nerd—she's a successful, wealthy, beautiful, tall woman whose crushes definitely always know who she is now—this aura of innocence has followed her throughout her career, and she has perpetuated it in her music. "Don't you think I was too young to be messed with?" she sings on "Dear John" from the Speak Now album. (To be fair, John Mayer, the reported subject of the song, was 33 to Swift's 20 when the album came out.) In "All Too Well," a song from her 2012 album, Red, a scarf she left at an ex's house is said to "remind [him] of innocence."
Compare that to "Blank Space," the second track on Swift's new album, 1989. "You look like my next mistake / Love's a game / Wanna play?... Ain't it funny/ Rumors fly/ And I know you heard about me." This is someone who's aware of her reputation. Her jadedness has made her wry, and she's having fun with it. "Darling I'm a nightmare dressed like a daydream," she laughs at one point in the song.
Throughout the album, Swift seems a little more grown up, a little more self-aware. Her first 1989 single "Shake It Off" was all about people's perceptions of her, after all. The relationships she continues to describe with her trademark insight are a little more twisted. The midnight tryst described in "Style" is a far cry from the Romeo & Juliet "Love Story"s or "Enchanted" meet-cutes of earlier albums. It's certainly the sexiest album she's ever made—that guitar on "Style" is carnal in a way that's uncomfortable when you consider that the song is almost certainly about boy bander Harry Styles. And "Wildest Dreams" goes languid-sexy, à la Lana Del Rey, as she anticipates the end of a relationship while she's still in it.
If you listened to her first, self-titled album and then listened to 1989, it would almost sound like the works of two completely different people. But each album in between was a firm footstep on the path to where she is now, tracking how she's grown up from high-school hallways, and grown away from country toward pop.
But the core of what makes Taylor Swift so successful hasn't changed. What Swift is good at, what she's always been good at, is the precise evocation of specific slices of emotion. She finds simple but effective turns of phrase ("You were all I wanted / but not like this") or off-the-wall metaphors ("You're still all over me like a wine-stained dress I can't wear anymore") that sum it all up. And the '80s throwback sound she's using this time lends itself nicely to her lyrical style, with the driving beats and bright synths making the simple seem anthemic.
Perhaps unsurprisingly, then, the most effective songs on 1989 are the upbeat ones; "Blank Space," "Out of the Woods," "All You Had to Do Was Stay," "I Wish You Would," and "How You Get the Girl" stand out. The slow jam "This Love" is a bit of a chore, and "I Know Places," a song that many have noted sounds like an outtake from a Hunger Games soundtrack, doesn't quite fit with the rest of the album. The closing song, "Clean," with Imogen Heap on backing vocals, is the more engaging of 1989's ballads.
No longer is Swift a "crumpled up piece of paper" after a breakup, as she described herself in a song from Red. She shows herself in these songs as complicit in her troubled relationships now, the temptress as often as she is the victim. (If you were looking for some symbolism there, you'd find it in the numerous mentions of red lipstick. She really wants us to associate her with red lipstick—it's referenced in three of the 12 songs, and red lips feature prominently in two of those choruses.) Sassy "We Are Never Ever Getting Back Together" Taylor rears her head in "All You Had to Do Was Stay"—"Let me remind you/ this was what you wanted," she sings to a remorseful ex. But the starry-eyed Taylor who loves-fairy tale romance is by no means completely gone. "I Wish You Would" and "How You Get the Girl" both imagine and long for a big romantic gesture from the one who broke her heart.
Maybe songs about James Dean look-a-like boyfriends and New York's glittering lights aren't quite as relatable to the average Taylor Swift fan as the tales of small-town love that started her career. But she's not sitting on the bleachers anymore, and it would be disingenuous to pretend that she was. Her primary currency has always been emotional honesty, and these songs still feel true—true to where she is now. A little more adult, a little more aware, just as honest.