By Heart is a series in which authors share and discuss their all-time favorite passages in literature. See entries from Claire Messud, Jonathan Franzen, Amy Tan, Khaled Hosseini, and more.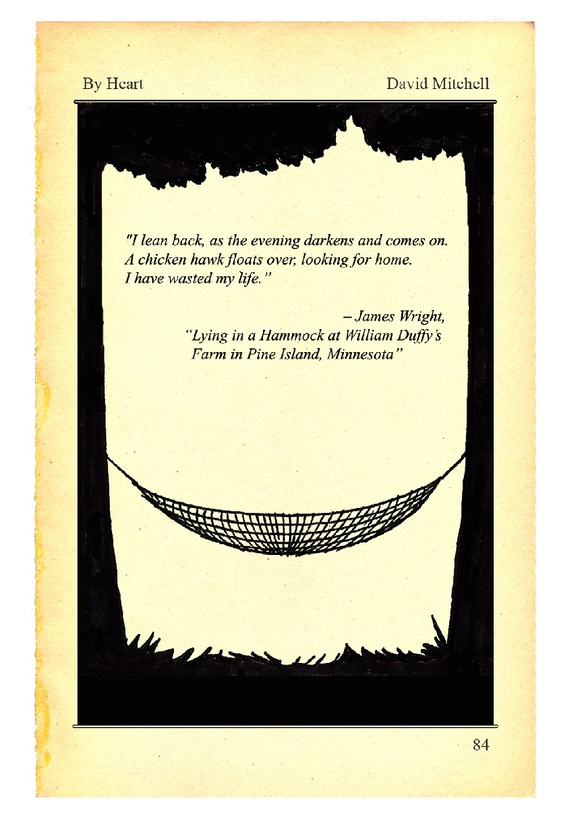 When I asked David Mitchell, author of Cloud Atlas, to discuss a favorite passage for this series, I was initially surprised by his choice: a plain-stated, rustic poem by James Wright. "Lying in a Hammock at William Duffy's Farm in Pine Island, Minnesota" bears no overt similarity to Mitchell's maximalist, genre-busting epics. But, he explained, the poem's pure sensory engagement inspires him to strive to be more present, attentive, and alert—an ongoing struggle with implications for his work habits, his craft, and the art of writing about the future.
One of the pleasures of reading David Mitchell is his mastery of extended dramatic monologues—the varied speakers of Cloud Atlas, for instance, whose dialects reflect their times. Mitchell's latest, The Bone Clocks, begins with another feat of method acting: He inhabits the voice of a troubled 16-year-old girl, trapped in provincial mid-'80s Britain, who longs to see Talking Heads at CBGB. As the novel begins, Holly explains her acute psychic disturbances, episodes she calls "the Weird Shit"—which turn out to be communications from a mysterious group, drawing her into a dangerous battle waged across the ages.