The Rihanna Hit That Wasn't
Track of the Day: Grimes's Game of Thrones-inspired new video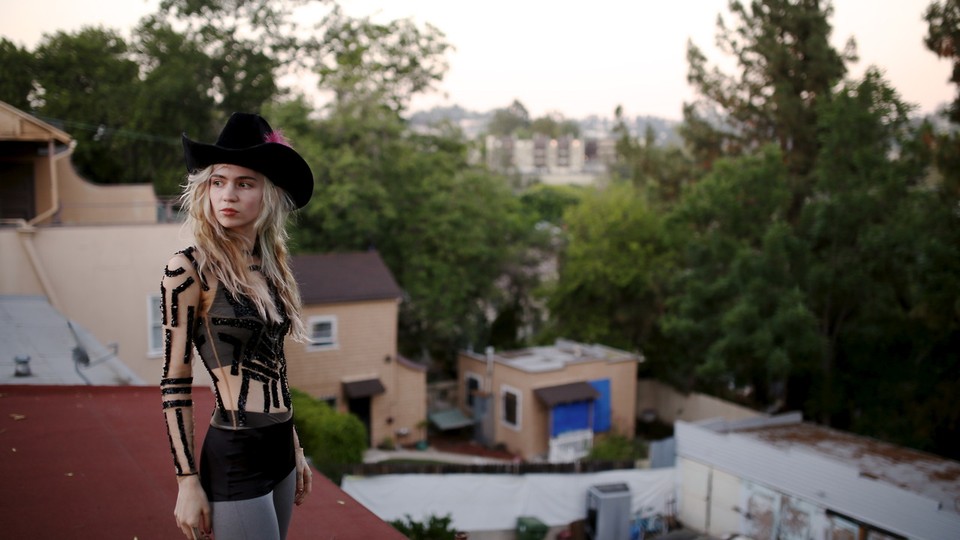 In an alternate universe, Top-40 stations saturated themselves with a new Rihanna track over the summer: It was "Go," written by Canadian experimental pop songstress Grimes and her frequent collaborator Blood Diamonds. But in our world, Rihanna declined the track, so instead we get Diamonds and Grimes's own version, in a video a good bit weirder than any Rihanna hit could ever be—explicitly influenced by Dante's Inferno, Go has its lead singer miming under black lights, planting crimson banners on Sahara-esque dunes, and smoothly gyrating, Salome-like, as the frame splits into harsh rectangles.
For a good chunk of last year, Grimes—born Claire Boucher—labelled herself "the Targaryen" on Twitter. A reference to the conquering queen of Game of Thrones fame, she's at last released the allusive dragons. In "Go," she blends the look of Westeros with practically everything else: She names "x men, metal gear solid, dune" (sic) as specific inspirations.
Grimes is already famous for stewing melanges across style and genre: Pitchfork named her "Oblivion" the half-decade's best song just last month. But perhaps it's the tension of "Go" that can teach us about her craft. Boucher could be writing bubbly pop, and she almost does—on Earth-2, after all, Rihanna has a new hit—but at the last moment it becomes angular, ionizing, referential, weird.