Roger Goodell's Tragic Sanctimony
The NFL commissioner portrays himself as a guy who takes after his father, a principled senator who opposed Nixon. His actions reveal just the opposite.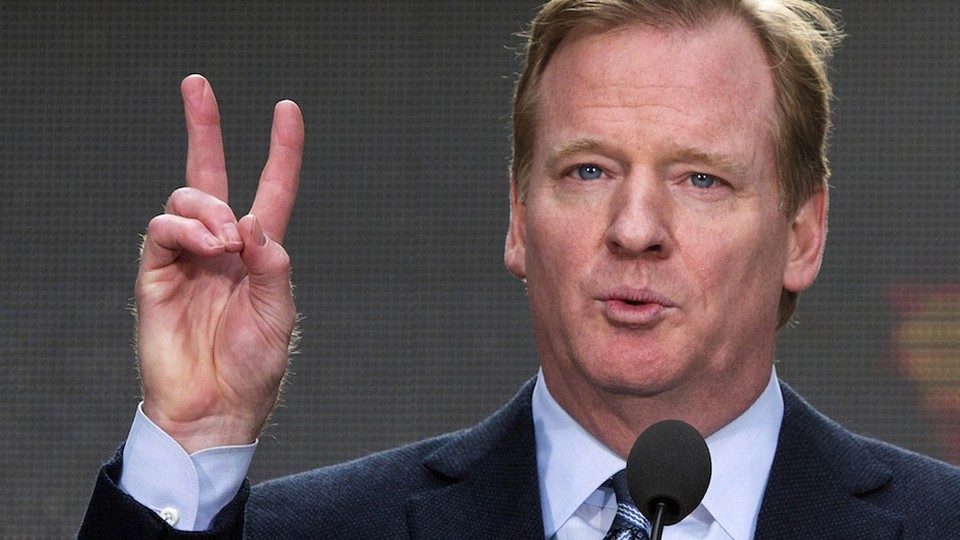 Like many sports stories, this one is about fathers and sons. Before Roger Goodell was National Football League commissioner—before fans and pundits alike began calling for his ouster in the wake of the ongoing Ray Rice domestic-violence scandal; before members of Congress began sending angry letters and demanding answers—Goodell was an 11-year-old boy, watching the Nixon White House crush his dad's political career.
The year was 1970. Charles E. Goodell, then a moderate Republican senator from New York, was running for reelection. The previous summer, he had sponsored a high-profile bill that would have ended funding for the Vietnam War. He subsequently led a Washington march against the war—right down Pennsylvania Avenue, alongside Jane Fonda, arm-in-arm with Coretta Scott King. Before going to the New York Times, Daniel Ellsberg even asked Goodell to leak the Pentagon Papers.
Unsurprisingly, President Nixon was furious. He ordered his staff to give the senator a "going over," turning the Republican Party against the incumbent candidate in favor of a conservative challenger. Meanwhile, Vice President Spiro Agnew savaged Goodell's GOP bona fides in a series of speeches.
In response, Goodell's campaign deployed the candidate's five sons, including Roger, on busy Manhattan street corners, where they would stump for their dad. I'm Senator Goodell's son. Please vote for my father. No luck: The elder Goodell split the liberal vote with his Democratic opponent, allowing third candidate and Nixon loyalist James Buckley to win the election.
According to a 2010 New York Times article, a framed, original copy of his father's antiwar bill hangs on the wall of Goodell's office at NFL headquarters in New York City.
"As far as my father knew, it was the right thing to do, and it did have some serious consequences to his political career," Goodell told the newspaper. "And I think he knew that.
"That was a valuable lesson to me—taking that position he did would be the end of his political career. He was obviously hoping people would see it was the right thing to do, but against the president's weight, the weight of the Republican party, it would be difficult, but he did it."
Such is the way Goodell appears to want to see himself: as a principled leader who makes tough decisions, regardless of personal price. Who stands alone when necessary. The sort of man who reportedly "went ballistic" when Hall of Fame quarterback Terry Bradshaw publicly suggested that the NFL only cares about the well-being of retired players because of public-relations concerns and the current concussion litigation against the league. "I don't do things for public relations," the commissioner told Time magazine in 2012. "I do things because they're the right thing to do, because I love the game … If you want to do the popular thing, be a cheerleader."
The Rice case, by contrast, paints a different picture of Goodell: one of a Company Man. A Washington-style spinner. A slave to knee-jerk expediency.
In February, the former Baltimore Ravens running back punched his then-fiancée, Janay Palmer, in the elevator of an Atlantic City casino, knocking her unconscious. TMZ released surveillance video that showed Rice dragging Palmer's limp body across the floor. Charged with felony aggravated assault, he entered a pretrial intervention program. Goodell suspended Rice for two games for violating the league's personal conduct policy, while Baltimore head coach John Harbaugh infamously stated in a press conference that his player's punishment was a good lesson for "kids" on "how it should be."
Public outrage followed. Some accused the NFL of caring more about players smoking marijuana than hitting their wives and girlfriends. Others wondered why Goodell interviewed Palmer with Rice in the same room—a huge no-no in domestic violence cases—while investigating the incident. Stung by the backlash, Goodell announced minimum six-game suspensions for first-time domestic violence offenders and lifetime bans for repeat offenders, also writing a mea culpa letter to league owners stating that "my disciplinary decision led the public to question our sincerity, our commitment, and whether we understood the toll that domestic violence inflicts on so many families. I take responsibility both for the decision and for ensuring that our actions in the future properly reflect our values … I didn't get it right. Simply put, we have to do better. And we will."
Problem solved? Not quite. On Monday, TMZ released a second video, this one recorded inside the casino elevator. The images are horrifying. Rice strikes Palmer in the face with a left hook. She smashes her head against a metal handrail while collapsing to the floor. Hours after the footage was published, the Ravens cut Rice. Goodell suspended the running back indefinitely, "based on new video evidence." The commissioner also claimed—repeatedly and publicly—that neither he nor anyone else within the NFL had seen the second video prior to TMZ's release, and that league efforts to obtain the footage from law enforcement had been rebuffed.
Problem solved, redux? Not even close. Not when previous media reports claimed that league sources had seen the footage, describing the incident in accurate detail. Not when TMZ reported that the league never asked the Revel Casino nor Rice's lawyer for a copy of the elevator video. And definitely not when the Associated Press reported that: (a) a law enforcement official sent footage of Rice's punch to a NFL executive in April; (b) someone with a league office number subsequently called the official to confirm the video's arrival, stating, "you're right. It's terrible."
Senator Richard Blumenthal has called for Goodell's ouster if "these reports are true." Sixteen female senators are demanding at the league institute a zero-tolerance for domestic violence: one offense, lifetime ban. The NFL has announced that former FBI director Robert Mueller will conduct a probe into the league's handling of the Rice case; a transparent accounting is hardly guaranteed, given that NFL owners John Mara of the New York Giants and Art Rooney II of the Pittsburgh Steelers will oversee the investigation.
Goodell's integrity—and with it, that of the NFL—is now under siege. Was he lying? Somehow protecting Rice? What did he know, and when did he know it?
My question: Does Goodell realize that he's looking less and less like his father, and more like the president who undid him?
Charles Goodell was a lawyer. He served in the Korean War. He taught classes. As Grantland's Bryan Curtis reports, his opposition to the Vietnam War grew in part out of seeing some of his younger, draft-eligible senate staffers "making decisions on whether they were going to Canada or not." He had perspective, informed by diverse experience.
By contrast, Roger Goodell is a professional football lifer, a former high-school jock who's only ever really known one workplace. When Goodell graduated from college in 1981, he wrote job-seeking letters to all 28 NFL teams and nearly a dozen letters to the league office. He started as an intern—fetching coffee for the league's public relations department, according to ESPN's Don Van Natta—and slowly worked his way to an eventual commissionership that was less appointment than anointment.
Unlike an elected official, Goodell serves neither the public nor a particular political party. He doesn't even serve the game of football, despite airy proclamations to the contrary. Goodell has 32 bosses—the 32 billionaires who own NFL franchises—and his job is to make them even more money. That's it. Likewise, the league office does not exist as a public good. It exists as a private entity, as a business whose sole purpose is promoting football (in order to make money). Sometimes, that means doing things that are admirable. Sometimes, that means doing things that might be called "Nixonian."
Concerned that linking football to brain damage would be bad for its bottom line, the NFL sponsored and created bogus scientific papers claiming that concussions in professional football "are not serious injuries" and that "many [concussed] players can be safely allowed to return to play on the day of injury"; as recently as last year, Goodell still refused to publicly acknowledge that football-induced concussions could produce long-term neurological harm. Despite earning billions annually, the league makes no apologies for its nonprofit status, cries poor during labor negotiations, continually extorts state and local governments for stadium subsidies, and argues that federally protected television blackouts are necessary to preserve local ticket income. When 10 members of Congress wrote a letter to Goodell last year asking that he change the nickname of the Washington NFL franchise, the commissioner responded with a letter claiming that "Redskins"—a dictionary-defined ethnic slur—is a "unifying force that stands for strength, courage, pride and respect."
In his 2005 essay "On Bullshit," philosopher Harry Frankfurt defines bullshit as kind of communication in which the goal is to impress the audience with words that place the person delivering them in a positive light, with no particular concern for consistency or the truth. This is the logic of most public relations, and the default mode of the NFL. It's how Goodell can explain away anger at his initial two-game Rice suspension as a function of the league's inherent moral righteousness:
Much of the criticism stemmed from a fundamental recognition that the NFL is a leader, that we do stand for important values, and that we can project those values in ways that have a positive impact beyond professional football …
… and how Goodell can explain to CBS News why the NFL (supposedly) didn't obtain the Rice elevator footage:
We are particularly reliant on law enforcement. That is the most reliable. That is the most credible. We don't seek to get that information from sources that are not credible …
Why did TMZ's footage—which did not come to the NFL by way of law enforcement—suddenly become credible enough upon release for the league to extend Rice's suspension indefinitely? Goodell doesn't say. Because what seems to matters most to him isn't necessarily doing the right thing; it's the appearance of such. Standing for important values. Projecting them. Neither of which is the same thing as living them.
When Goodell become NFL commissioner in 2006, Van Natta writes, fans expected "a handsome Tagliabue protégé, a senator's son and a career front office guy, a glad-hander, perhaps, who looked and sounded like a politician, only with more polish … this new commissioner might be a bit boring." No chance of that. Goodell has styled himself as the league's lord of discipline, a pillar of virtue, a man Time dubbed "The Enforcer." He served star quarterback Michael Vick with a long suspension for his involvement in a dogfighting ring. He penalized the New England Patriots for secretly videotaping opponents' play-calling signals. He talked about "protecting the shield"—a reference to the NFL's logo—and came across as a man trying very hard to live up to his father's legacy, all while buttressing the league's moral standing.
Except: Charles Goodell was willing to pay a price for what he thought was right. In protecting the shield, Roger's focus is making sure that the NFL pays as small a price as possible, regardless of right or wrong. He serves two masters, image and reality. The result is maddening inconsistency. When Goodell punished the Patriots, he also destroyed the videotapes. As Van Natta asks: "Did he destroy the evidence to save the Patriots and the league from breathtaking embarrassment?" More recently, Goodell punished the New Orleans Saints for allegedly running a bounty program that paid cash award for injuring opposing players. The league's case was based on sketchy evidence, and after former NFL commissioner Paul Tagliabue was brought in to adjudicate, he ended up vacating all four Saints players who had been suspended. Speaking to Time, New Orleans quarterback Drew Brees said he felt that the scandal was "a big facade and a way to cover up the shortcomings of the league with regard to player health and safety over the last three years." He also said he was was "disappointed" in Goodell for "a lack of accountability from the top down." Sound familiar?
Curtis writes:
If we peeked into Roger Goodell's mind, I bet we'd find two legacies from his dad. There'd be a measure of his dad's idealism, his contrarianism, his stubbornness. And I bet we'd also find a kind of defense mechanism that develops when you see your dad destroyed on a public stage. An instinct that makes you think, I won't let that happen to me.
Charles Goodell died in 1987. According to Roger, he never really got over his Senate loss, which on election night left his sons in tears. After graduating from Washington & Jefferson College in 1981, Van Natta reports, Roger sent a letter to his father. "If there is one thing I want to accomplish in my life besides becoming commissioner of the NFL," he wrote, "it is to make you proud of me." The morning after TMZ released the second Rice video, Patriots owner Robert Kraft went on national television and defended the league, insisting that people "did the right thing." He called Goodell's decision-making excellent.