Novelty Singles, NBA Racism, and U2: The Week in Pop-Culture Writing
Highlights from seven days of reading about entertainment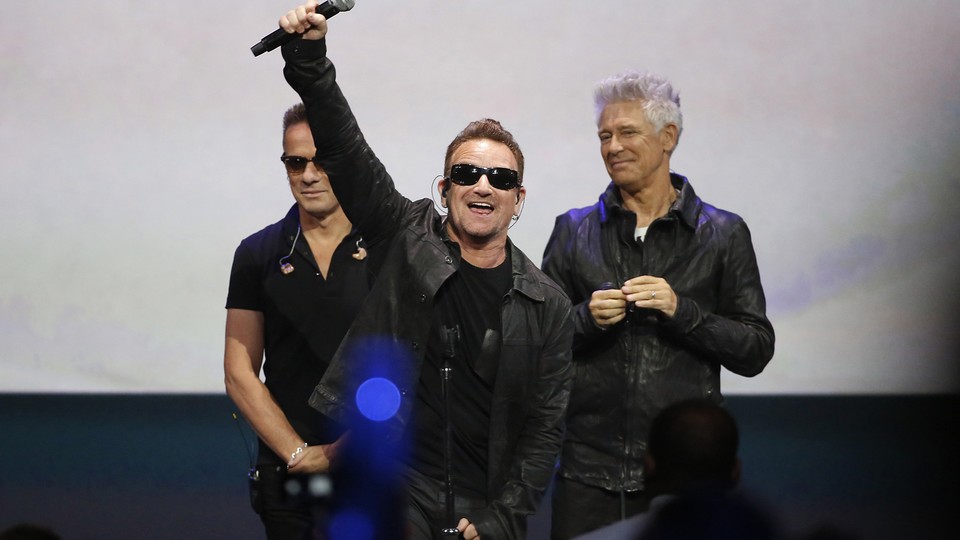 Let us know what we missed.
U2, Apple, and Rock and Roll as Dystopian Junk Mail
Chris Richards | The Washington Post
"In this brave new farrago of medium and message, U2 seem to have transmitted all of rock-and-roll's misguided egotism into one ridiculous statement: Our music is technically worthless and everyone in the world should hear it."
The Real Cliff Huxtable
Kelefa Sanneh | The New Yorker
"His virtuosity endures, even as his age begins to dictate not just the content of his comedy but its form."
On Death and iPods: A Requiem
Mat Honan | Wired
"The single-use device is gone—and with it, the very notion of cool that it once carried. The iPhone is about as subversive as a bag of potato chips, and music doesn't define anyone anymore."
Why I Hate Writing About Janay Rice
Roxane Gay | Cosmopolitan
"We live in this ugly mess of a world, where Janay Palmer wasn't really believed until we bore witness to incontrovertible evidence—the repulsive image of her being knocked out with a single blow by an NFL athlete."
The Real Problem of the Atlanta Hawks Implosion
Rembert Brown | Grantland
"This isn't about the Hawks. This isn't about basketball. This isn't about the role of upper management in sports. It's about the degree of out-of-touchness that seems to repeatedly come from being powerful, wealthy, white, and male. And what those figures think about how to 'deal' with black people."
The Pitfalls of Having a Novelty Single
Pete Robinson | The Guardian
"Novelty records may have evolved over the years but many of the principles that made Benny Hill's Ernie (The Fastest Milkman in the West) a No 1 in the 1970s would still work today, despite changing consumption habits."
Finding Feminism in Fashion
Maya Singer | Style.com
"You know what's frivolous? Fantasy football. Fashion is a multibillion-dollar industry that touches craft, identity, dreams, and art."
Lena Dunham Is Not Done Confessing
Meghan Daum | The New York Times Magazine
"As indebted as Dunham feels to Ephron, she's a very different kind of writer. Whereas Ephron was cool and unflappable, Dunham is interested in the least cool aspects of herself and the world around her."
The Reinvention of Taylor Swift
Josh Eels | Rolling Stone
"I feel like watching my dating life has become a bit of a national pastime," Swift says. "And I'm just not comfortable providing that kind of entertainment anymore."
Jazz Needs a Better Sense of Humor
Jason Gubbels | The Concourse
"What can it mean for jazz as a living art when the most hotly debated genre event of 2014 was a satirical post on a humor blog? "
Social Justice, TMZ Style
Amanda Hess | Slate
"Thank God for TMZ."
The Death of Adulthood and the Rise of Pleasure, or Why Seth Rogen Is More Serious Than Woody Allen
Adam Sternbergh | Vulture
"Cultural essays about the death of adulthood are often Trojan horses for a different complaint: the death of seriousness."