Stolen Nudes and Franco Selfies: The Week's Best Pop-Culture Writing
The most intriguing articles about entertainment we've come across in the past seven days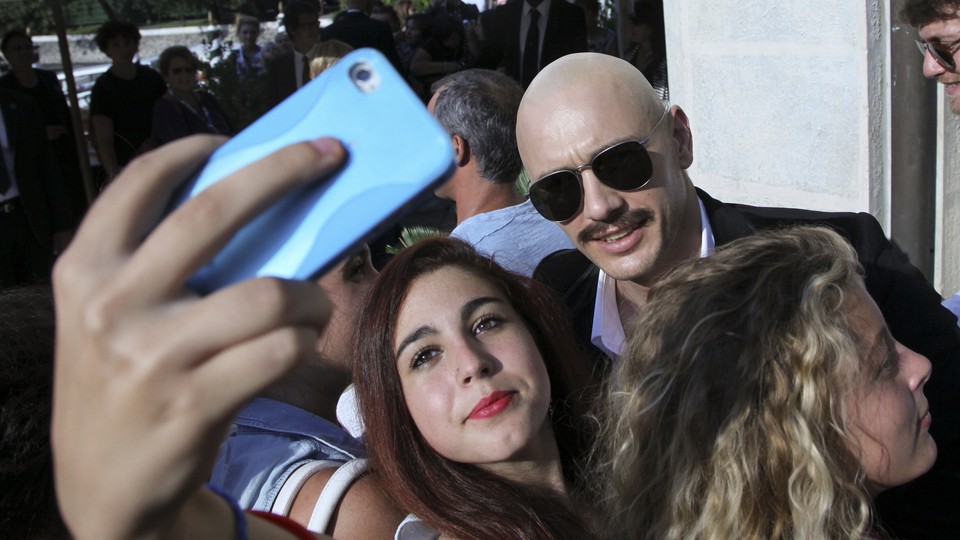 Let us know what we missed.
Don't Look: Beheadings, Stolen Nudes and Choosing to Be Decent
James Poniewozik | Time
"We live in the age of the image as weapon."
The Greatest Hate of All: Farewell Joan Rivers
Rob Sheffield | The Rolling Stone
"She died the way she lived — making a scene, complicating other people's holiday weekends, generally being a pain in the ass. She was the Morrissey of her generation. I miss her already."
James Franco Shot His New Movie at the Venice Film Festival and I Was In It
Marlow Stern | The Daily Beast
"Franco strutted in and sat down—sporting a shaved head, mustache, A Place in the Sun tattoo on the back of his noggin, and a tuxedo baring his exposed chest."
2 Big Things Wrong With the Art World As Demonstrated by the September Issue of Artforum
Jerry Saltz | Vulture
"Artforum being Artforum, it sends a coded message in a pitch so high that only we art-world dogs will pick it up."
Tony Soprano is Dead
Ross Douthat | The New York Times
"It's reductive to refuse, for the sake of Art and Mystery, to solve problems that can actually be solved. "
The Most Compelling Athlete In America Right Now Is Here To Play Chess
Dave McKenna | Deadspin
"Magnus Carlsen has been in St. Louis since last week and will be staying through next weekend. This is something like 2006-vintage Roger Federer doing a tennis residency in Toledo."
We Need to Talk About Forrest Gump
Amy Nicholson | LA Weekly
"It's understandable that, in the Clinton era, Americans were tired of being bludgeoned by the grand truth that war is hell."
The Uniqueness of Serena Williams
S.L. Price | Sports Illustrated
"Serena's image boils down to the simplest of complexities: She's a walking contradiction."
Appetite for Destruction
Owen Campbell | The New Inquiry
"The NFL's desire to grow and improve football by improving upon and surmounting nature has made the game's recent history a story of hubris, wrapped in the themes of science fiction."
Hollywood's Horrid Summer: Why the Box Office Has Been Worse Than It Looks (and Won't Get Better Soon)
Mark Harris | Grantland
"A completely spent Hollywood is now convulsing with a very public case of the dry heaves. Cough up something! Anything! Movies we're contractually obligated to release! Movies we wouldn't even stick in a Redbox outside an abandoned gas station!"