The 4th Beatle of Graphic Design
A member of an influential illustration clique that defined the hippy era, John Alcorn is being rediscovered.
American illustrator John Alcorn's lyrical, witty, decoratively moderne drawings graced books, magazines, album packaging, and more during the '60s through '80s. He died suddenly of a heart attack in 1992, at age 57. Over time his large body of work was regrettably lost to subsequent generations, save for some historic pieces like the Eve cigarette package with its art-nouveau-inspired illustration of Eve in the garden of delights or his 1987 "LOVE" postage stamp.
However, the recent publication of John Alcorn: Evolution By Design, and the founding of an archive of his artifacts in Milan, Italy, should rekindle interest in this exceptional talent and the contribution he made to the holistic practice of drawing and typography.
From 1956 to 1958 Alcorn was the youngest member of the influential Push Pin Studios, founded by Seymour Chwast and Milton Glaser. Arguably they were Beatles of graphic design and illustration, dominating editorial and advertising illustration during the post-Rockwellian '60s and '70s.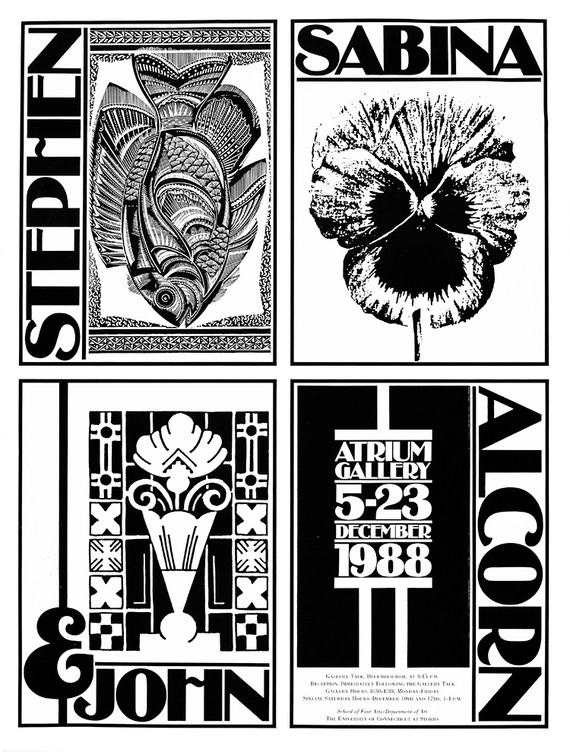 Alcorn was, let's call him, Push Pin's Ringo. At age 21, Glaser, six years his senior, hired Alcorn to be the fourth member of the group that included himself, Chwast, and Reynold Ruffins (another co-founder, Edward Sorel had left to make his name as a biting political caricaturist). Alcorn's elegant, flowing linear approach fit right in with the proto-postmodern aesthetic of Push Pin—and much of his work at Push Pin was profoundly influenced by Glaser's then-psychedelic style.
The Push Pin years are well documented in this volume, as is the subsequent work doing promotion ads for CBS under design director Lou Dorfsman. Stephen Alcorn, John's son, recently told me that "the three years spent working at Push Pin were a real turning point in [my father's] life because prior to this time he had thought that he would be strictly a graphic designer. It was at Push Pin that he became increasingly involved in illustration. In that sense it changed his career."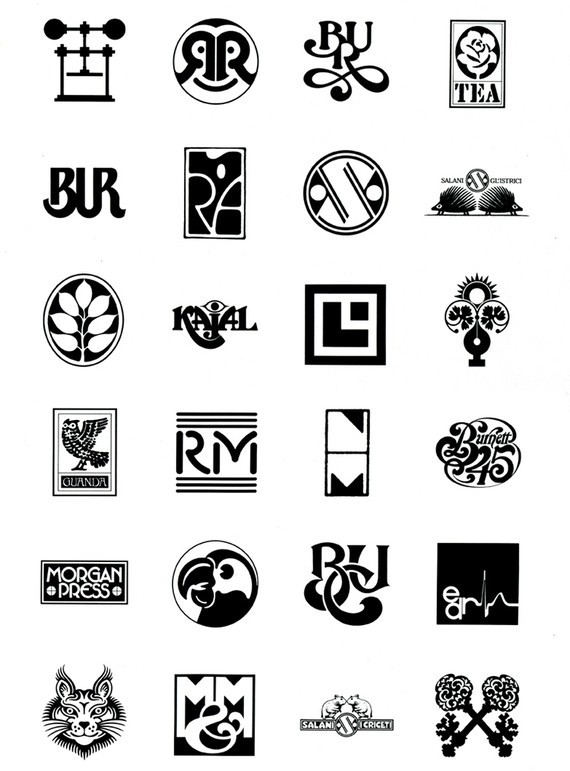 Yet the beauty of this monograph, the first on a single artist to be published by Moleskine, is that it reveals Alcorn's wider range of his virtuosity as illustrator, designer, and storyteller. Just the spreads showing his book covers and jackets alone is a rare treat.
Stephen Alcorn, who is also a successful illustrator and artist as well as a professor of visual arts at Virginia Commonwealth University, conceived and co-edited the book as a long-planned tribute. "Unlike many of his peers, my father had never entertained the idea of publishing a monograph on his work, so there wasn't template or a work in progress upon which to base my efforts," he says. "This necessitated that I start entirely from scratch." The catalyst for the project came when Stephen met with his future co-editor, Milanese art historian and archivist, Dottoressa Marta Sironi of the Università degli Studi in Milan. At the time, she was editing a book on the history of Rizzoli's series of literary classics, and planning to include a brief chapter on Alcorn's redesign of the series' covers in the early 1970s.
Stephen gave her a surprising number of rare materials, including unpublished preparatory studies, which were ultimately included in a chapter that grew from a mere four pages to more than 60. Sironi introduced him to APICE—"Archivi della Parola, dell'Immagine e della Comunicazione Editoriale" ("Words, Images, and Publishing Communication Archives")—whose leaders jumped at the opportunity to create the Archivio Alcorn and a retrospective exhibition. APICE induced Moleskine, known for hip artist sketchbooks and other paper products, to publish Alcorn's work, which ensured that the monograph would be smartly designed and not a nostalgic relic.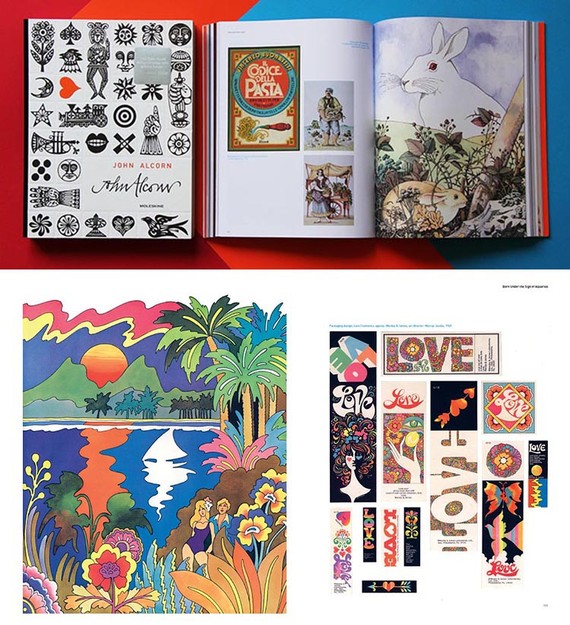 In 1971 Alcorn moved his entire family to Florence, Italy, to an apartment in the quarter of Porta Romana, within walking distance of the hills of Bellosguardo and the winding paths of Viale Michelangelo. "The confluence of history, commerce, applied arts, and daily routine of life—one in which the lines between past and present were often blurred—appealed immensely to my father," Stephen says. "It would prove a veritable feast for his eyes, and restore to the forms he drew a refreshingly tangible weight and solidity."
After "a yearlong foray into the realm of pure painting," Stephen says, John returned to the world of publishing and his editorial work quickly became common in bookstores across Italy—indeed, some are still in print today.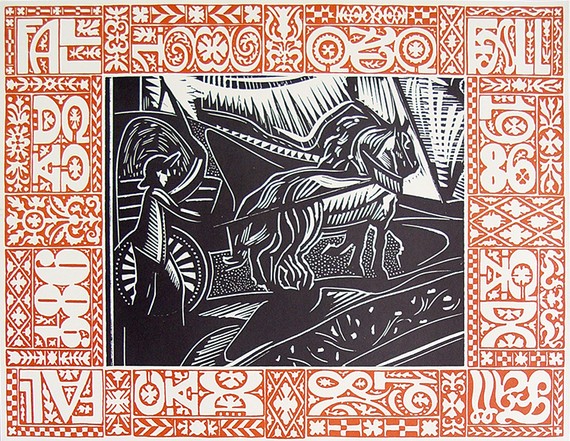 Alcorn's passion for craft comes through on every page of the monograph. His appreciation for tactile qualities reveals unity between the work and the mind and hands creating it. As a graphic designer, Stephen notes, John was personally responsible for the manual setting of each individual letterform: "If a layout called for a decorative element, he would conceive said element from scratch. No aspect of the craft was too small, or too incidental for his thoughtful consideration and undivided attention. In the end it is the contrast between my father's artisanal ethos and today's technology-driven ethos that paradoxically makes his work so relevant to our age, and its rediscovery, I believe, so timely."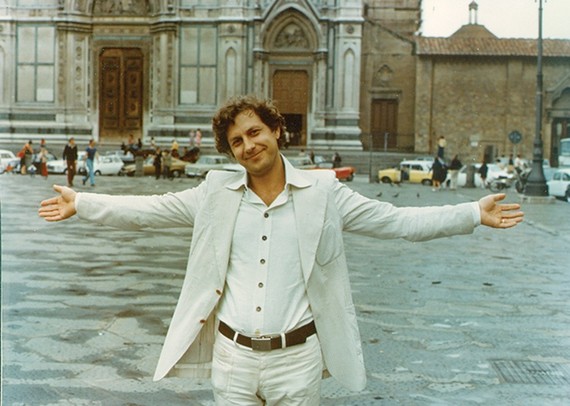 Viewed in its entirety, Alcorn's monograph is a sort of visual diary—a chronicle of one artist's relationship to an ever-changing field at a pivotal moment in the history of communication arts. Stephen's goal was to strike a proper balance between the various stages of his career. "The time I spent drawing and working by his side throughout the course of my formative years (and beyond) led to an intimate knowledge of his working habits and creative processes, as well as his goals and aspirations as both a designer and an illustrator," he says. "So the selection process could not have proven more intuitive, natural, and enjoyable."
It is fitting that one of Alcorn's jobs was designing the packages for Love Cosmetics, which are generously represented in the monograph. This book is full of love for the man, the artist and the art.