The Agelessness of Joan Rivers
In her career and her life, she refused to give up—or give in.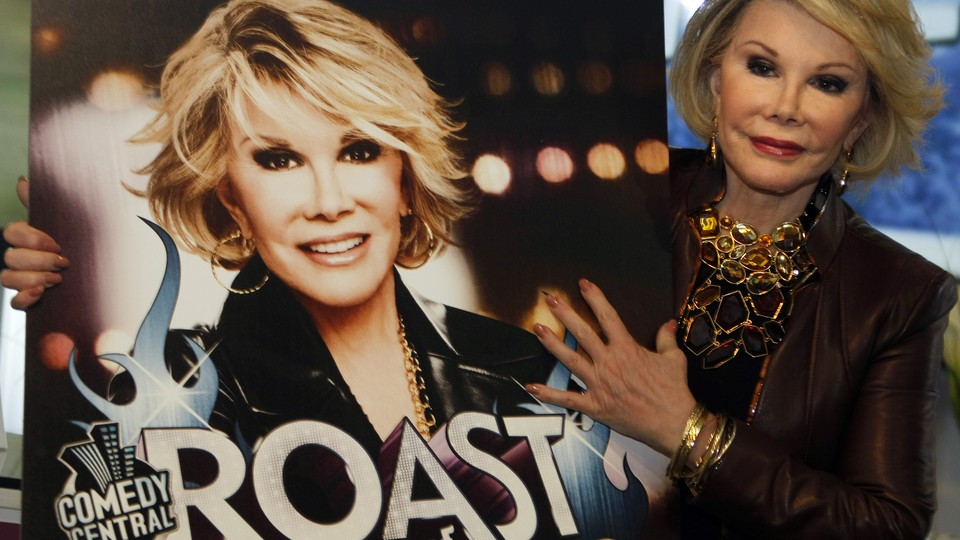 Joan Rivers died Thursday afternoon in a New York City hospital room that was decorated by the celebrity wedding planner Preston Bailey. The room featured flowers and plants and ribbons, with a CD of the musical Oklahoma! serving as its occasional soundtrack. Rivers had occupied it for eight days, having slipped into a coma last week after she had a heart attack during a medical procedure. At the time of her death, according to a friend, the comedian was covered in a white blanket made of faux mink. Her hair was styled. Her daughter Melissa had insisted that, even as Rivers lay in her comatose state, the 81-year-old have a full face of makeup.
This was fitting. Rivers was, in her way, ageless—not in the blithe, willowy way we associate with so many female stars of her generation, but in a way that was deliberate, and decisive, and aggressive. She worked hard, at everything, and she showed it. Her career was long. In the 1970s, she served as the narrator for the animated skit The Adventures of Letterman. In 1983, she released a comedy album, What Becomes a Semi-Legend Most? She made ads for MTV that included commentary on Mick Jagger's famous lips ("He could give Ohio a hickey!"). In 1994, she starred as herself, with her daughter Melissa, in a quintessentially Lifetimey Lifetime Original Movie: Tears and Laughter: The Joan and Melissa Rivers Story.
In the intervening years, it became clear that Joan Rivers would not do the thing many people of her age are expected to do: retire. She would not go quietly. She would, instead, take a look at the concept of retirement—of age itself—and reject it entirely. And then make fun of its outfit.
Hollywood generally relegates the celebrities whose relevance expires before their lives do to predictable fates: Lifetime Achievement Awards, calcium supplement ads, respectable anonymity. Rivers would have none of this. She knew she would never be Norma Jeane; that didn't mean, she insisted, that she must become Norma Desmond. She kept working. And, in the process, she became more biting. She became more outrageous. She became, you could argue, more entertaining. She did her stand-up. She did the red carpet. She did Fashion Police. She had an Internet chat show called In Bed With Joan. She competed on The Celebrity Apprentice. She won.
And then, not being content with all this vaguely self-mocking ubiquity—she titled one of her books I Hate Everyone … Starting With Me— she took her B-list status and went meta with it: She starred, four years ago, in a documentary about her life, and about having a career in one's late 70s. It was titled A Piece of Work. Which was appropriate in part because of her acerbic humor (discussing the group Florence and the Machine, she remarked, "I hope the machine is a vibrator"). But it was also appropriate because of the work—in, almost, the thermodynamic sense of the word—that went into both her appearances and her appearance. She kept getting work done. And she also, you know, kept getting work done.
Her affinity for plastic surgery was an extension, in its way, of some of what Rivers will be best remembered for: the striving. The relentlessness. The feisty refusal to accept, passively, what has been bestowed by nature or fate or whatever else when you can, always, more actively improve yourself.
What does it mean, actually, to "grow old gracefully"? Rivers did not care to find out. "You don't know what it's like to get older," she put it in a 1982 stand-up routine. "Do you realize what it's like to get up in the morning to take off a facial mask and realize you're not wearing one?"
Women do not, in general, like to talk about their appearances in such Marxian terms. Attractiveness may have its means of production, but we prefer to ignore this inconvenient truth. That's especially so when it comes to female celebrities of, as that terrible euphemism goes, "a certain age." We prefer to think of these women—iconic, we call them, which is also a nice way of calling them "old"—as occupying the ethereal spaces of the screen, where glowing replaces sweating, where hairs are never out of place, and where nobody, ever, visits a bathroom.
But this insistent idea of beauty's effortlessness plays a dirty trick: It tells women in general that they are not good enough as they are, and then condemns them for attempting to improve themselves. Maybe she's born with it. Maybe it's Maybelline! The point is: One should never be sure. If you were not born with it ... try as much as you can to hide this misfortune. Ideally under some well-applied layers of Dream Nude Airfoam foundation.
Time and again, however, Rivers rejected the Maybelline Myth. She made it refreshingly and sometimes painfully clear that she was not in fact born with it—that it was mostly, in fact, Maybelline. (And also L'Oreal and Givenchy and La Mer and Vidal Sassoon and many, many doctors.) Rivers' appearance was, like so much else in Hollywood and in the lives that pattern themselves after it, a product of work. She insisted on this fact, publicly. She made it part of her persona. She guest-starred on multiple episodes of the plastic surgery-themed show Nip/Tuck. One year, famously, she presented her staff with "the plastic surgery procedure of your choice" instead of a holiday ham.
You could say a lot about those decisions Rivers made, in terms of age, in terms of beauty, in terms of femininity. But what you could also say is that she was, in all those choices, quintessentially American. She was restless. She was constantly reinventing herself. She was constitutionally unsatisfied. She was Jay Gatsby with a facelift, basically. Except—and here is the thing—she had no secrets. She was open about her manipulations. And, in that, she made fun of our own. She took our myths—all the unfair expectations we place on ourselves for constant beauty, for constant charm, for constant gracefulness—and laughed at them.