The Great American Gambling Boom
A new twist on fantasy sports may enable betting on a scale the country's never seen before.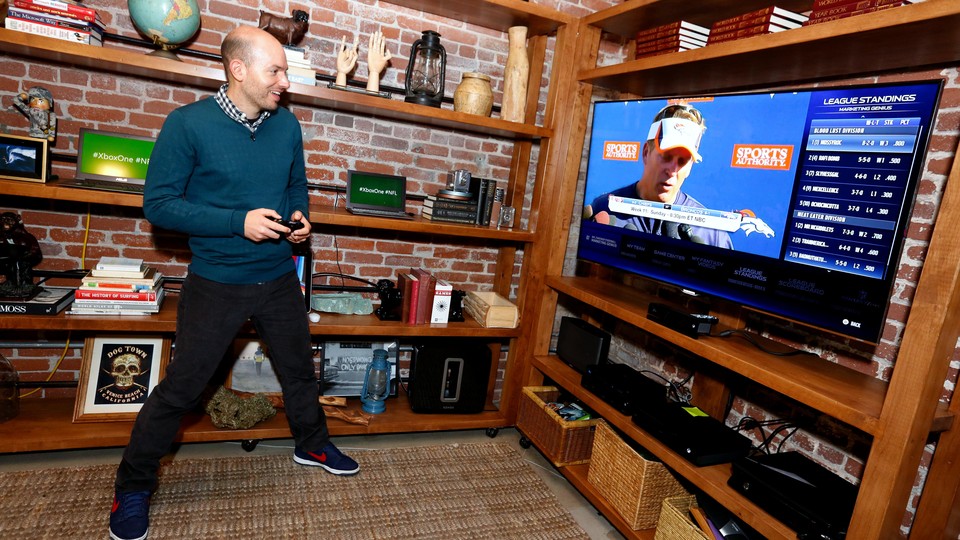 For a nation that prides itself on individual liberty, the United States has long clung to its Puritan roots in regards to gambling. As early as 1630, the Massachusetts Bay Colony had outlawed the possession of cards and dice. In the 1800s, as the Wild West was tamed, lynching of professional gamblers were not uncommon. By the 20th century, even state-sponsored lotteries had been eradicated.
American attitudes, however, are changing. Over the past several decades, the country has seen a general relaxation of mores—in regards to sexuality and recreational drug use, of course, but also in attitudes towards betting. Gambling, or "gaming" as proponents prefer, may not be as emotionally charged as gay rights or drug prohibition, but its increasing legality nevertheless is part of the much larger shift in American culture.
Look at lotteries. The first modern, U.S. government-run lottery was set up in Puerto Rico in 1934, and it was 30 years before the second was established in New Hampshire. Today, 44 states and the District of Columbia have them. Or look at casino games. Nevada became the only state to allow legal casinos in 1931, and it took 45 years before New Jersey followed in kind. Today, 18 states have commercial or tribal casinos. Massachusetts is about to vote on whether to allow them.
What you still can't do, though, is bet on sports. Not unless you live in Delaware, Montana, Nevada, Oregon or, as of recently, maybe, New Jersey. According to the 1992 Professional and Amateur Sports Protection Act (PASPA), betting on collegiate and professional games is forever limited to those few states. You also can't bet online. Not since the 2006 passage of the Unlawful Internet Gambling Enforcement Act, which prohibits online businesses from "accepting payments in connection with the participation of another person in a bet or wager." In five states, you can't even legally play fantasy sports.
That may seem like a contradiction. As gambling in the physical world has grown more popular, why has online betting remained so restricted? Simple: money. Owners of real-world casinos have a vested interest in restricting how and where people can bet. In Arizona, for instance, the tribal casino lobby played a huge role in defeating a bill earlier this year that would have legalized fantasy sports.
Even so, America might be headed for a future more like Ireland or the UK, where betting parlors dot the streets and people can legally wager on practically anything—even, say, the next Royal baby name. The change may be coming about because of the enormous popularity of fantasy sports—played by an estimated 41 million people in the U.S. and Canada in 2014, up nearly 25% since 2010—and more specifically, an elegant little innovation in fantasy sports called single-day play.
In standard fantasy sports, players draft a team at the start of the season and follow that roster all year. Winning demands a huge investment of time, and the competition takes an entire season. So, for most who play, fantasy functions just as a hobby and form of community—an excuse to follow the game and talk smack with friends. The trophy matters more than the money.
Not so with daily play. Users can draft a new lineup whenever there's a new slate of games. The time commitment is small, the results are immediate, and the payoffs can be huge. That's why daily play is booming—and why the game could change the way Americans bet.
To understand the rise of single-day fantasy, you need to go back to April 15, 2011. That's when the Justice Department shut down three of the web's biggest gaming websites—Full Tilt Poker, PokerStars, and Absolute Poker—seizing their domain names, freezing all user accounts, and filing a $3 billion civil suit against the companies. Online poker players almost universally refer to it as "Black Friday."
In the wake of the crackdown, a generation who came of age during the Great Poker Boom of the 2000s was suddenly left without a place to play. Black Friday, in effect, left a huge pool of money floating around, waiting to be wagered. Single-day fantasy sports created a place for that money to land, says Marc Edelman, a law professor at Baruch College who writes extensively on gaming issues as a columnist for Forbes.com.
"While some consumers play both full-season and short-duration fantasy sports games, there does seem to be a distinction in the core fan base of each," Edelman said. "The earliest participants in daily fantasy sports do seem to have emerged from the poker world."
The first site offering daily fantasy was DraftDay in 2010. But it wasn't until Black Friday that the idea really took off. By 2012, a bunch of sites offering the service had popped up. They include DraftHero, Draftster, DraftTeam, SwaggerStadium, FantasyFeud, SportsTradex, and current industry leaders, FanDuel and DraftKings.
In 2011, Peter Jennings, now 26, had just graduated college and was making a living playing online poker.
"After Black Friday," Jennings said, "I went straight into finance as a stockbroker, working at Charles Schwab. But I quickly realized that daily fantasy was beginning to boom and the market was inefficient. I went with fantasy because I realized this was going to be a better opportunity. Instead of competing against the whole market, you are just competing against a few other people, and it's all based on your sports knowledge and research."
Jennings's choice has paid off. He has won FanDuel's $150,000 football championship prize, and just raked in $1 million at DraftKings fantasy baseball championship in the Bahamas.
At first, the big pro sports leagues resisted daily fantasy, concerned about even a hint of association with gambling. But they seem to be coming around to the idea.
Robert Bowman, head of MLB Advanced Media and a candidate to follow Bud Selig as baseball commissioner, once was a vocal opponent of daily fantasy. Last year in connection with New Jersey's efforts to legalize sports betting, Bowman told The New York Times that he saw daily fantasy as "akin to a flip of the coin, which is the definition of gambling."
But he has since emerged as a big advocate for single-day play. Major League Baseball has signed a sponsorship with DraftKings as the "Official Mini-Game of MLB." The Boston-based site also just acquired two competitors and announced a big influx of cash—$41 million of new venture capital. Rival FanDuel, not to be outdone, raised $70 million the following week.
The NBA, too, seems to be changing its stance on betting. Speaking last week at Bloomberg Sports Business Summit, NBA Commissioner Adam Silver said "It's inevitable that, if all these states are broke, that there will be legalized sports betting in more states than Nevada. We will ultimately participate in that."
Edelman called Silver's comments "refreshingly honest."
"Pro sports leagues want to expand into Europe where sports betting is already legal," he said. "To do so, they will have to step away from their longstanding opposition to betting on sports."
The U.S., he said, will ultimately move in one of two directions, either adopting far stricter laws on sports gaming or, alternatively, legalizing the whole shebang. "Among those two alternatives" Edelman said, "the latter is far more likely."
Which would be one more sign of Puritanism's loosening grip: A U.S. where betting is common, government-sanctioned, and—legally anyway—considered simply another form of entertainment no more or less moral than seeing a movie.