Fall Movie Preview: 21 Buzzy Awards-Season Contenders
Get ready for tales about artists, scientists, and psychopaths.
It's the season of film festivals, where indie movies and studios' prestige plays go to either get early awards-season buzz or die a premature death at the hands of sleep-deprived critics. Works that make the cut often get an autumn release, kicking off a long winter of Oscar speculation.
With the major festivals—Sundance, Venice, Telluride, and Toronto—concluded already, the next few months are shaping up to be a golden time for the character-driven drama. Whether gussied up in period-drama dressings or slumming it in gritty genre tales, this year's awards-friendly films all spotlight idiosyncratic characters. Expect the acting categories to be tight races this year, with the major movies pitting artists against scientists and wilderness wanderers against female superheroes, and a healthy dose of psychopaths all around. For your consideration (from ours), here are the 21 movies this fall most likely to be contenders.
---
The Guest
September 17
What it is: Halloween-style horror meets The Terminator in a modern update on the home-invader thriller. When a U.S. soldier (Dan Stevens of Downton Abbey) visits his war pal's home to impart his final words to his family, it appears consolation isn't his only offering. Of course not: This is directed by shaky-cam slasher auteur Adam Wingard (You're Next, V/H/S), who has a morbid sense of humor and a thing for rolling heads.
So what? Ever since the film's bow at the 2014 Sundance Film Festival, The Guest has been drumming up hype for Dan Stevens's supposed star-making turn as an aw-shucks American monster. While the role likely isn't Oscar material, it may, American Psycho-like, launch Stevens into the stateside mainstream that isn't already initiated into the cult of Downton.
---
Tracks
September 19
What it is: Mia Wasikowska plays Robyn Davidson, the writer whose 1,700-mile-spanning hike across the Australian desert became the material for the bestselling 1977 memoir Tracks. This long-awaited movie adaptation (the sixth, only successful adaptation attempt) played last year at Venice, Telluride, and Toronto Film Festivals, but the sluggish journey to wide release shouldn't hamper its award potential: Like Robert Redford's character did in last year's Golden Globe nominee All Is Lost, Wasikowska's intrepid, suffering traveler carries the entire movie.
So what? After a streak of impressive, reserved performances (Alice in Wonderland, Jane Eyre, Stoker) and another strong one on the way (Madame Bovary, a polished period drama that screened at Telluride) this could finally be Wasikowska's year. Alternately, this could be her co-star and fellow indie favorite Adam Driver's year: The Girls actor drew acclaim at Venice with his prickly, slacker charisma, and is popping up in more flashy supporting roles this year with While We're Young and This is Where I Leave You.
---
Seymour: An Introduction
September 27
What it is: The passion project of actor Ethan Hawke (nominated last year for co-adapting Before Midnight), Introduction presents Seymour Bernstein, a piano prodigy who abandoned a life of world-touring fame for a career spent teaching reluctant kids the way of the ivories. Bernstein's narration on the nature of art, performance, and fulfillment—the starring feature of this humble, brief film—honors a man who recommends the artist elude the spotlight until having achieved total craft mastery.
So what? Nobody had much hope for Ethan Hawke's documentary when it was announced the film would be playing Telluride Film Festival's most obscure theater, the assumption being that his involvement was the only notable thing about the movie. But in this case, Hawke's celebrity takes a backseat. The elegant telling of his artistic mentor's story led some to call the film the best of the fest and a potential nominee for Best Documentary.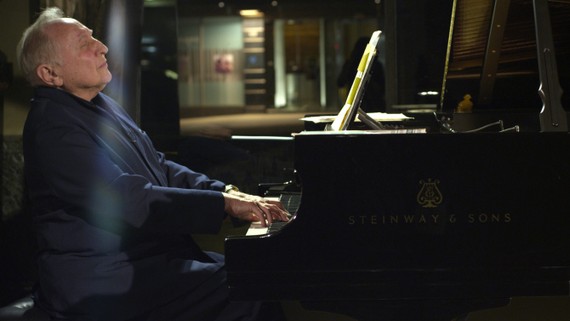 ---
Gone Girl
October 3
What it is: Given that more than two million copies of Gillian Flynn's book have been sold thus far, you may already be familiar with the story underpinning David Fincher's latest morosely lit adaptation. But for those not up on their pop literature, here's the gist: When a young couple move to the husband's small Missouri hometown, his unhappy wife's sudden disappearance results in national scrutiny toward their screwed-up marriage, which makes him the prime suspect.
So what? This isn't just another money-grabbing adaptation—though it's that, too—but a fitting meeting of two commercial artists with similarly cynical takes on the Way We Live Now. Hollywood's favorite director of noir-cool shares Flynn's thing for wordplay—Fincher's films are some of the most quoted in modern cinema history. And his spare, snappy cinematographic style should complement her cutting observations on the state of journalism, the family, and the American community.
---
Birdman
October 17
What it is: For actor Michael Keaton, Batman was his career's greatest blessing and curse. For his character Riggan Thompson, the same could be said of Birdman. This is just one of the meta dimensions of Alejandro González Iñárritu's comedy-tragedy-drama, which is ostensibly about a washed-up superhero actor producing a Raymond Chandler play for some late-career prestige. But there's also a searing critique of Hollywood, a satire of serious art, and very personal reflection in there, too.
So what? If there's an industry drama in the making this awards season (more meta!), it's Birdman. On one hand the film is a masterpiece of warring impulses—the polarized genres, the hotheaded and changeable characters, the sweeping score vindicated by the film's own critique of emotional manipulation—reconciled by a single, eccentric vision. On the other, it ultimately skewers the pretension involved in awards-giving in the first place. Fans, who are already fervent, will want Birdman to be nominated in all the major production and acting categories. It's more likely that it becomes a heavy-hitter in Best Picture, Best Director, Best Supporting Actress (Emma Stone is brilliant), and Best Cinematography (it's all shot, painstakingly, in one continuous sequence) but cedes Best Original Screenplay and Best Actor to this year's polished period-piece biopics.
---
Men, Women & Children
October 17
What it is: What would American Beauty have looked like if it came out in 2014? Probably something like director Jason Reitman's latest, which surveys a screwed-up community whose dissatisfaction with suburban existence leads to unsettling online shenanigans. Cyberbullying, sexting, porn, and video-game addictions—Reitman's adaptation of Chad Kultgen's 2011 novel is an encyclopedic take on why the Internet sucks.
So what? The film's anti-texting sermonizing left some critics tweeting frownie-face emoticons after its Toronto debut. But its point of view might appeal to the Academy, where 86 percent of members are over the age of 50. (The Golden Globes will be a tougher sell, since the Hollywood Foreign Press Association is made up of journalists who, as my brief survey of members revealed, are very fond of Twitter.) Even if it's shut out in major categories, though, it's still a frontrunner for art direction: The elegant screen-overlaying text bubbles shown in the trailer look like an answer to art's problem with representing the Internet.
---
Listen Up Philip
October 17
What it is: A pompous, emotionally needy New York novelist decides to pull a Walden and spend a few weeks at the country home of a writer who admires him. As his egoism is indulged, he becomes increasingly self-involved and apathetic toward the few friends he left behind. He also becomes more successful.
So what? Easily one of the best films at Sundance this year, Listen Up Phillip gives Jason Schwartzmann a role he was born to play. One part Philip Roth, another Jonathan Safren-Foer, Philip's total obliviousness to others on his neurotic non-journey of self-aggrandizement is something of a career opus for the king of deadpan acting. Deadpan, of course, is not really the Academy's thing, but fans of Schwartzmann and voters of the more obscure Independent Spirit Awards should be taken by his best role since Rushmore.
---
Fury
October 17, 2014
What it is: Like 300 in a tank, David Ayer's new Brad Pitt-starring blockbuster has a commander taking his small World War II division into Nazi Germany for an for an against-all-odds mission.
So What? Without a festival screening so far (it will close the British Film Institute Festival next month) this one's a mystery. It could either be your standard adrenaline-pumping blockbuster—director David Ayer wrote Fast and Furious—or something more tony, à la Ayer's Training Day and End of Watch. Given Brad Pitt's exquisite mid-career taste (these days even his misfires can be read as misunderstood masterpieces) there's reason to suspect the latter.
---
Laggies
October 24
What it is: The man-child is an all-too-familiar movie archetype, but Lynn Shelton's Laggies gives us the female version, a careerless Daddy's Girl thrown for a loop when she catches Daddy in a compromising position. Crashing on a teen's couch and hanging out with her friends, this juvenile heroine is the millennial cliché taken to its most comedic extreme.
So What? There's a lot of buzz surrounding Keira Knightley's performance as an overeducated, underemployed modern American Girl, but the novelty here is the character, not the performer. While female comedies are slowly coming into the mainstream, it's refreshing to get a Gen Y female comedy protagonist who's funny because she's totally lost, not just because she's pooping in a sink (Bridesmaids) or performing a messy tracheostomy (The Heat.) Could it be a Best Original Screenplay nominee? Bridesmaids pulled it off.
---
St. Vincent
October 24
What it is: This is a Clint Eastwood movie that wasn't: When a harried single mom begs her grizzled, antisocial, alcoholic war-veteran neighbor to watch her son, the reluctant babysitter ends up giving the kid a crash course in real-life skills—like punching bullies and betting at the race track. It's probable the kid teaches him a little something, too.
So what? The Toronto Film Festival instituted a "Bill Murray Day" in part to celebrate Murray's role in this film. That's fitting, because the likeable, pathetic curmudgeon acting out is the quintessential Bill Murray role (must-see in his vast, grumpy oeuvre: Rushmore's pool-diving scene). But this feel-good story's got major Best Actor Oscar buzz, too, which means that come February 22, 2015 we might be getting another Bill Murray Day to celebrate.
---
Nightcrawler
October 31
What it is: Critics have called Dan Gilroy's new movie Taxi Driver crossed with Network. That makes it sound like a real throwback, but the premise of Nightcrawler is definitely contemporary: A drifter who develops a profitable business selling car-wreck footage to news companies becomes a big-time L.A. newscaster. Psychotic journalistic hijinks ensues.
So what? Toronto audiences raved about Gyllenhaal's performance, which is being likened alternately to Nosferatu and Andy Kaufman and pegged for a Best Actor nom. There's also something to be said, too, for the commentary on the image-centric sendup of journalism in our times of nude celebrity photos and ISIS intimidation videos.
---
Interstellar
November 7
What it is: This is a Christopher Nolan movie, and as with all Christopher Nolan movies, plot details are currently in impenetrable, hype-inducing lockdown. But here is what we actually know: When humans are threatened with by a potentially fatal food shortage, NASA devises a mission to send a group of astronauts through a wormhole to save humanity. One of those astronauts includes an engineer who leaves his children behind for, you know, the greater good of humankind.
So what? If the grave and goosebump-raising tone of the trailers, the sheer plethora of past nominees (Matthew McCoughnahey, Anne Hathaway, Jessica Chastain, Casey Affleck), or the hints at deep engagement with climate change didn't suggest it thoroughly enough, this is the rare would-be blockbuster with Oscar material. Nolan's been owed the golden bald man since 2008, when The Dark Knight was passed over for a Best Picture nomination and ensuing fan outrage spurred the Academy to expand its Best Picture pool from five to 10 films.
---
The Theory of Everything
November 7
What it is: Twenty-one was a life-altering age for physicist-cosmologist Stephen Hawking. In the span of a few months, he both met his future wife Jane and was diagnosed with motor neurone disease, a condition that at the time was a death sentence. This love-story biopic about the early, scientifically productive years of their marriage was inspired by Jane's own memoir, Traveling to Infinity: My Life With Stephen.
So what? Actor Eddie Redmayne, beloved fixture in indie Brit period pieces and miniseries, is perhaps best known to the mainstream as a model of Burberry coats. No matter: The likable Redmayne had Toronto festival-goers crowing about his performance as Hawking, and he has emerged as a frontrunner in the Best Actor race.
---
Rosewater
November 7, 2014
What it is: In the directorial debut that memorably took him off The Daily Show for much of summer 2013, Jon Stewart tells the true story of former show guest Iranian-Canadian journalist Maziar Bahari. Bahari's 118 days in solitary confinement at the hands of the Ahmadinejad regime in Iran partly resulted from his participation in a Daily Show interview, so his saga comes full circle here.
So what? Rosewater savors of last year's Best Picture Argo, from the performer-director to the action-packed political period story, to the likeable yet ethnically inaccurate lead (Gael García Bernal: Not Iranian-Canadian). While the buzz out of Telluride wasn't quite loud enough to merit Oscar predictions, the Golden Globes are a near-sure stop for Stewart, who will likely be a favorite for the star-worshipping Hollywood Foreign Press Association.
---
Foxcatcher
November 17
What it is: Truth is certainly as strange as fiction in the case of John Eleuthère du Pont, whose troubled relationship with Olympic wrestler Mark Schultz forms the dark soul of Foxcatcher. In the early '90s, the heir to the Du Pont family fortune trained and father-figured Schultz for the Olympic games "to see this country soar again." What begins as a layman's enthusiasm becomes something more ominous as "Team Foxcatcher" nears competition time.
So What? Foxcatcher's the film to beat at the Oscars. That's because in addition to strong direction from Bennett Miller (who won Best Director at the Cannes Film Festival) and uniformly impressive performances from Channing Tatum and Mark Ruffalo, it also features stunning production values that will likely sweep the smaller categories. But the main awards hype here will be for Steve Carell, whose against-type Citizen Kane figure Du Pont forms a deeply disturbing portrait of self-delusion at its grandest and most indulged.
---
The Imitation Game
November 21
What it is: It's a well-known historical fact that mathematician Alan Turing broke the Nazi Enigma code during World War II by building his ingenious machine. It's less circulated that he was terrorized by the British government during the project for his lack of social graces, and afterwards for his homosexuality. That's the story that The Imitation Game, whose script was Blacklisted in 2011, tells in full in this year's major Weinstein Company biopic.
So what? For Best Actor this year, it's the battle of the Brits: Benedict Cumberbatch's portrayal of Turing, which pushes the actor from Sherlock's likable sociopath to something deeper, darker, and more complex, will likely face off with Eddie Redmayne's equally eccentric genius, Stephen Hawking. What The Imitation Game has on its side is major contemporary resonance: Last year, nearly 70 years after Turing's suicide, Britain granted him a Royal Pardon for his conviction on grounds of homosexuality. Expect buzz for Best Original Screenplay, and a sweep of other major categories.
---
The Hunger Games: Mockingjay - Part 1
November 21
What it is: The first part of the book-to-film sensation's final installment sees Jennifer Lawrence's Katniss Everdeen battling post-Hunger Games PTSD while serving as the rebellion's cover girl, the "Mockingjay." Director Francis Lawrence returns for parts one and two, which also features one of series regular Philip Seymour Hoffman's final performances, completed just before his death in February.
So what? From the beginning, The Hunger Games has been a blockbuster game-changer, proving once and for all that people will pay to see a female action star and that emotional poignance and deep inner conflict (Peeta vs. Gale) can make bank at the box office. Given that this film treads into the most inwardly focused, tragic territory of the book series, the franchise is looking friendlier than ever to awards organizations.
---
The Tale of the Princess Kaguya
November 23
What it is: Disregard those recent, worrisome headlines about Studio Ghibli: It turns out the beloved Japanese animation studio is just taking a break to restructure. But before it does, it's giving us The Tale of Princess Kaguya. Adapted from a 10th-century Japanese folktale, Kaguya tells the story of a poor bamboo cutter who raises an abandoned child secretly born of royalty.
So what? Kaguya marks the long-awaited return of director Isao Takahata, who is perhaps best known for having directed among the saddest films ever made, Grave of the Fireflies. But don't let his filmography dissuade you: The deep tragedy that Takahata evoked in his previous film speaks to his immense talent for visual expression, which is evident in the dramatic hand-drawn animations of the trailer.
---
Wild
December 5, 2014
What it is: One bestselling author (Nick Hornby) adapts the memoir of another bestselling author (Cheryl Strayed) in this wilderness-memoir movie. After a series of life-altering tragedies and the implosion of her marriage, Cheryl Strayed hikes 1,100 miles of the Pacific Coast Trail without any previous backpacking experience. Reese Witherspoon plays Strayed in another character-driven drama from director Jean-Marc Vallée (Dallas Buyers Club, The Young Victoria).
So what? This is clearly an Oscar vehicle for Reese Witherspoon and potentially for Vallée (who nearly won for Dallas Buyers Club last year). Given the source material, however, it's also an audience pleaser. Strayed, a kind of modern-day spokeswoman for self-reliance, offers an antidote to female-targeted self-reflective travel fluff like Eat, Pray Love: Its high stakes and core values hew more closely to Into the Wild.
---
Inherent Vice
December 12
What it is: Thomas Pynchon, Great American Enigma, gets his first-ever screen treatment from director Paul Thomas Anderson, who specializes in befuddling the general public, too. Pynchon's 2009 novel was a '70s time machine about a "gum-sandal" detective investigating the disappearance of his ex's boyfriend, so you can expect something vaguely, abstractly along those lines here.
So what? As the centerpiece of the New York Film Festival this year, which is calling it "a trip, and a truly great American film," Inherent Vice looks like another work of strange genius from the master behind The Master. Particularly notable is that Anderson is reteaming with Joaquin Phoenix, who trades in the clean-cut, manic looks he sported in their last film for a pair of massive, authentically '70s mutton chops. Awards potential: another total unknown.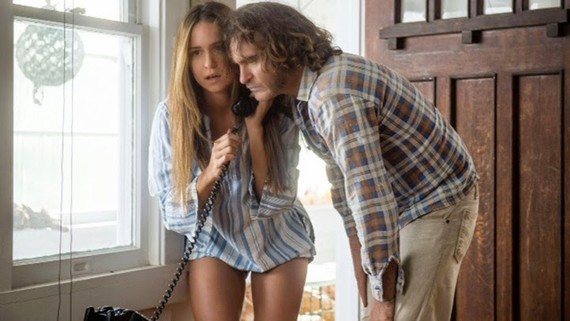 ---
Mr. Turner
December 19
What it is: A critical favorite at the Cannes Film Festival (where it won Best Actor and a jury prize for cinematography), director Mike Leigh's biopic about British painter J.M.W. Turner returns to his favorite theme—the everyday lives of crazy people. Renowned character actor Timothy Spall plays the artist over a 25-year period, best known as the time during which he juggled numerous mistresses, alienated members of the Royal Academy of Art, and strapped himself to the mast of a ship so as to paint the sea.
So what? The director's personal passion for Turner's art has produced a film intent on capturing the landscape as Turner might have seen it—full of vivid light, churning waves, and crumbling structures. It's a welcome respite from the usual voyeuristic artist biopic, which are typically all furrowed brows and dark glances.