Pro Football and Understanding the Sanctity of the Body
Nonchalance about injuries is magical thinking.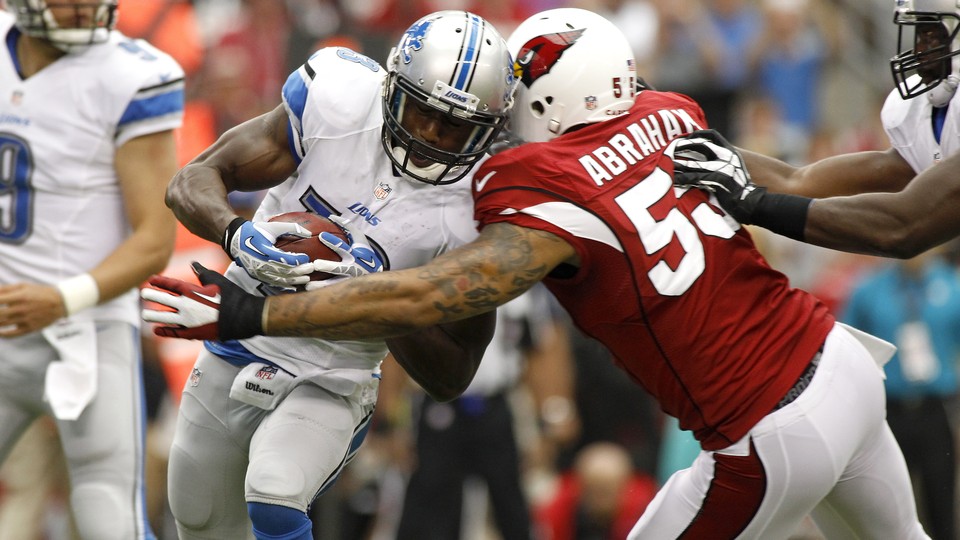 It's been two years since I parted ways with the NFL and opened up my Sundays to other things. At the time I thought of it as a "personal boycott." In other words, you don't stop watching pro football with the intent of igniting a movement, or of affecting one wit of change in the NFL. You do it so you can sleep at night, so that you can preserve your own morality. I left to keep my side of the street clean in the particular way that I like.
I regret losing a common language and a common culture. The NFL allowed for a bridge to other people with whom I had virtually nothing else in common. (Indeed it is interesting that my French studies began in earnest around the same time I stopped watching football.) But everything I've seen since has served to confirm the suspicions that led me to stop watching.
I still follow the news around the game, the way one might follow the doings an ex-spouse. (Oh, Tony Romo. Danny White will always love you.) A few weeks ago, I saw that John Abraham was retiring because he had been suffering from "severe memory loss" for over a year. It now appears that Abraham will return to the team:
Abraham, who suffered a concussion in Week 1 against the San Diego Chargers on Monday Night Football, left the team last Tuesday. He saw a neurologist Monday, which is one of the last stages of the NFL's concussion protocol, Arians said. If Abraham is cleared to play, the NFL's active sack leader could be back in the starting lineup Sunday against the San Francisco 49ers at University of Phoenix Stadium.

Arians said Abraham, who suffered his first reported concussion, had been texting him for the last three days. About 30 minutes before Arians met with the media Monday afternoon, Abraham told his coach he could announce his return.
It's very hard for me to imagine myself watching a game in which John Abraham was playing, and I can't help but wonder how Abraham's coaches and teammates feel. If Abraham is already suffering severe memory loss, there is no scenario in which football improves his prognosis. What will John Abraham be in 10 years?
The crisis around head injuries—or rather the NFL's nonchalance about head injury—forced me out of the game. But since I've been gone, I've grown sensitive about the body in ways that I wasn't before. Only now has it begun to occur to me that a torn ACL is not merely an abstract that will keep my favorite player off of the field, but a part of the human body that has been damaged. That damage will likely haunt that particular human body long past its playing days.
Part of this is my own mix of spirituality and atheism. I generally think of the ghost not in the machine, but as the machine. My body is me, and while my brain is particularly important, when I dislocate an ankle I have injured part of myself. Anyone who is being honest about football knows that injuring people is part of the game. This film of Deacon Jones has always been a favorite of mine, for both its eloquence ("My lateral movements along with my initial speed was just fantastic.") and candor:
You got this 260 pounds up to 4.5 and you got an angle on him, he should go to the hospital, and that's exactly what I tried to do. No remorse in my heart, I tried to put him in the hospital every time I tackled. I wanted to hit and put my back into it, you know, Boom! That's gonna provide that shot that's gonna put the intimidating fear of God into that running back. Let him know and make him go back to that huddle and say to that quarterback. "Dammit, I'm not running in Deacon Jones' area anymore." So each time he came over there, I tried to tear his damn head off.
Players don't talk like this today. But I can remember cheering when seeing an opposing quarterback writhing on the ground. And we now know from brain science that the "small hits" that accumulate to cause CTE are in fact injuries. The philosophy that undergirds John Abraham's return to the field is a kind of mysticism that does not quite regard the brain as an organic part of the body. A man who is suffering from "severe memory loss" as a result of playing football, and then goes out to play again, is playing injured. But he is not playing "injured" in a way that will keep him from attempting to injure other players. And maybe that's the point.
Somehow in my time away, I missed that they've exhumed the body of Jovan Belcher—the pro football player who murdered his girlfriend and then himself. They are looking for signs of brain injury. In college, Belcher was a member of a group called Male Athletes Against Violence. Noted neuropathologist Bennet Omalu, who is doing the tests, said he'd bet "one month's salary" that Belcher had CTE.