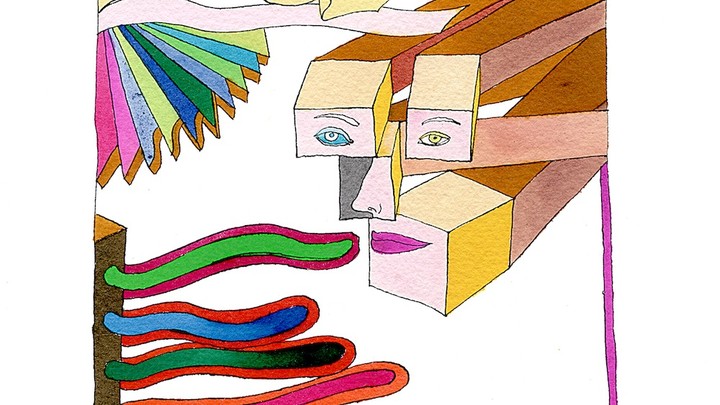 As a conceptual editorial illustrator in the '60s, Barbara Nessim broke ground on multiple fronts: technology, design, and gender. In February of 2013, her first retrospective museum exhibition, Barbara Nessim: An Artful Life, curated by Douglas Dodds, opened at the Victoria + Albert Museum in London, coinciding with a stunning monograph published by Harry Abrams. That show opens tomorrow at the Bard Graduate Center in New York, and will be on view until January 11, 2015.  It is not to be missed.  
Nessim entered the men's club of illustration by walking right through the front door. In generations before her, women illustrators found niches in fashion and children's books, but editorial departments were far more unwelcoming. Yet by the early '60s, Nessim's illustrations started appearing, ironically, in a new wave of intelligent men's girlie magazines that focused on lifestyle, culture and sex, following the Esquire and Playboy models. Her work for them was not the typical Saturday Evening Post fare: There was a certain femininity in terms of her soft lines and muted colors, yet the were conceptually and psychologically demonstrative. There was nothing submissive or sweet about her distinct mixture of decorative elegance with hardboiled symbolism, which featured a bit of then-risqué nudity.
"As an artist you had freedom," she told me in an 2012 interview for an essay I wrote in her monograph about her work for Gent, Nugget, Gentlemen, and Escapade. "The art directors used artists they loved and there was nothing you could not do." Eventually, she also worked for the innovative New York Magazine where design director Milton Glaser and art director Walter Bernard created career-defining opportunities for dozens of young conceptual illustrators. New York initially published Ms magazine in 1971 as an insert. Nessim, who was the editor Gloria Steinem's roommate from 1962 to 1967, became a regular contributor, starting with the first stand-alone issue in January 1972.
She was a trailblazer in other ways as well. Years after she made her mark in mainstream publishing, she was one of the first illustrators to avidly embrace the computer. As artist in residence for Time Video Information Services in 1982, she experimented enthusiastically with pixels and points. Primitive as the output was at that time, she conquered its deficiencies and helped introduce the illustration world to the most radical new tool since the airbrush.
Her most important contributions, of course, were artistic. Her 1988 minimalist, casual line drawing of John Lennon for Rolling Stone captured his memory before the murder. A subtle rainbow-colored outline of a breast for a 1997 New York Times Magazine cover on "Breast Cancer at 35" is more powerful than an overtly graphic image. The last illustration Nessim did was a 2010 cover for Harper's Magazine.
Over the years, her views about the function of her work have not altered. "As an illustrator you always want the viewer to come away with a deeper meaning of the article, something that could not be said with words," she recently told me. "The article and the art are partners and together they communicate a feeling and understanding."
The Bard gallery show spans back to 1960, pairing Nessim's most well-known illustrations next to her personal artwork. "I expect the viewer will make the connections and see how my personal artwork influenced my illustration work. When doing personal artwork I don't think of the 'viewer,' I only think of pleasing myself. With an illustration I want to satisfy the story/article, the reader, art-director, editor, and most of all myself."
The exhibit carries the viewer from the time of the "Beat" generation, when she was just starting out. "I rejected the 'artist' because I wasn't part of the counter-cultural, anything-goes movement and didn't want to starve and suffer," she recalled. "At art school our teachers emphasized how hard it was to make a living as a painter. Starving was not in my DNA. But in truth, I was an 'artist' and wanted, almost desperately, to be a 'commercial artist'. That was my solitary goal—to earn a living with my art. I achieved my goal as an illustrator."
She has no regrets about any part of the long career that ensued. "I would say all 'periods' of my working life have been approached in the same manner, direct and created out of a certain need or truth. I don't think of one time as better than another. There is little separation between my 'living' and 'working' life. I view them both as flowing in the same minutes.
"I'm forever grateful and amazed that my work looks like my work. I know that sounds like an oxymoron but that's what I really feel. I never tried to have a 'style' it just happened through the joy of working. I don't like to look at other 'things' or 'inspiration' when I'm working for myself, I want the art to just appear, unannounced and not contrived. It must be real and truthful. Sometimes I can't stand what I'm doing but I'm not allowed to throw it out. I have to see the work I deem 'ugly' or even too 'pretty' because it is the way I communicate with myself. And then I don't want to judge it either."
At age 75, this exhibition is a milestone and legacy for Nessim, but she measures her accomplishments in sketchbooks that she's maintained since the '60s. "I'm currently working on Sketchbook #94 and always creating new things in it," she notes. "I'm always in the 'now', not in the minute that just passed or the minute that is coming. I don't think about the work when it is happening, I want to just let it flow. It's a meditation of sorts—it's a compulsion, it's a feeling. I put lines down on paper and feel them as they appear."
We want to hear what you think about this article. Submit a letter to the editor or write to letters@theatlantic.com.
Steven Heller
is a contributing writer for
The Atlantic
, the co-chair of the MFA Design program at the School of Visual Arts, and the co-founder of its MFA Design Criticism program.