This October, Read a Banned Book
Help choose which illicit classic that 1book140, our Twitter book club, will discuss.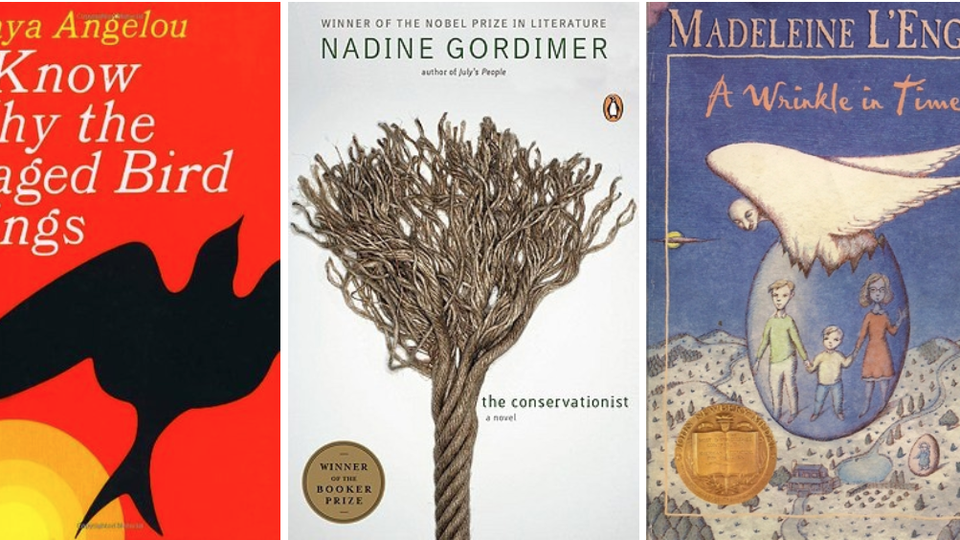 Lists of censored books and outrageous rationales for censorship have spread across Twitter for this Banned Books Week. Let's vote on a banned book for next month's selection at @1book140, The Atlantic's Twitter book club.
A Wrinkle in Time by Madeleine L'Engle. An early example of science fiction aimed at female readers, this Newbury Award winner follows the intelligent ninth grader Meg, her telepathic brother Charles, and basketball player Calvin as they fly across space and time in search of Meg's missing father. In this inter-dimensional rescue mystery, they encounter other worlds and learn more about themselves. L'Engle, who wrote the book while working as a librarian and writer in residence at St. John the Divine in New York City, includes extensive Biblical references and an ecumenical perspective in the story, which was banned for being alternately too religious and not religious enough. L'Engle's acceptance speech for the Margaret A. Edwards Award offers a beautiful reflection on imagination and taboo in literature.
The Conservationist, by Nadine Gordimer, a Booker Prize winner, follows "a white industrialist straining to keep nature and his black tenants in line on a hobby farm outside Johannesburg" who "embraces ignorance and order" to survive. Gordimer, who won the Nobel Prize for literature, died this July at 90, after a lifetime of commitment to the moral and political dimensions of art. In a review of Gordimer's collected stories Mark Gevisser describes Gordimer's "quest for critical engagement ... of what role the writer could and should play in the revolution and in a new democracy ... No one is given an easy ride in Gordimer's fiction, least of all the reader: reading, as writing, is a moral undertaking."
I Know Why the Caged Bird Sings by Maya Angelou transformed the genre of autobiography with its literary style, and tells the story of the author's "struggle to become liberated from the shackles of racism and misogyny," as Anita Sethi put it in The Guardian. "Maya Angelou's power came, in part, from daring to tell her own story," Spencer Kornhaber wrote on this site upon her death in May. The memoir's depictions of rape, racism, and sexuality have led it to be banned in schools.
Vote for Our July Book
Vote below to choose what to read this month. Voting closes Monday, September 29, at 6 p.m. Eastern. Soon after, I'll announce the results and post a schedule to The Atlantic and our Twitter hashtag, #1book140.