Explaining the U.S. Tennis Slump
The weak showing of American men at this year's U.S. Open is the natural outcome of a culture that hasn't caught on to Europe's wunderkind-raising ways.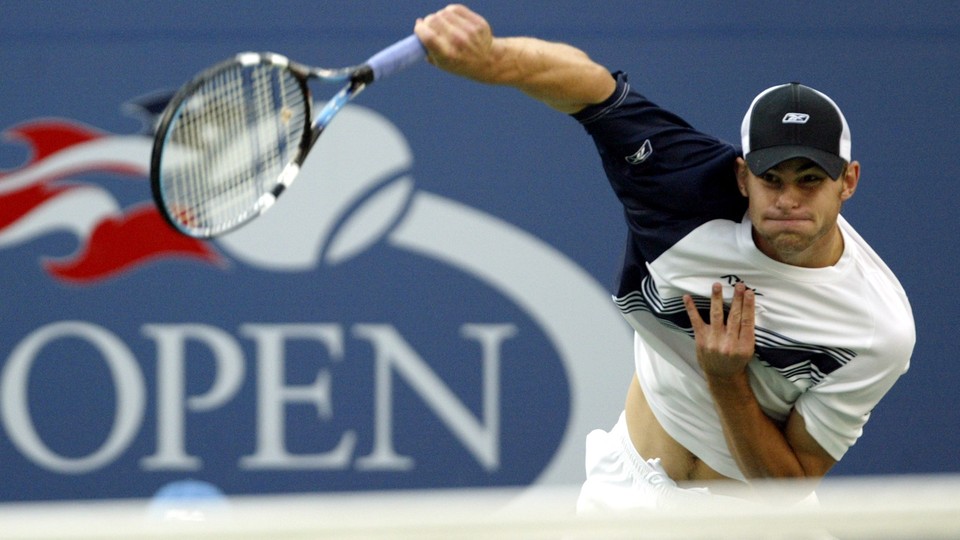 For yet another year, American men will be underdogs at the U.S. Open. An American male has not won a Grand Slam Singles title since Andy Roddick did so at Flushing Meadows in 2003. There has not been an American man ranked in the top five at the year's end since 2005. Today, other than John Isner, who reached as high as 9th and seems to have plateaued at between 10 and 15 in the world, the United States does not have a player inside the top 40. To reach the Semi-Finals of this year's Open, Isner would likely have to defeat Novak Djokovic in the round of 16 and Andy Murray in the quarter-finals.
This U.S. tennis drought may have even begun before Roddick's 2003 win. There hasn't been a truly dominant American men's singles player since Andre Agassi and Pete Sampras were in their primes near the turn of the millennium.
Earlier this year, the New York Times quoted a number of tennis observers who say that young American men have the talent to succeed, but lack "world-class work ethic and toughness." Yet that's not an explanation for America's problem—it's a symptom of it. Cultural, athletic, and business factors been offered as factors contributing to America's tennis's woes in recent years. Here are a few of those factors.
Courts
American juniors train on hard courts, while Europeans and South Americans learn the sport on clay. Both The Economist and The New Republic have theorized that in recent years, the sport has shifted to favor players raised on clay, a "slower" surface.
"As developments in racket and string technology have allowed players to generate more power, approaching the net has become riskier," says The Economist. "Facing criticism that too much serve-and-volley tennis had made the sport boring to watch, the organizers of Wimbledon, the most important tournament of all, are widely believed to have fiddled with its grass courts to make the ball bounce higher. Meanwhile, players are fitter and more athletic than ever before, and defensive abilities have grown as a result."
A player who learns on a faster surface will base his game on a big serve and powerful groundstrokes, and a player who learns the game on a slower surface will construct points in order to win longer, more grueling rallies. Indeed, this theory holds when examining America's best players, both currently and historically. Isner has the most devastating serve on the ATP tour but is not particular intimidating mid-rally. Roddick, Sampras, McEnroe, and Connors all lead with their serves. Andre Agassi is the only great American not known for an extraordinary serve, and, fittingly, he is the only great American whose success extended to clay courts.
College
In college-sports-obsessed America, teens often parlay their tennis talents into an athletic scholarship and play throughout their undergraduate years. In Europe, sports are not seen as tickets into universities, as athletic competition between schools is not emphasized and athletic scholarships are extremely rare. So European juniors go pro as soon as they can.
The U.S. tennis community is torn as to whether attending university is the best decision for someone whose goal is to reach his tennis potential. Proponents of college note that the game has become much more physical in recent years due to advances in racket technology, and, as a result, the average age of the top 100 players is around 27, far older than before the turn of the millennium.
"All those factors make going to college and developing your body while in school, rather than traveling the world and playing low-level future events every week, a very appealing option to top juniors," says Dustin Taylor, an assistant coach at the University of Virginia.
Lawrence Kleger of the McEnroe Tennis Academy believes that going to college should be "a case-by-case decision," even if some critics accuse junior players who opt for higher ed as not being "all-in." The logic behind that critique is that a player will never reach the top of the sport unless he fully commits to it at a young age.
Judging by the rankings, the critics might have a point: Very few top 100 players went to college, and even fewer graduated. John Isner, who only joined the ATP tour after finishing at the University of Georgia, is an outlier. Bulldogs coach Manny Diaz defends Isner's decision to go to college: "I think college is the best path for 99 percent of guys who are trying to become the best they can be. Andy Roddick was on the way to college until he went on a rampage and won the Orange Bowl and the Australian Open Juniors. Sampras, Agassi, and Courier all won ATP Tour events by 18. They were on accelerated paths."
Training
Another commonality between Sampras, Agassi, and Courier is that they all spent time at the IMG Tennis Academy in Florida in the late '80s. The United States relies on major tennis academies such as IMG, Saddlebrook, and McEnroe Academy for developing promising juniors. These academies still produce high-quality players, but they have not had an alumnus ranked in the top five since Roddick. In fairness, it is not just the major American academies that have been striking out. Of the 10 players who have been ranked in the top five within the last five years, only Djokovic and Murray attended a major tennis academy. The others have relied on either local or national training centers for top-level coaching and competition.
America's reliance on academies, not centers, may be hurting its chances. Academies ensure prospects will get plenty of on-court experience, but tennis experts are beginning to realize what a drawback it is that these institutions remove students from family and friends.
Taylor, for example, believes that top-tier players are developed more effectively in smaller and tighter communities and in kids who have more-balanced lives. "The most important thing," he says, "is having the proper team of people who are knowledgeable, honest, and constantly instilling belief." Andy Murray seemed to agree with this contention when he spoke to The Guardian about his two years at Sanchez-Casal Academy in Barcelona. "It was a big sacrifice," he said, "to move away from your family, and spend money training over there when you're not making any back."
Europe has not emulated the academy model, instead building a network of regional training centers. Maria Sharapova, who was born in Russia but moved to the United States at age seven in order to train at IMG Academy in Florida, said about Europe to USA Today, "Now you have so many coaches [and] facilities… I wouldn't need to leave." In the same article, Croatia's Ivan Ljubicic, who was at one point ranked third in the world and who now coaches Milos Raonic, attributed Europe's tennis dominance to the high number of Futures and Challengers events on the continent. All of this means that across Europe, people have access to top-quality coaching and competition.
Patrick McEnroe, the USTA's general manager of player development, has acknowledged the need for more national training centers across America. A 2013 Forbes article explains, "Part of the problem here is U.S. demographics and geography. 314 million people spread across 3.79 million square miles make it incredibly difficult to develop a centralized, consistent coaching system for junior tennis players." To combat this problem, the USTA has developed 17 regional tennis centers around the country, and, in May of this year, it revealed plans to build a new headquarters in Orlando with more than 100 courts, including 24 clay ones, by 2016.
Coaches
The U.S. has top-level coaches, but, Kleger says, it does not have enough of them. "In many tennis playing countries, coaching candidates have to go to school to be licensed to teach tennis. Sometimes the schooling takes years! In the U.S., if you can get someone to pay you for a tennis lesson, you're a tennis pro." In France, in particular, it takes 18 months of training to become a certified tennis pro, and giving a lesson without a license is a misdemeanor.
The Talent Pool
Of the 10 men's singles players who have been ranked in the top five over the last five years, nine are European. None of the 10 guys, however, trained at the same academy, or even in the same city, as any of the others. This relative geographic randomness underscores the notion that it is the continent as a whole, not a particular city or academy, that is responsible for Europe's recent dominance. It also demonstrates that, first and foremost, top-five tennis players must be extremely naturally talented. A six-year-old Novak Djokovic was described by Jelena Gencic, the person who discovered him, as the "greatest natural talent I have seen since Monica Seles." Nadal and Federer have been described as similarly precocious pre-adolescents.
"If you look at the top five players in the world, they are pretty special," Taylor explains, "You start with them being athletically gifted, which everyone talks about and is true. If Nadal, Murray, and Ferrer went with soccer from a young age, they would have probably played in last month's World Cup."
Diaz agrees with this sentiment and goes on to speculate that the United States might have better luck in tennis if the sport drew the country's best athletes. But the socioeconomic and geographical barriers keep it from doing so. In America, the sport is for the elite: In a 2009 New York Times article, Doug MacCurdy, the director of player development for the United States Tennis Association (USTA) from 1998 to 2001, explained that if a kid becomes serious about tennis, his parents are likely to spend between $25,000 to $30,000 a year on the sport.
In Europe, on the other hand, top-quality coaching and competition is accessible to kids of varying socioeconomic status. None of the top European players come from impoverished backgrounds, but all come from modest ones. Djokovic's story is the most extraordinary. His parents ran a fast-food restaurant, and he started playing on war-torn courts and in empty swimming pools. Stan Wawrinka grew up on a farm in Switzerland, and Robin Soderling learned the sport in a Swedish town with 10,000 residents.
This bigger, related problem for America's ability to groom tennis talent is that the sport just isn't very popular here.
In 2013, ESPN estimated that tennis was the seventh most popular sport among American adolescent boys, as only eight percent played it. Ahead of tennis were football, basketball, baseball, soccer, track, and wrestling. A similar study has not been done in Europe, but tennis is believed to be the continent's second most popular sport, behind, of course, soccer. The more popular the sport, the more people play. The more people play the more likely an especially talented kid will pick up a racket and develop that talent.
Observations such as these, however, are purely based on the current generation. We will only know if the U.S. has learned how to train kids that can compete with the best Europeans when the next generation of U.S. juniors joins the ATP tour. With Noah Rubin winning the Wimbledon Juniors, with Jared Donaldson ranked in the world's top 300 at 17, and with Francis Tiafoe winning the 2013 U18 Orange Bowl at age 15, college coaches are optimistic about a U.S. resurgence in the top ranks over the next decade. Maybe soon, Americans will get to cheer for their own again at tennis's top competitions.