The Whale That Inspired Moby Dick Swims Again
Artists and writers are showing some sympathy for the real-life, man-eating Mocha Dick.
Like Captain Ahab, the artist Randall Enos believed he was destined to have an encounter with a great white whale.
Enos, whose expressionistic linoleum cuts have appeared in books and magazines for almost 50 years, had read stories about a real-life whale named Mocha Dick, who fought off whalers for decades before being killed by harpoon. This "hero" whale seemed to attack his human predators with a level of strategic intelligence, which during the early 19th century earned him icon status. "He fascinated me because he was so different than the average Sperm Whale," Enos says.  "So, I knew I had to make some pictures about him."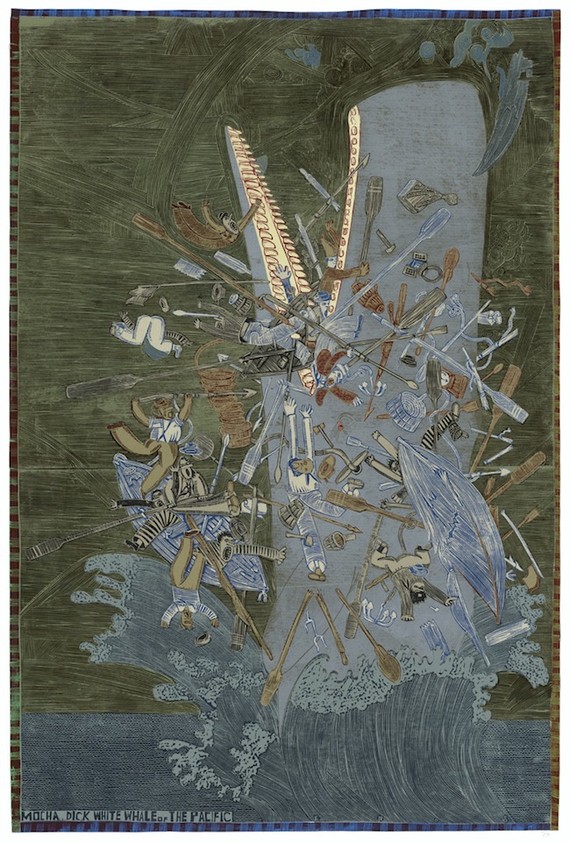 Destiny stepped in two years ago, when Enos was commissioned to illustrate Mocha Dick: The Legend and Fury, Brian Heinz's loose rewrite of the nonfiction account (the 1839 The Knickerbocker Magazine article, "Mocha Dick: Or The White Whale of the Pacific," by Jeremiah N. Reynolds) that inspired Herman Melville's 1851 classic novel. This contemporary retelling came about after Rita Marshall, the creative director for the children's book publisher Creative Editions, saw a picture in Enos's studio depicting an enraged Mocha Dick throwing helpless whalemen, whaleboats, and whaling equipment into the air. "About a year later, she phoned me and said that she couldn't get that whale picture out of her mind and asked if I'd like to work on a book about that whale," Enos recalls.
Many Creative Editions books are revivals of lost or forgotten original versions of children's stories. Coincidentally, Heinz had submitted a manuscript about Mocha Dick, and it needed a strong visual complement. Enos was the perfect match. He had already produced a limited hand-stitched edition with black-and-white linoleum cuts titled The Life and Death of Mocha Dick. Copies sold for $400.
When Enos agreed to expand on the Mocha Dick legend, he was promised so much creative license, it took time to realize "I can do whatever I want, I can make green hair, brown oceans, etc." He says he felt more freedom "than I have ever felt on a job before." And since he had been striving toward a more "abstract" quality in his work, "playing more from moment to moment and freeing my natural impulses as best I can" he took advantage of his privileged position.
"I've never had the opportunity to do Moby Dick, and I've always wanted to," Enos says. "The illustrations in this book are what I imagined I might do with Moby Dick." Yet it had to be different too, because of Melville's attention to specific characters, while for Mocha there are no running characters, "just waves and whale mostly."
Which is not to say it is repetitious. In fact the beautifully patterned water, which is arguably a supporting character in the book, looks different throughout the pages. Enos further explains, that he wanted "a surprise for the reader as they turn each page. This, I think, was accomplished mainly by my color usage." He also gave the illustrations the echoes of scrimshaw, the whalemen's own drawings and paintings, and naif representation "without actually copying those forms as some illustrators might do." Enos tried to absorb those references and then, without looking at them, he says "try to make the pictures from a place within me. Kind of like 'method acting.'"
The abstract-folkish visual interpretations allow the reader to focus on the ferocity of the whale hunt without overly gruesome scenes. Meanwhile the narrative voice is very sympathetic to the whale, despite describing the swallowing whole of some unfortunate whalers. Heinz's text provides room for contemporary analysis while not beating the reader over the head as the whalers do to their prey.
"It's a strong point of the book," notes Enos. "We all, of course, feel horrible guilt about the slaughter of those magnificent creatures, so it's kind of nice to be able to show an example of the other side of the coin. However, I've always been on the side of Moby Dick ... I never bought into Ahab's rationale."
But wait, isn't this heavy stuff for the five-to-10 age group that is the designated audience for "picture books"? "It's not exactly written for children," Enos says. "A lot of these children's books by Creative are written in this more adult sophisticated manner."
So, I asked, is there a moral that Enos and Heinz want as a takeaway?
"I don't think there's a moral," Enos adds. "It's just the true story of a little-known bull Sperm Whale who somehow felt obliged to protect his species by the uncharacteristic method of attacking and eating whalemen and whaleboats."