The Satirical Genius of Billy Eichner's Emmys Shtick
The comedian won a new audience by sending up the award show's irrelevance.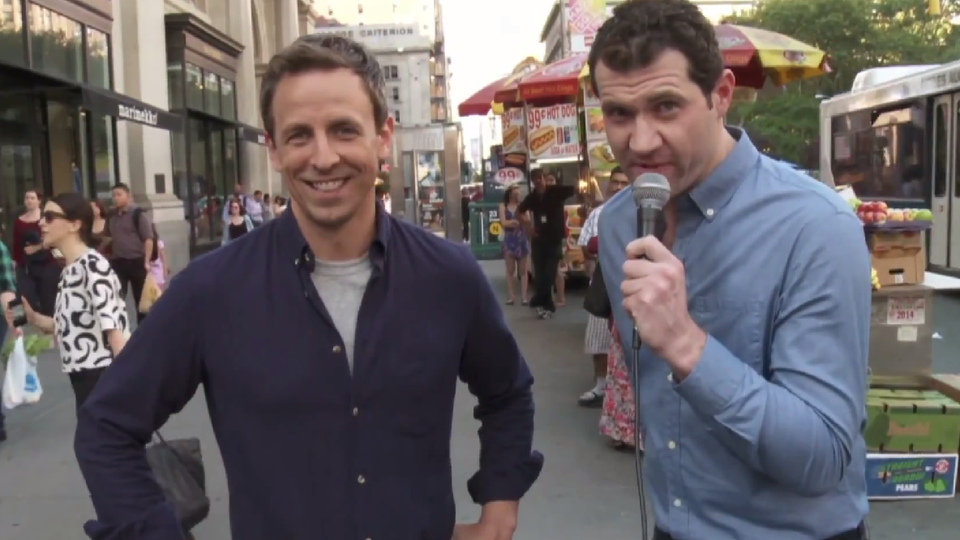 The greatest triumph of the 66th Emmy Awards didn't belong to Breaking Bad, Modern Family, Julia Louis-Dreyfus—or any nominee, for that matter. Instead it was Billy on the Street, a comedy series that airs on Fuse TV and streams on Funny or Die, that became the night's biggest success story with an insightful four-minute bit that thrilled Twitter, even as it taunted Twitter.
"In all honesty we wouldn't mind if the rest of the #Emmys turned into a 3-hour episode of #BillyOnTheStreet," People magazine enthused after the segment aired. "Billy Eichner Answered Our Silent Prayers," Buzzfeed concurred.
And in the aftermath, the eponymous Billy tweeted like he'd actually been handed the globe-bearing statuette. @billyeichner thanked the Emmy audience in storied awards ceremony tradition—with an auspicious-yet-humble open followed by a laundry list of the people behind the scenes who made it happen.
The lauded clip itself was a special "Emmy edition" of his recurring "For a Dollar" segments that, pre-ceremony, mostly drew a niche Internet audience. In a parodic twist on trivia game shows, contestants get the cash only if they agree with Eichner about pop culture. The sketch follows a simple formula: Eichner accosts random New York pedestrians, asks a series of leading questions, and throws a fit if their television expertise isn't up to snuff—which it isn't.
"It's television's biggest night, can you feel it?" he fires a random woman passing by. "No," she responds, barely slowing her pace. "What is this award?" he asks as Seth Meyers brandishes an actual Emmy. The stranger's guess: "The Academy?" With some prodding—"The Gobel?"
The obscurity of the inquiries escalates. Eichner wonders, jokingly, if people are excited Hotmail just picked up 12 new episodes of the '90s/early '00s legal drama Judging Amy. He demands to know whether someone thinks Julia Roberts is looking forward to waiting for her car next to Tom Bergeron. When he broaches the topic of snubs—Mindy Kaling, Tatiana Maslany, Elisabeth Moss, The Good Wife—he starts pleading with the implacable public. It's a brilliant bit of satire, showing that what's often hyperbolically labeled awards "upsets" is really just one obsessed guy, getting upset.
The upshot is a perceptive and insightful parody of the mini-industry of pontificating, speculating, and chastising that emerges from these ceremonies. The on-screen disconnect between an overinvested pundit and a disinterested public speaks to a fundamental truth about the Internet's strange, small, culturally dissecting universe. While insiders and critics autopsy the minutia of the nominations, the wins, the appearances or lack thereof—Maggie Smith was expected to ditch, but Benedict Cumberbatch?—the TV audience at large remains wholly, blissfully unaware. But when pundits and lay people alike laughed at Eichner, for one glorious moment the Emmys became what it was supposed to be—mass entertainment.
Eichner kept his performance art going in the aftermath of his Twitter glory. He sucked up to all the critical darlings ("Honored to be here on the night Larry Kramer is here with The Normal Heart," a reference to the HBO movie he championed in the video), and reminded everyone once more of the grave importance of JUDGING AMY. (period included). Of course, he was simultaneously promoting his own series, which is only fair. While Eichner might not persuade viewers to pay closer attention to awards-season trivia,  his pitch-perfect satire cast a wide-enough net that they'll probably be inclined to pay attention to him.