The Robin Williams Way of Stardom
He wasn't just a celebrity. He was a part of our environment.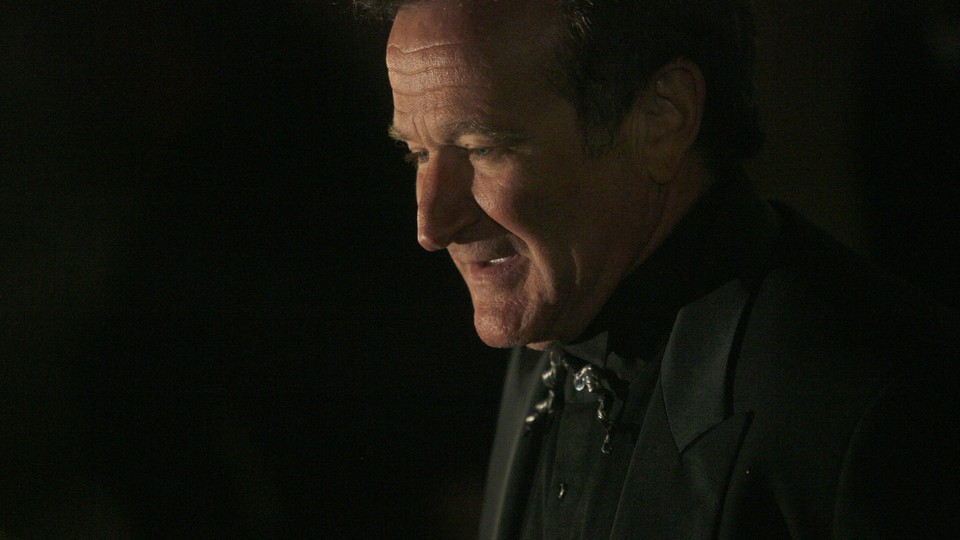 I knew there were more, though—many more. So, to complete the sad ritual, I typed "Robin Williams." Then I clicked "Video." 
And I realized how many—how much—I'd forgotten.
Bicentennial Man.
Moscow on the Hudson
. 
August Rush
. 
Insomnia. 
I'd forgotten in part because 
Williams had given me so much to remember. He had a career in entertainment that spanned more than 40 years. He was prolific. He was also wide-ranging. He was a dramatic actor. He was a comedic one.
The Birdcage. A Night at the Museum. The sequel to A Night at the Museum. Jumanji. The Fisher King.
He did TV (Mork!). He did voice acting (the Genie!). He did stand-up. He sang.
He supported.
 He starred. 
Good Will Hunting. Hook. Flubber. RV. License to Wed. The World According to Garp. The Awakening. What Dreams May Come.
Williams was perhaps best known for his improv—many of the Genie's speeches in Aladdin, not to mention the lines of his stand-up, were ad-libbed—and for a charisma that combined the antic and the austere. Even when playing himself, in his many guest appearances on late-night TV (and in his many acceptance speeches for the awards bestowed on him for his work and his talent), he wore a clownish camouflage. It was hard to tell, possibly even for Williams himself, where the man ended and the star began.
Best TV Actor—Musical/Comedy, Golden Globes, 1978. Outstanding Individual Performance in a Variety or Music Program, Primetime Emmys, 1987. Best Performance by an Actor in a Motion Picture—Comedy/Musical, Golden Globes, 1987. Outstanding Individual Performance in a Variety or Music Program, Primetime Emmys, 1988. Best Performance by an Actor in a Motion Picture—Comedy/Musical, Golden Globes, 1991. Best Performance by an Actor in a Motion Picture—Comedy/Musical, Golden Globes, 1993. Best Actor in a Supporting Role, Academy Awards, 1997. Cecil B. DeMille Award for "outstanding contributions to the world of entertainment," Golden Globes, 2005.
What is clear is that Williams' talent—his elastic ability to embody people both real and imagined—was exceptional, even by Hollywood standards. In 1993, following his vocal performance in
Aladdin
, the Hollywood Foreign Press Association
created a new category
, "Special Achievement," for the Golden Globes. It did that just so it could give an award to Robin Williams.
* * *
We refer to our actors—the big ones, at least—as "stars." We do that mostly because it's a convenient cliché. But we do it as well because celebrities have a kind of cosmic constancy in our lives. The people we put on our screens—the people we elevate and exaggerate, the people whose likenesses we watch, huddled together in darkened rooms—form their own kind of firmament. Ancient humans used the stars to navigate the world; we ask our own stars to do similar work. We look to them not necessarily to guide us, but to orient us.
What are your thoughts about 
Mrs. Doubtfire
? How funny is the Genie? Do you think that "
words and ideas can change the world
"? However you answer those questions, they will reveal something about you and your place in the universe.
There are many ways for celebrities to become stars, and many ways, as well, for them not to. Robin Williams was a star in the most literal sense of the figurative term. He had an environmental quality. Individually, his performances may have been, as so many of his obituaries have noted, "frenetic" and "giddy,"
imbued with
"wild inventiveness" and "a kind of manic energy." And those performances, whether of a president named Roosevelt or an alien named Mork or a perma-boy named Peter Pan, may be striking in their range. But the thing they have in common is Robin Williams. He has been with us—and next to us, and above us—for more than 40 years, not just on the screens of our multiplexes, but in our living rooms and in our lives. There's
Good Morning, Vietnam
, on Netflix. There's
Good Will Hunting
, on TBS. There are those reruns of his stand-up on Comedy Central. There are all those clips on YouTube.
Williams had, in the end, what only a few of our celebrities will actually achieve: a fame so constant that it could safely be taken for granted. As President Obama put it in 
a tribute to the actor
, "He ended up touching every element of the human spirit." He took the paradox of the star and made it his own: He was so fiery that he managed to fade into the background of our lives. 
Williams, over the years and the decades, 
became a fixture of our firmament. And, thankfully, that is where he will stay.