TV Is Anxious
The medium is dealing with a lot of new issues. This year's Emmy awards made that obvious.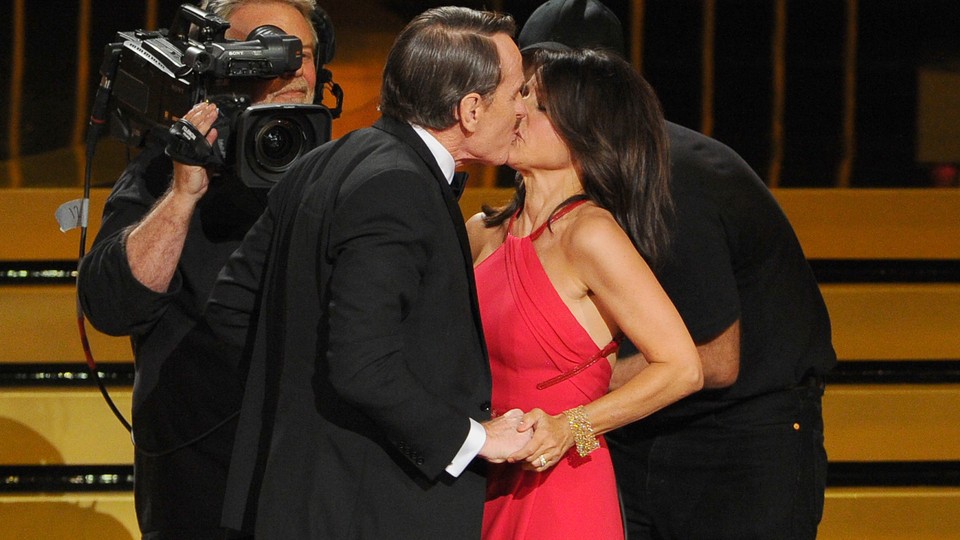 Award shows are always, at heart, for the insiders. That's understandable. When the best, brightest, and prettiest of a certain industry pack themselves into an auditorium, they are amused by jokes not just about entertainment as entertainment, but about entertainment as a profession. And the 2014 Emmys didn't skimp on the industry references about agents and cancellations. One of the funniest moments—this kiss between Bryan Cranston and Julia Louis-Dreyfus—sprung from a joke about the Breaking Bad star playing a minor love interest of Louis-Dreyfus's Elaine on Seinfeld in the 1990s.
But this year's show felt particularly meta. Television is dealing with issues of platform, delivery, and definition. Who will pay for commercials if viewers watch programs the week after they air? Is it TV if it's on my phone? Is Netflix really TV? TV has challenges to meet—and it showed.
Host Seth Meyer's opening monologue featured jabs at the ceremony being pushed to Monday night by MTV's Video Music awards. He joked about HBO and Netflix killing old-fashioned network TV. He wondered about the poorly defined awards categories, riffing on "comedies that made you laugh and comedies that made you cry because they were dramas submitted as comedies," and about how people watch content today: "The most DVRed show of the past season was The Blacklist. Game of Thrones was the most pirated show. And Duck Dynasty was the most VCR-taped."
Meanwhile, Meyers's late-night NBC colleague Jimmy Fallon asked how on earth Kim Kardashian's mobile game made more money than has every successful person in the building. Jimmy Kimmel teased interloper Matthew McConaughey for even being there. "Why is Matthew McConaughey nominated for a television award? … That's not a television face, that's a movie-star face right there."
Look past the designer gowns and celebrity banter, and you were left with a show anxiously oscillating between self-congratulation and self-deprecation. That was especially true on the topic of gender. Early in the night, Louis C.K. won a writing trophy for Louie episode titled, "So Did the Fat Lady," which laments that women are still boxed in by their looks. That sentiment never seemed more true than when the president of the Television Academy took to the stage and placed Sofia Vergara on a rotating pedestal to be appraised like a product for sale.
A few minutes later, Julianna Margulies accepted her award for her role on The Good Wife by exclaiming, "What a wonderful time for women on television!"