The Returns of Vinyl and Sharknado: The Week's Best Pop-Culture Writing
The most intriguing articles about entertainment we've come across in the past seven days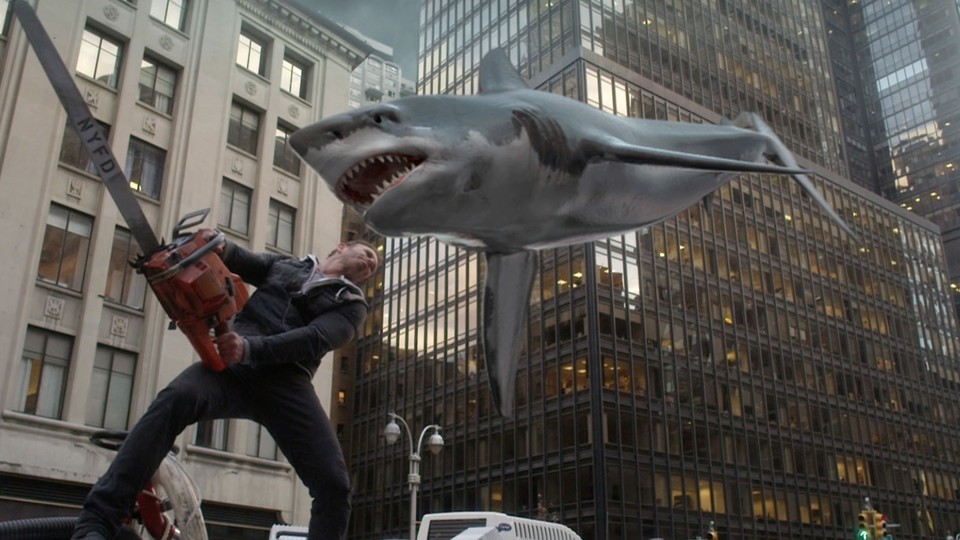 Let us know what we missed.
Let's Face It, Sharknado 2 Is the Future of Television
Brian Moylan | The Guardian
"This movie is the future – not because it's any good or anyone really likes it, but because people will watch it live, along with all the commercials, to have the privilege of snarking about it in real time on their handheld device or laptop."
Beatlemaniacs, Beliebers, Directioners—Why Do They Scream?
Chris Richards| The Washington Post
"When the lights go down at a 21st century boy band revue, we aren't hearing a helpless, hysteric howl. We're hearing a complex expression of individualism and collectivity."
Sex and the Single Churl: Another Bachelorette Finale Gets Weird
Linda Holmes | NPR
"Part of the weird appeal of this show, admittedly, is its tendency to stumble, entirely unwittingly, entirely without sophistication, into actual brambles involving sex and gender."
The Strange Year of the Posthumomous Performance
Adam Sternbergh | Vulture
"Celebrities aren't allowed to truly pass away, not in the public mind at least."
Borgore Wants You To Know That He "Fucking Loves Women"
Stacey Anderson | Buzzfeed
"Fellow DJs have called him a misogynist and blamed him for tarnishing the reputation of dubstep music. He regularly denies that he disrespects women — a point he makes forcefully during our time together at Governors Island — though his lyrics have intensified with time."
Wax and Wane: The Tough Realities Behind Vinyl's Comeback
Joel Oliphint | Pitchfork
"When it comes to the current state of the vinyl industry's unlikely resurrection, everyone is happy. And everyone is frustrated."
Is This Sports Column Elite?
Jason Gay | The Wall Street Journal
"Everyone in sports wants to be an elite now. This is the opposite of politics, where the term elite has taken on a radioactive quality: If you're running for office, the last thing you want people to know is you read books without pictures or can find Martha's Vineyard on a map. But in sports, elitism is all the rage."
Lucy and the Enduring Appeal of the Instant Upgrade
Tasha Robinson | The Dissolve
"Lucy comes across as mighty derivative because it's built around such a beloved trope, with an audience-identifiable, initially ordinary character instantly becoming an unbeatable badass."