Lauren Bacall: Never Outshone
She was the last of the great 20th-century movie stars.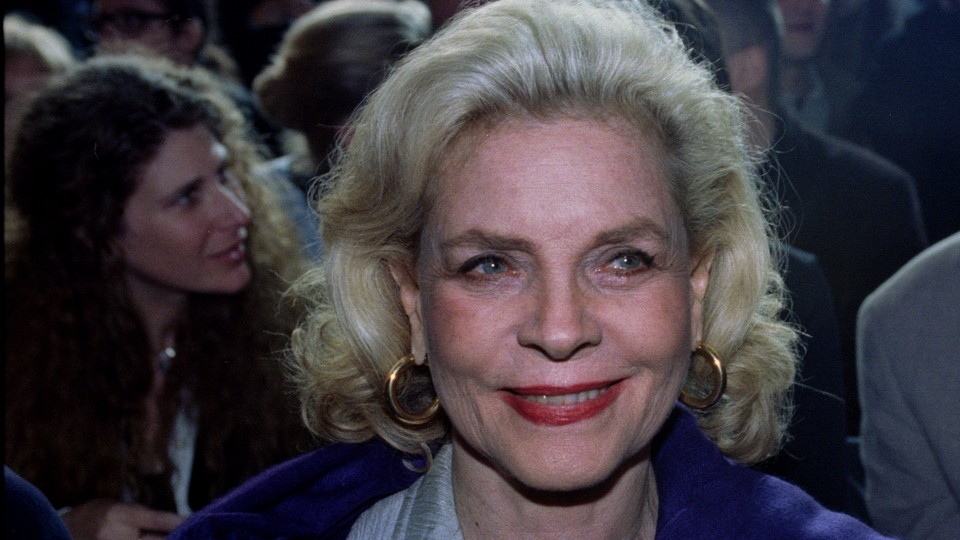 It's fair to say that it takes a whole lot of charisma, cojones, and whatever illusive kind of cinematic sorcery translates into screen presence to upstage Marilyn Monroe, the reigning movie empress of the early 1950s. Lauren Bacall, who died Tuesday at 89, had third billing below Monroe and Betty Grable in 1953's How to Marry a Millionaire. She not only made that movie her own, she made you wonder how any breathing human could so much as look askance at another actress with Bacall in the frame.
This kind of scene-stealing became the hallmark of an actress who resolutely refused to be window dressing, whether she was gazing through her eyelashes at future husband Humphrey Bogart in her movie debut, To Have and Have Not, or sitting atop a piano at the National Press Club while Vice President Harry Truman gamely tried to continue playing it.
In Millionaire, a flimsy depiction of a trio of models trying to bag rich husbands, Bacall's cynicism and guile made her character, divorcee Schatze Page, seem less like a mannequin and more like a nylon-wearing Mother Courage. Saddled with two sweet but dimwitted platinum blondes and piles of unpaid bills, Bacall rolled her eyes, picked up her metaphorical cart, and got to work, and it came as no surprise whatsoever when she seemed to bag a big one. Millionaires should be so lucky.
Bacall's uncompromising attitude comes across in her movies, which she painstakingly cherry-picked to be interesting—to the endless chagrin of Warner Brothers. Facing varying complications from poverty to an abusive husband (Written on the Wind) to a potentially fatal heart condition (The Gift of Love), she somehow managed never to seem like a victim. Her career waned, then resurged, but Bacall was never less than regal, even in the tougher years.
She'll forever be remembered for "the Look," an intangible fusion of come-hither eyes paired with what might be described in the Internet age as a come-at-me attitude: both alluring, and intimidating. She should also forever be remembered for the voice—the gravelly, masculine sound of an alto who'd just discovered cigarettes. No actress aged so gracefully; no woman wore pants with as much panache. She was the last of the great 20th-century movie stars.