The Poignance of Blue Ivy Carter
Amid the falseness of the VMAs, as her parents try to sell an image, Beyoncé and Jay Z's kid keeps it real.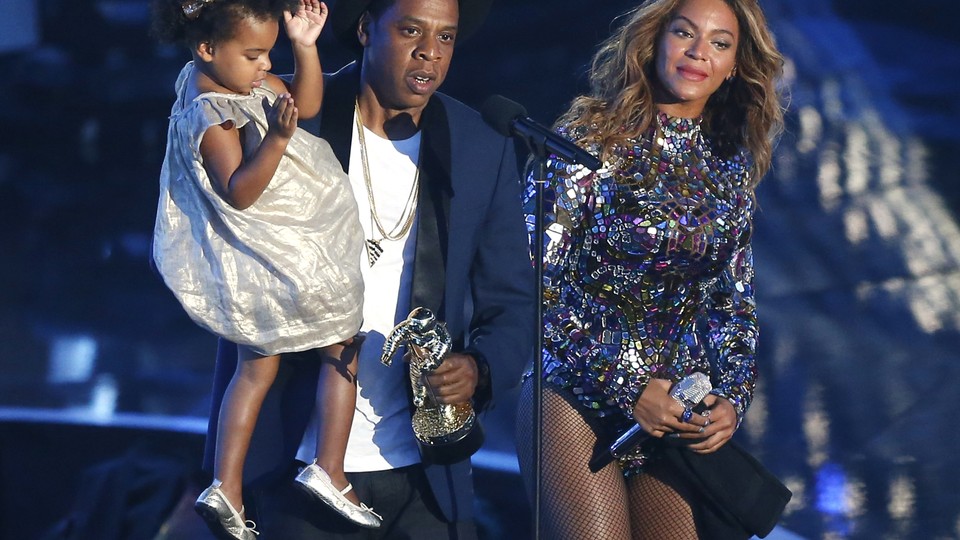 Only one meme matters from Sunday's VMAs: Blue Ivy Carter Is Cute.
The two-year-old girl overshadowed her mother's perfectly constructed, bedazzled and bedazzling 16-minute medley, which itself had already overshadowed the rest of the show. One look at the Vine of baby Blue attempting the "Flawless" hands is enough to explain why.
The girl's adorable—plus, in the way of all babies, guileless. Forget the YouTube comments wars about whether 5 Seconds of Summer is authentically pop punk (as if there were such a thing) or whether Nicki Minaj's rear is genuine (it is, in the sense that it undeniably exists). The only certifiably real thing in the Los Angeles Forum on Sunday was a toddler.
But Blue Ivy's parents wanted to prove the reality of something else: their marriage. Rumors have flown all summer about an impending divorce; on Instagram, Beyoncé has launched a wordless counteroffensive by posting Rockwellian images of their home life.
Of course it's somewhat deranged to care about the private lives of famous people. But people do care, and always have, and the world keeps turning. Beyoncé and Jay Z are especially of interest for what they represent, as two self-made black cultural powerhouses serving as generational inspiration. And both of them, in ways no previous musicians maybe ever have done, make their own relationship a major part of their art and their appeal.
Last night, when Jay Z presented his wife with MTV's version of the lifetime achievement award, it was meant to be a statement. Beyoncé's eyes welled, she kissed Mr. Carter and called him "my beloved," and just like that headlines were proclaiming Beyoncé to have "silenced" the rumors.
Never mind that Jay Z looked a little po-faced and that Beyoncé's set emphasized the relationship-problem songs. Never mind that the rumors that need addressing aren't about whether the couple's still together but whether they have plans to split after their joint tour. Buzzfeed's Doree Shafrir spoke for fans when tweeted, alongside a picture of the Carter-Knowles on stage, "I want to believe." We want to believe, at the very least, for the kid's sake.
The truth is, though, Beyoncé and Jay Z are confronting all of pop culture with the notion that a personal life conducted in public will always be, in large part, performance. This summer's On the Run tour features the two of them playing their hits while video snippets show Beyoncé and Jay Z reenacting the Bonnie and Clyde story. Before the concert, and also whenever a gun fires on screen, a message flashes: "THIS IS NOT REAL LIFE." But during the final few songs, tributes to marriage and parenthood, home movies with Blue Ivy play, and the message changes: "THIS IS REAL LIFE."
It's a lovely moment. But it's also a reminder that these are two deft manipulators of the truth. They have to be. The baby doesn't, yet, thank goodness.