The Barefoot Squash Player Who Conquered the World
The late Hashim Khan's unlikely origins and symbolic power made him a global legend.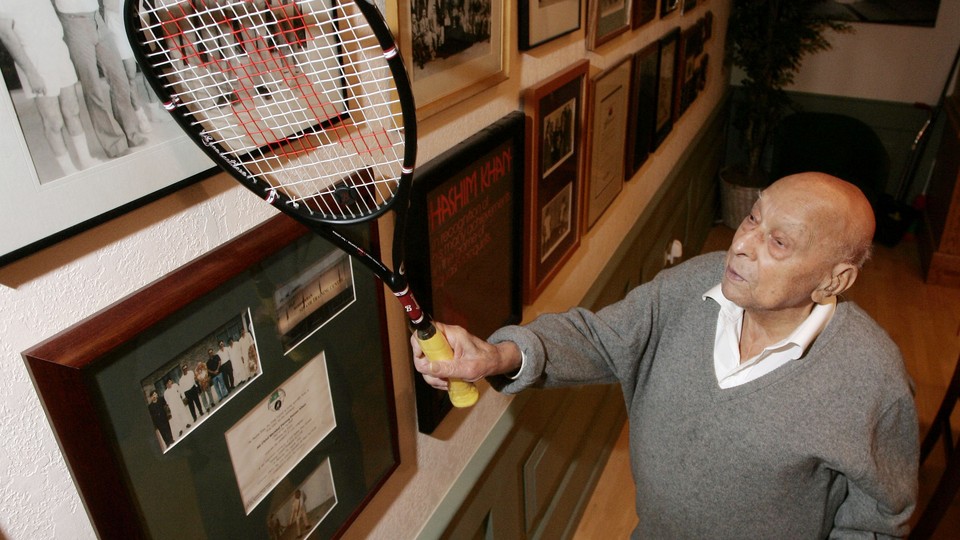 When the squash player Hashim Khan died earlier this week, obituaries ran in dozens of newspapers around the world. Twitter lit up with photos and quotations. Websites and blogs mourned his passing. He was a legend.
Part of his fame came from the sheer improbability of his journey from obscurity to being the greatest and most well-known practitioner of a popular game (15 million people worldwide, spread across almost every nation, play squash regularly).
Born in 1914, Khan was raised in a tiny village in what was then the North-West Frontier Province of India. His father was killed in a truck accident when he was 11. He dropped out of school a year later and took an apprenticeship as a ball boy at the British military club in Peshawar where his father had worked. He learned the game of squash there, playing barefoot on open-air, plaster-covered brick courts. At age 28, he got a job as a squash pro at another club in town. The salary meant he could marry, and with his wife Mehria Begum he'd go on to have 16 children, 12 of which survived infancy.
In 1944 Khan took a two-day train ride down to Bombay to compete in a regional Indian tournament. It was the first time he had played on a court with a wooden floor. He won the event and came back two more years to win it again.
Then came Partition. The new country of Pakistan, eager to assert its independence, flew Khan to Great Britain to enter the 1951 British Open. It was the first time he had been on an airplane or out of his country. He didn't arrive shoeless (it was his distant relative Roshan Khan who a few years later notoriously landed in London without any squash gear whatsoever), but he was completely unheralded. No one had heard of him or seen his name. But he went on to win the British Open, the Wimbledon of squash, with legendary ease. He emphatically defeated the defending champion in the final, winning the last two games without losing a point.
It was like fiction: The mysterious, anonymous figure who dashes into town and beats everyone handily.
Hashim Khan went on to capture six more British Opens. He was 44 when he took the last one—a record never equaled in a sport as physically demanding as squash. And consider all the many lost years when he was young and in his prime and the only people who saw him, the greatest ever, playing squash were the British officers at the Peshawar Club.
Khan was the original squash barnstormer. It turned out he loved to travel. He flew around the world, running clinics, opening courts, signing autographs (he always scribbled both the English and Arabic versions of his name) and winning tournaments. He loved giving exhibitions. He would play a dozen people in a row, a game each and dismiss them, one after another, no matter how good they were. After Khan's death, one player remembered playing him in such an exhibition in Baltimore in the early 1970s; Khan was dressed in a three-piece suit and barefoot—and still won.
He was also a symbol of decolonization and diversity, becoming first national hero of Pakistan. A million people came out to greet him when he returned to the country in 1951. It was like Australian cricket in the 1880s or Brazilian soccer in the 1950s—a watershed moment when the colonized came back and taught the masters a lesson in their own game.
This part of his appeal was very apparent in the U.S. In 1960 Khan left Pakistan and moved to America, first living in Detroit and then in Denver from 1973 until his death. At many clubs in the preppy, Ivy Leagued world of squash, Khan was the first person of color and the first Muslim to step on their courts.
Off-court, he was ebullient, funny, and charismatic. He forever spoke in a pidgin-English, studding it with sapient aphorisms, jokes, and malapropisms. He wasn't a glad-handing salesman or late-night raconteur: He didn't drink or smoke, and he tried to keep to his regular hours of sleeping between 8:30 p.m. and 6:30 a.m. But he was engaging and warm. People traveled to Detroit or Denver regularly to get lessons from him; one Detroit cardiologist had a lesson every day Khan was in town.
Reporters loved him. The media attention around his first visits to the U.S. was amazing for a cloistered sport like squash: Life magazine, Sports Illustrated, Newsweek, New York Times, New York Herald Tribune. Herbert Warren Wind became so captivated by Khan that he wrote three profiles in the New Yorker, and a fourth in Holiday magazine.
It was a far, far cry from the days when he was a ball-boy in Peshawar and would go out on moon-lit nights to play squash, alone and barefoot.