Elaine Stritch: Cantankerous and Spectacular
Even through her shtick, the late actress radiated vulnerability and charm.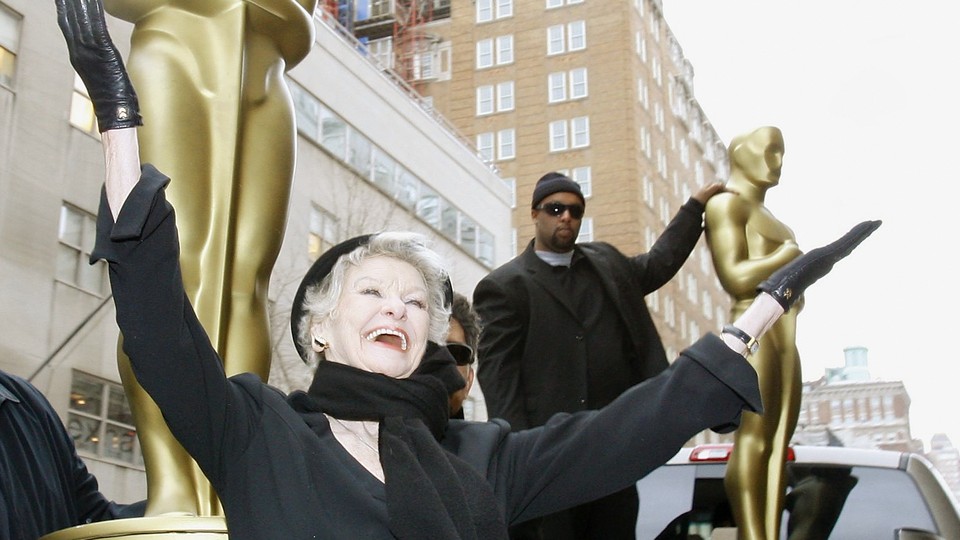 Last year, Elaine Stritch told the New York Times' Charles Isherwood that her epitaph would be a single word: "Later." It's a characteristically sassy way to say goodbye to the world from a magnificently eccentric and glorious performer— one who screeched at everyone from busboys to directors, told Alec Baldwin that she first had an orgasm onstage while performing in Edward Albee's Who's Afraid of Virginia Woolf, and even managed to momentarily stun Kathie Lee and Hoda earlier this year when she mischievously dropped an f-bomb on The Today Show.
More than her epitaph, her alcoholism, her TV roles, and even her outlandish, cantankerous personality, Stritch will most likely be remembered for the song that's now as inextricably hers as "Somewhere Over the Rainbow" is Judy Garland's: "Ladies Who Lunch," from Stephen Sondheim's Company. Stritch originated the role of Joanne, a bitter, booze-addled woman of a certain age who rants exquisitely about the vacuity of wealthy socialites and their daily proclivities while gesturing extravagantly with a martini. The irony of the number isn't lost on Joanne, nor was it on the actress who played her, with Stritch telling a Times reporter in 1968, "I drink, and I love to drink, and it's part of my life." (She quit eventually, although started having a daily cocktail or two again in her 80s.)
Stritch's voice—raspy, rough, and almost acidic in its ability to cut through a note—was utterly unlike the identikit vibratos that tend to proliferate around Broadway. In a recording of "Ladies Who Lunch" from the '70s, filmed for PBS, she sits on a stool in a white shirt and stares aggressively at the camera, eking out syllables with all the confidence of one who knows the conductor follows her. "The ones who follow the rules/ And meet themselves at the schools/ Too busy to know that they're fools/ Aren't they a gem?" she half-screams, eventually letting out a roar of feral frustration at how infuriating it all is. "I'll drink to them."
You can see the full gamut of emotions Stritch accesses in that video, from self-awareness to theatricality to vulnerability to a wink and a smile. It's that melding of fear and bravado that made musical theatergoers adore her so, as she drank to overcome crippling stage fright and wrestled with insecurity every time she opened her mouth to sing. A documentary about the making of Company captured her listening to the playback from a recording session and berating herself for shouting, eventually fleeing the studio altogether. And yet she returned a few days later in full makeup, and nailed it. "Isn't that just like Steve Sondheim, that son of a bitch, to make me do this on a matinee day when I've got two shows?" she says indignantly in the commentary.
Also intrinsic in Stritch's appeal was her resolute refusal to temper her most outlandish attributes. Who else could fluff an audition for the role of Dorothy in The Golden Girls because she ad-libs a line and throws in yet another f-bomb? Or start performing cabaret at the age of 77? Or criticize 30 Rock, the show in which she memorably guest-starred as Jack Donaghy's mother, for being "a little far out, a little bent"? Even at the age of 89 she rejected the concept of pants as fervently as she'd done for most of her career, greeting visitors at her condo in Birmingham, Michigan in black tights and an oversized t-shirt.
Last year, Stritch left New York City to move closer to her family, and while the upheaval was discombobulating for the star, it was wrenching for the city. "To her devotees, Elaine Stritch's decamping to the Detroit area is just as devastating as the Dodgers' departing from Ebbets Field," said the Times. And yet she insisted, despite the move, that she wasn't done with performing.
"Quite frankly, I don't know how to be happy," she said. "I have not a clue. I only serve—and I don't say that with any grandeur. I just serve others through entertaining. That's when I am happy." If there's any meaning in the universe, there are vodka stingers being shaken up and bartenders being cursed out wherever she's gone next.