Getting Elvis's Legacy Right
He didn't invent rock and roll. He didn't steal it from black people, either. What did he do?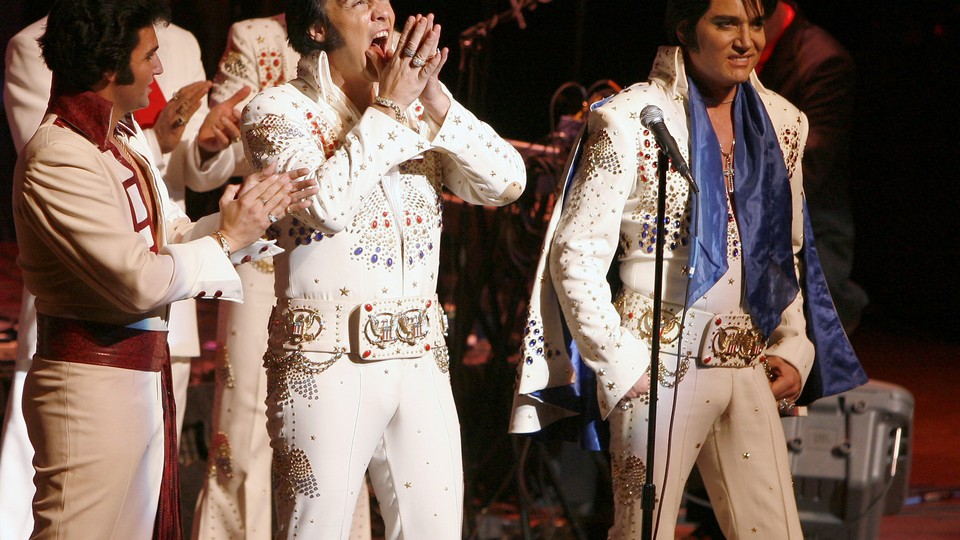 Last weekend was the 60th anniversary of Elvis Presley's most famous early recordings in Memphis, including the Arthur Crudup cover "That's All Right." July 5, 1954 was an important moment in American musical history—and it's also one of the most consistently overhyped dates in rock. The latest example: Variety's article that went up with a headline declaring that Elvis "invented rock n' roll." That headline was eventually changed, and the text is a bit more sober, but still claims that "That's All Right" touched off  "the explosion of rock 'n' roll as a cultural force."
Elvis was innovative, popular, influential, and a great performer. But he didn't invent anything. By the time Elvis showed up at Sun Records, numerous other performers like Ike Turner, Ruth Brown, Ray Charles, Big Mama Thornton, and Fats Domino had already released early rock songs.
Nor did Elvis make the music popular. While rock initially was black music, with a limited profile among white audiences, by the early 1950s it was achieving widespread success. The vocal group the Dominoes, led by the prodigiously talented Clyde McPhatter, scored a major pop crossover hit when  "Sixty Minute Man" went #1 in R&B and #17 pop in 1951. The song used the phrase "rock and roll", which was often used in R&B and jump blues to describe sex, dancing, music, and/or some combination of all three. "Sixty Minute Man" probably inspired DJ Alan Freed to call his popular radio show Moondog's Rock 'n' Roll Party, where he played songs by black artists for a large mixed audience. The show began in 1951; by 1954 it was a smash success. Elvis and Sam Phillips didn't have to guess that rock and roll by black artists had crossover potential. They just needed to look at what the kids, of every race, were already listening to. So Presley wasn't an innovator, he was simply chasing a trend.
In reaction to the transparently false claim that Elvis invented rock and roll, an equal and opposite meme holds that Elvis stole rock from its original black performers—that he put a white face on black music and then unjustly profited from white America's clueless and racist marketing preferences. But, again, looking at the actual landscape of '50s rock and roll, this narrative doesn't really work. In the first place, Elvis was not the first white rock and roll star. Bill Haley had already recorded the original song "Crazy, Man, Crazy" in 1953; his version of "Rock Around the Clock" was recorded a couple of months before Elvis's famous Sun session. Moreover, white performers in the hillbilly boogie tradition like Moon Mullican and the Maddox Brothers and Rose had long been making music strongly influenced by the beat and spirit of R&B.
Nor was this influence one way. Rock-and-roll performers like Ray Charles and Chuck Berry were fans of and strongly influenced by country music. Black performers regularly performed songs by white songwriters like Jerry Leiber and Mike Stoller. Some even covered country hits—especially at King records, where African-American producer Henry Glover oversaw both R&B and country divisions. Rock and roll wasn't black music, and it wasn't white music; it was an integrated form drawing from other integrated forms including country, country blues, R&B, boogie woogie, jump blues, Western swing, and more. America's pop-music marketing categories are often shamefully segregated, but the music itself has never been.
So, what's so special about Elvis then? He wasn't the first person to play rock and roll; he wasn't the first white person to play rock and roll; he didn't make rock and roll popular. He invented nothing and popularized nothing. It's true he was an extremely talented performer whose early records especially are original, exciting, and hugely influential. But you could say the same for the work of contemporary performers like Etta James, Jackie Wilson, LaVern Baker, Sam Cooke, Ray Charles, Chuck Berry, Bo Diddley, Rosetta Tharpe, and Howlin' Wolf.  Elvis was great, but he wasn't greater than a host of other rock and roll greats. Why do we call him the King, exactly?
There seem to be a couple of answers. First, Elvis is the King because he's the King. It's tautological. A combination of talent, being the right color, physical attractiveness, and being in the right place at the right time meant he achieved massive, ridiculous popularity. Pop enthusiasms are by their nature unpredictable and a bit random. If things had been a little different, it could have been Buddy Holly or Bill Haley who captured the national imagination, and Variety would be posting headlines about how one or the other of them invented rock and roll.
But while it could have been others, I think it's also the case that Elvis retains his iconic appeal in part because of the racial dynamics of American music. Elvis was not actually a white man playing black music, as Sam Phillips suggested he was; again, rock and roll, like all American music, has no color. But the image of a white man playing black music, the idea that a white person could shuck off the bonds of race and become black, has long had a transgressive, sexy, exciting pop appeal.  Elvis certainly capitalized on this through his choice of material and performance style—his sexualized scandalousness was linked in large part to the fact that he was imitating, or referencing, black performers, who (because of racism) were seen as innately sexual and scandalous.
"To put on the cultural forms of blackness was to engage in a complex affair of manly mimicry," Eric Lott argued in his famous book Love and Theft—or as Stefan L. Brandt writes "Elvis absorbed as much 'blackness' as possible to embark on the popular trends of musical hipness and as much 'whiteness' as necessary to cater to the consciousness of the majority." These comments echo Sam Phillips himself, who, before Elvis arrived on his door, was supposed to have remarked wistfully, "If I could find a white boy who could sing like a nigger, I'd make a million dollars." Criticisms of Elvis often were shot through with racism; the New York Daily News said his dancing was "tinged with the kind of animalism that should be confined to dives and bordellos," while the New York Journal-American actually compared Presley's performance to "an aborigne's mating dance." Such a shocked reception only made Elvis more exciting to a younger audience
Elvis was not necessarily a pioneer here either; performers like Bing Crosby or Jimmie Rodgers or, for that matter, Jack Keruoac, had long used black performance and musical styles as a way to signal cool counter-culture cred. But Presley was certainly an iconic precedent for many, many after him, from the Rolling Stones to Madonna to Miley Cyrus.
Presley by all accounts was quick to acknowledge his debt to African-American performers, and scholars have even argued that, by playing multi-racial music for multi-racial audiences, he helped to point the path away from segregation. "That's All Right," drawn from both blues and country sources, can certainly be celebrated as one, hugely popular, superbly realized, moment of pop integration, like Chuck Berry's fusion of blues and country in "Maybellene," or the collaboration between Big Mama Thornton, Leiber, and Stoller on "Hound Dog," or Howlin' Wolf's repurposing of Jimmie Rodgers's yodel, or any number of others.
But the eagerness to see Elvis as scandalous inventor or scandalous thief feeds a narrative about how white people are always in the process of heroically discovering black people, always mining that mysterious, authentic source for earthy sensuality and innovative awesomeness.  It's a poisonous story to keep telling. Which is why, though I love Elvis, I wish pop culture could find a way to make some other session our big, iconic rock-and-roll moment—Ray Charles's "What'd I Say," or Ike Turner's "Rocket 88," or even Moon Mullican's integrated country/R&B performance with some of the original Tiny Bradshaw Orchestra musicians on "Well Oh Well."  And if celebrating some of these other lesser-known gems means we miss the next go-round for Presley's anniversary—that would be all right.