How U.S.A. Can Beat Belgium at the World Cup: By Staying Awake
The Red Devils excel at wearing down opponents, but injuries to top players have left them vulnerable.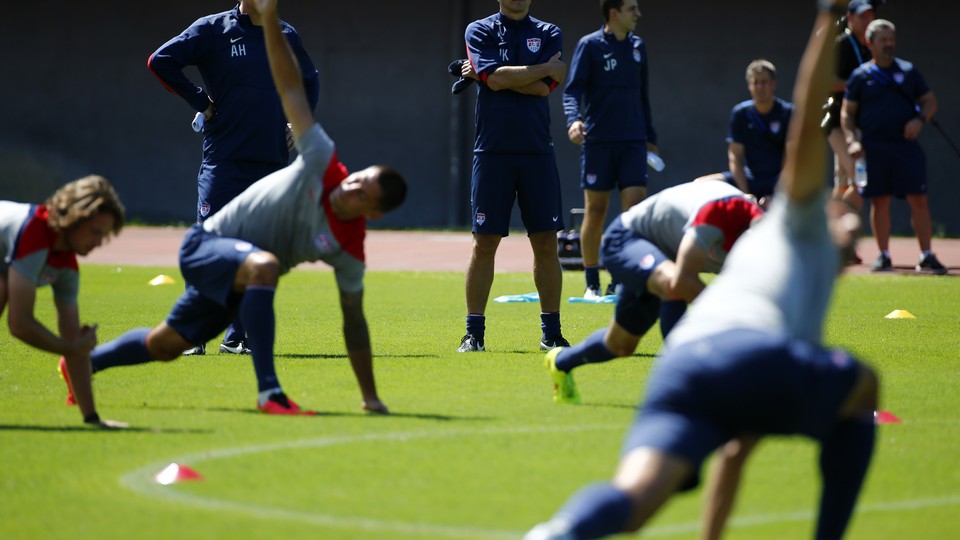 Heading into the U.S.A.'s Round of 16 World Cup match against Belgium at 4 p.m. Eastern, only one thing is certain: Americans need to find more creative ways to be jingoistic.
Waffle House, the restaurant chain visible from interstate highways across the southern U.S., tweeted Monday that it "doesn't believe in Belgian waffles" and called for a boycott, reminiscent of the cries to re-brand French toast as Freedom toast during the second Iraq War. Surely we can whip up a rivalry using something more enraging than breakfast food. Remember, Dr. Evil was Belgian.
As for the action on the pitch, injuries to top players on both teams means neither side can claim a major advantage heading into the match. And while the Belgian side has more proven talent, this Americas-centric World Cup has already shown that what's proven doesn't count for much.
The Red Devils, as Belgium's squad is known, don't have the soccer pedigree of many of their European neighbors. They last made the World Cup quarterfinals in 1986 (eventually finishing fourth) and failed to qualify for the tournament in both 2006 and 2010. But coach Marc Wilmots has built a world-class team around stud goalkeeper Thibaut Courtois, defensive stalwart Vincent Kompany, and a host of young attacking midfielders and forwards. Belgium breezed through World Cup qualifying in 2013 and played so impressively in the run-up to the tournament that the team entered as the fifth betting favorites. 

Though Belgium was one of only three teams to win all three games in the opening round, it helped that they were the seeded team in a powder-puff group: Securing victories against Russia, Algeria, and South Korea is not as impressive as the U.S.'s win-draw-close loss performance in the Group of Death. What is impressive is how the Red Devils wore down each opponent over time, using their depth at midfield and forward to bring on fresh substitutes who overwhelmed their tired foes. In their 2-1 win over Algeria (the other team to advance from Group H) Belgium got late goals from Marouane Fellaini and Dries Mertens, both of whom came on as second-half subs.
The Belgians' deep roster should worry the U.S., who literally traveled further than any other team during the group stage and had to play in the sauna-like atmosphere of Manaus. The U.S. conceded a second-half goal in all three matches, including the heartbreaking stoppage-time equalizer by Portugal in the final 30 seconds. The pressure will fall on the U.S. defense, especially newly inserted starter Omar Gonzalez and ageless left back DaMarcus Beasley, to maintain their discipline throughout the game and keep the pressure off goalie Tim Howard. The U.S. back line especially needs to mark Belgium's attacking midfielder Eden Hazard, a 5'7", 125-pound, 23-year-old dynamo who can run for days and excels at setting up his teammates.

The Americans' offensive game plan will depend on the left hamstring of striker Jozy Altidore, who came up lame in the first half against Ghana and hasn't played since. If Altidore is healthy, U.S. coach Jurgen Klinsmann will likely return to the aggressive 4-3-2-1 formation he deployed against Ghana, with Jozy at the front looking to create scoring chances. If not, the U.S. will probably stick with a 4-2-3-1 setup, where five midfielders support real-life action hero Clint Dempsey playing out of position as striker. Or it could be a bit of both—Klinsmann said Monday that Altidore is available to play, but likely not for the entire game.
No matter what formation Klinsmann chooses, the squad needs midfielder Michael Bradley to play like the man who guided the U.S. on a 12-match winning streak last year. Bradley, playing more forward on the field than he's accustomed to with Altidore injured, has looked overmatched and infamously committed the turnover that led to Portugal's tying goal. It's not that Bradley has been incompetent out there, but he has seemed to be a step too late or too early, and many of his passes have been a shade too far or too short. That's all it takes to render a playmaking midfielder ineffective. The accumulation of minor mistakes had gotten into Bradley's head by the end of the group stage, and he played a tentative style against Germany that was completely useless. The U.S. can still beat Belgium if Bradley has another bad day, but it will be a much tougher task.
Belgium has been as stingy as any team in the World Cup, conceding just one goal (on a penalty kick) in the group stage. But its defense is hampered by injuries. Kompany is nursing a groin injury and will play somewhat hobbled if he plays at all. Fellow defender Thomas Vermaelen strained his hamstring against Russia, and backup defender Anthony Vanden Borre is out for the rest of tournament with a fractured leg. The best case scenario for the U.S. is if Kompany or Vermaelen—or both—is unable to play, which would leave the Belgium defense extremely vulnerable to runs by Dempsey or Altidore and creative attacking from Bradley, Jermaine Jones, or Graham Zusi.
Analysis aside, the key battle in Tuesday's match will occur in the heads of each of the 22 men on the field. Both the U.S. and Belgium have looked ragged for large stretches of the World Cup, and neither team has played at its best for a full 90 minutes. If the Americans can reprise their effort and effectiveness from the second half against Portugal, they can keep the Belgians unbalanced and thereby control the run of play. Similarly, if the Red Devils can conjure their second-half performance against Algeria, they may be able to control possession, outmaneuver the U.S. defense, and force Howard to play the game of his life just to keep it close.
U.S. fans looking for a little extra hope before the match should take heart from the performance of Mexico and Costa Rica in their Round of 16 matches on Sunday. The Costa Ricans shrugged off the pressure against Greece, dominated the first 65 minutes of play, and found a way to win despite going a man down in the 66th minute and conceding a tying goal to the Greeks in second-half stoppage time. And though the Mexicans fell short against the Dutch (or got Arjen Robbed, depending on which country's newspapers you read), they were the better team until they went into a defensive shell to protect a 1-0 lead and handed the momentum back to the Netherlands.
A win would give CONCACAF (the North and Central American soccer federation) two teams in the World Cup quarterfinals for the first time ever. It would also equal the Americans' best showing at a World Cup since the first tournament way back in 1930. But those are hypothetical discussions during a hypothetical victory party Tuesday night. If the U.S. wants to make soccer history, it has to put the pressure aside for one afternoon, capitalize on the weaknesses and injuries of the Belgians, get contributions from Bradley, Dempsey, and potentially Altidore, and play its best all-around game of the World Cup. Do that, and some higher-grade jingoism might be in order.