Europe Is Starting to Take American Soccer Seriously (Seriously!)
U.S.A.'s World Cup bid had ended, but there are signs of a historic shift in global perceptions.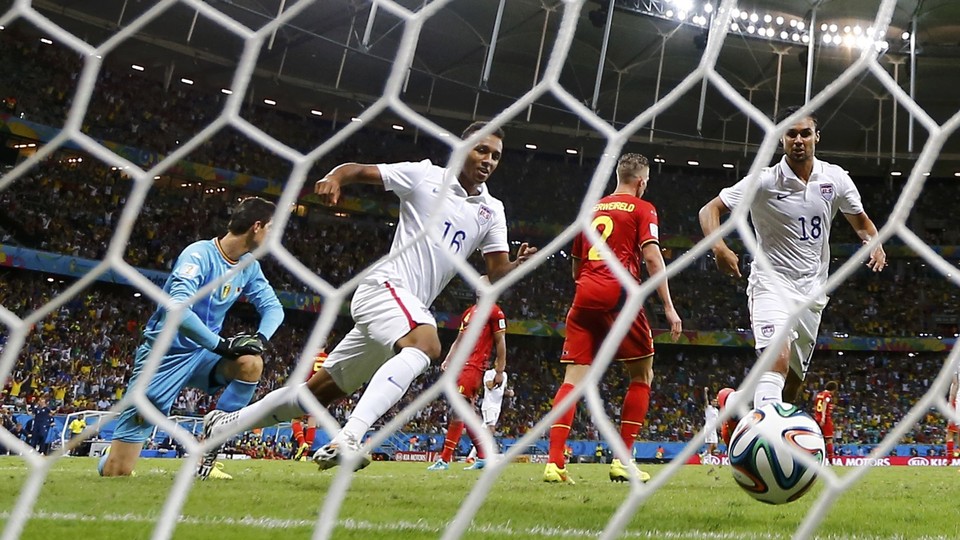 Did American soccer just win the football world's respect?
The World Cup is over for the U.S.A. after a heartbreaking loss to Belgium. But that defeat made for what some regard as perhaps the best match of a tournament that has thrilled from the start. More importantly, the U.S. has been called a "world-class team" by the likes of Barry Glendenning, the ever-critical football writer from The Guardian. Glendenning is perhaps not the Supreme Leader of Football (that title belongs to Sepp Blatter), but he is near the epicenter of international football, and he does not compliment teams lightly.
Men (and a very few number of women) like Glendenning—who is Irish but comments on the English league—and others of his journalistic tribe from Spain, Italy, Germany, and France, hold the keys to the world of football. Their opinions carry enormous weight in the pubs, cafes, and sports clubs across Europe where the best footballers in the world ply their trade. While their individual influence can often be understated, combined and aggregated they can force managers to be fired, bring protests against a team's owner, or leave an out-of-form player on the bench.
These writers hail from all over the continent, but share one overarching attitude: that national football teams from outside Europe, save some rare exceptions in South America, are inherently second rate. And that's putting it politely. No team from a non-footballing country has every truly gained the lasting respect of the football world. Even African countries, whose populations are football-mad, are only rarely praised—and often begrudgingly, at that.
This Euro-centricity (some would call it arrogance, or worse) has a kernal of merit. All the best players, even those from South America—the only other continent whose nations (namely Brazil, Argentina, until recently Uruguay, and more recently, Chile) qualify for automatic respect—play for European club teams. That is, after all, where the money is. Many players join European clubs' academies at a young age, like Lionel Messi, who famously moved from his native Argentina to the legendary Barcelona academy at 13 because his local club could not afford medical treatments for a hormone deficiency.
Currently, European club teams and leagues comprise a polyglot of nationalities. This cartel-like cornering of the world's football talent market has allowed the sport's European infrastructure to flourish, while the periphery of Africa, Asia, North America, and to a great degree South America, continually play the role of vassal.
So, for the better part of two decades—that is, since the 1994 World Cup, which the U.S. hosted—American soccer, its fans, and the national team have been patronized by the football world as one would a naïve younger cousin. You see them once every year at the family reunion—in football's case, every four at the World Cup—and you tolerate their persistent yet humorous efforts to join in with the older cousins, and then you forget about them as soon as they leave the party.
As with any little cousin though, American soccer has gradually matured, both in international tournament play and nationally at the grassroots level. This development, the idea that football is finally catching on in America, has been discussed, primarily by Americans, during every World Cup, with very few in the foreign media or public ever taking it too seriously. However, there has been a marked change in tone over the past two weeks in Brazil. As one writer from the UK's Telegraph put it, after praising "the never-say-die-spirit of (USA Coach) Jürgen Klinsmann's" team, "make no mistake. The Americans are going home, but they have certainly arrived."
This type of praise was not just left to pundits, but to those on the pitch and in the pubs. Vincent Kompany, Belgium's star defender and arguably the best center-back in the world, stated to French sports paper L'Equipe after the match, "It must be said that it was a special match against a US team that merits all the applause. A true World Cup match." From the bars, a Scottish friend with whom I played soccer (read: drank) in college and whose nation is reveling in the fact that the U.S. has equaled and bettered England in the previous two World Cups respectively, recently went out of his way to praise America: saying how the U.S. is playing "real football" that is energetic and dynamic and, most importantly, fun to watch. Adding to this praise, a World Cup discussion group that the same friend founded on Facebook is filled with comments from other British fans who have appreciated and admired what the U.S. team brought to this tournament.
Still, stereotypes and clichés in the world of football don't die quickly. Sid Lowe, whose recent book, Fear and Loathing in La Liga: Barcelona vs. Real Madrid, is a must-read for those wanting to understand the cultural dynamics of Spanish fútbol, tweeted with remorse, "One day the US will play a World cup game without the rest of the world making smartarsed comments about them not/finally getting football." It may seem small, but the idea that Americans are "finally getting football" is one that wouldn't have crossed many a European's mind four years ago—let alone eight, 12, or 20–and that is progress.